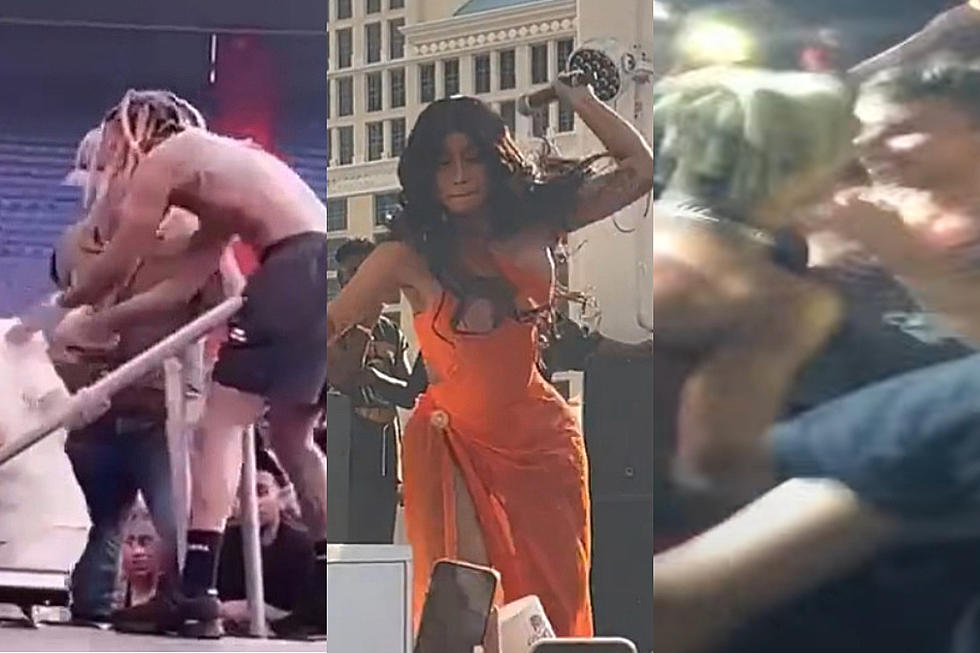 30 Times Rappers Had Violent Reactions With Their Fans
thebigdog1150/Chiraq Mixtapes/YouTube (2)/MuchMusic/Twitter
At its core, hip-hop culture is derived from rebellion. Due to the often-aggressive nature of the music, that energy is sometimes matched by unruly fans, which in turn can result in not-so-friendly experiences for both artists and rap music enthusiasts alike. In some unfortunate situations, rappers have had visceral reactions to certain fan encounters that have turned violent.
The most recent example comes by way of Cardi B. At the tail end of July 2023, Bardi was performing her diamond-certified song, "Bodak Yellow," on stage at a day party in Las Vegas and when someone in the crowd decided to toss an entire drink in the Bronx rapper's face, cooler heads did not prevail. Seemingly out of pure instinct, Cardi B immediately threw her microphone directly at the perpetrator, striking another nearby concertgoer in the process. After a police report was filed regarding the incident, the Las Vegas Metropolitan Police Department ultimately decided against hitting Cardi with any criminal charges.
Back in 2016, 50 Cent did his very best to keep the show rolling when things got out of control during a concert at Manhattan's Stage 48. However, when a fight broke out during a performance of 2005's "Window Shopper," the G-Unit general made every attempt to maintain his composure until a fan grabbed him by the shirt in an attempt to pull Fif into the crowd. At that point, 50 Cent had no choice but to take a swing at the fan before carrying on with the musical task at hand.
Other situations in which things took a violent turn between rappers and fans listed below include the time Lil Durk shoved a fan for allegedly disrespecting the late King Von during a performance in Rotterdam, Netherlands in June of 2022 as well as an incident that resulted in XXXTentacion landing a vicious right cross to an overzealous concertgoer out of self-defense.
Here, XXL takes a look at many instances in which rappers have had violent interactions with their fans.