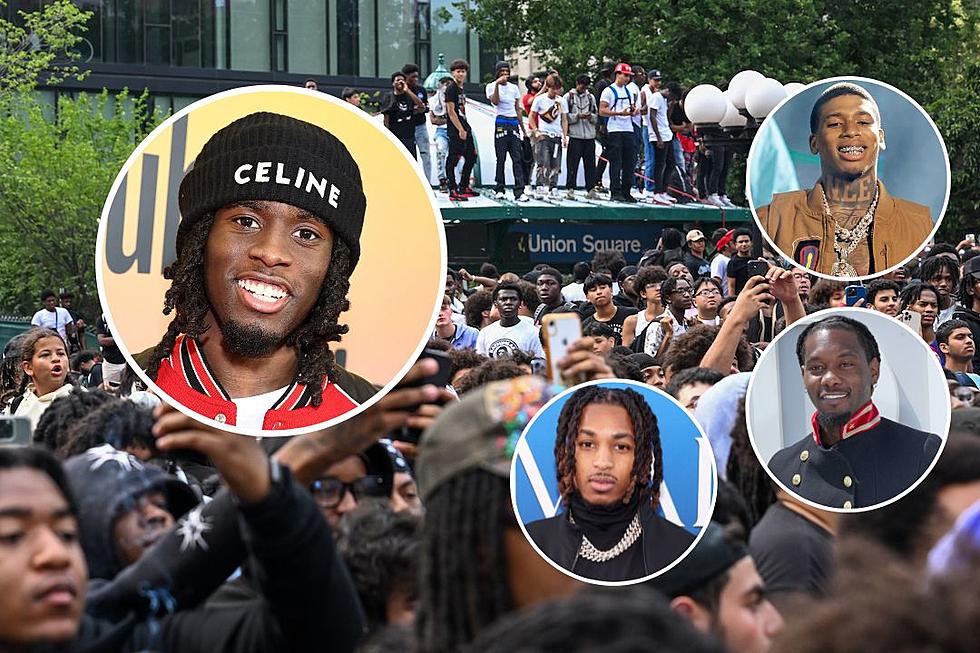 NLE Choppa, Offset and DDG Show Support for Kai Cenat After Streamer Was Taken Into Custody for Wild Riot at New York City's Union Square
Alexi J. Rosenfeld/Matt Winkelmeyer/Francois Durand/Kevin Winter/Jesse Grant/Getty Images (5)
Fellow rappers NLE Choppa, Offset and DDG have shown their support for popular Twitch streamer Kai Cenat after the popular Twitch streamer was taken into custody for causing a wild riot at New York City's Union Square.
NLE Choppa, Offset and DDG Showed Their Support for Kai Cenat After His Arrest
Following Kai Cenat's arrest during a mob-style riot in New York City's Union Square on Friday (Aug. 4), a few rappers voiced their support for the 21-year-old streamer, who was doing a Playstation 5 giveaway that caused thousands of young men and women to converge in the streets and park.
NLE Choppa wrote on Twitter: "Y'all don't even charge the KKK When they do that negative s**t but charge a successful black man for giving back. The system so designed for us to fail it doesn't make sense!"
The Memphis rhymer added that he knew what Cenat did was reprehensible but praised the influencer's altruistic mission.
"I ain't saying what he did what's done correctly, course, it's something he could've done better, but his intentions were pure that's all that matter, he wanted to help, give back, inspire, and most importantly spread love."
Offset concurred tweeting: "How you lock Kai up for giving back to his fans….New York be trippin!!!"
Also, DDG showed solidarity with Kai and his crew. "[Free] them AMP boys," he wrote.
Kai Cenat was released from police custody late Friday night. He wouldn't speak to the media about the riot or the PS5 giveaway event. Watch below.
Kai Cenat Taken Into Police Custody for Inciting a Riot
Kai Cenat announced on Twitter earlier in the week that he would be giving away video game consoles, keyboards, webcams and other items on Friday at 4 p.m. This prompted thousands of young adults to converge at Union Square and pandemonium ensued.
CNN reported that thousands of people were disorderly in the streets and in the park, leading police to arrest 65 people, including 30 juveniles. NYPD Chief Jeffrey Maddrey also mentioned that he saw young people and police officers injured during the riot.
For his trouble, Kai Cenat was taken into police custody. He faces charges of inciting a riot, rioting, and unlawful assembly, according to NYPD. He was issued a desk appearance ticket. Kai will head to court on Aug. 18 to face the charges against him.
"We're not against young people having a good time, we're not against young people gathering," Maddrey added. "But it can't be to this level where it's dangerous. A lot of people got hurt today."
Take a look at the riot caused by Kai Cenat below.
Watch Fox5 News Report on Twitch Streamer Kai Cenat Giveaway Turns Chaotic in NYC Union Square
Watch Eyewitness News ABC7NY's Report What's Next After Mayhem in Union Square Below
See Rappers Who Got to the Bag Through Video Games