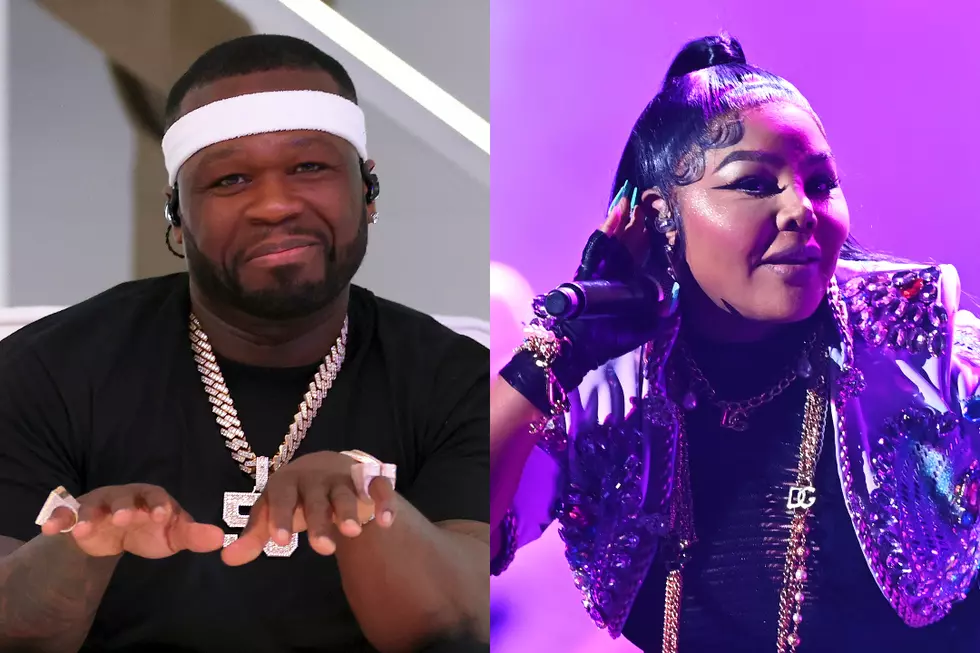 50 Cent Defends Nicki Minaj After Lil' Kim Appears to Diss Nicki's Son on Megan Thee Stallion's 'Plan B (Remix)'
Kevin C. Cox/Paras Griffin/Getty Images (2)
50 Cent has made a call to action for Nicki Minaj to respond to Lil' Kim today after Kim dropped what many perceive to be a diss aimed at Nicki on Megan Thee Stallion's new "Plan B (Remix)."
On Thursday evening (Sept. 8), 50 Cent hit up Instagram with a message for Nicki Minaj almost immediately after Hot 97's Funkmaster Flex previewed Lil' Kim's new verse on the remix to Megan Thee Stallion's "Plan B" on his radio show. In what reads like a rallying cry for Fif's fellow Queens, N.Y. native, Nicki Minaj, to engage in lyrical battle with Kim, the Power exec appears to have taken exception to the Queen Bee's opening lines in Meg's remix.
"QGTM [Queens Get the Money]," wrote 50 Cent on Instagram as he tagged Nicki Minaj's IG account. "You better light her ass up, I'm watching. She said something about the baby, her baby eye fucked up. LOL"
50 Cent went at Kim after she started her verse on Megan Thee Stallion's remix to "Plan B" by spitting bars that rap fans all across the internet believe to be shots fired toward Nicki Minaj's father, brother and son.
"Nigga, you's a bitch, your father's a bitch, your brother's a bitch," Kim rhymes. "Keep acting like this and your son gon' be a bitch."
Within minutes of 50 implying that Nicki should clap back at Lil' Kim for what he thinks are bars that take shots at Nicki's family, Kim hit the comment section of Fif's IG post hard, inferring that not only is 50 out-of-pocket for poking fun at his "Magic Stick" collaborator's son, but she also thinks that the G-Unit boss may end up on the receiving end of some negative karma as a result.
"It's OK, he just doin what bitch niggaz do," replied Kim in her first comment.
Kim continued: "Now watch what God do to his life."
The Brooklyn MC then followed up by seemingly making reference to a romantic situation between her and 50 Cent that may have happened in the past.
"Still mad about that date, I see," wrote Lil Kim under 50's IG post. "I ain't know [you] was this mad [though], damn. Fuck boi. Glad [you] was [listening] though. Song was for [you]."
Once the "Plan B (Remix)" began to go viral and the backlash toward Lil' Kim about the perceived Nicki diss began to pile up, the Queen Bee hit up her Instagram story in an attempt to clear the air.
"I never said a word about anyone's child," Kim wrote. "Please feel free to listen to the song where we were clearly talking about an EX. To try and twist my words to have an excuse to take digs at my child is disgusting. I'm one of the most disrespected legends in the game but what you will not do is come for my child."
After addressing the fact that many people misconstrued the Hard Core rapper's lyrics on her freshly minted verse, Kim was quick to take aim at 50 Cent's comments directly.
"I still can't believe y'all can't see through 50's lame ass, disgraceful, ugly and narcissistic tactics," continued Lil' Kim. "Y'all still falling for that shit. He created this whole false narrative to cause drama and confusion because the girl he wanted is getting too much attention."
Keeping on with that same type of energy toward 50, Kim then directed her attention toward Fif's girlfriend, Jamira "Cuban Link" Haines.
"[Cuban Link], you are a gorgeous, sophisticated, intelligent woman but being with someone who openly and comfortably attacks children is a bad look," Lil' Kim wrote, tagging 50's significant in another IG story. "Get out while you can, girl. Anyone who knows me knows even if you are my enemy, I would never say anything about anyone's child. Kids are off limits."
The Brooklyn legend then finished things off with one final message to 50 Cent, explaining that in her opinion, 50 is the exact type of person her "Plan B (Remix)" lyrics are actually aimed at.
"It's so crazy how a song about bitch ass niggas could tough a bitch nigga's soul so deeply that he results to attacking a child," continued the La Bella Mafia rhymer. "Oh, yeah, it's official to say... I'm that bitch. OK, 50, you got me. The song was about you. Let's go."
Hear Lil' Kim on Megan Thee Stallion's "Plan B (Remix)" and See Reactions to 50 Cent's Instagram Post Below
See Wild Rap Beefs That'll Probably Never Be Resolved
Pusha-T and Drake, YG and 6ix9ine, and more.