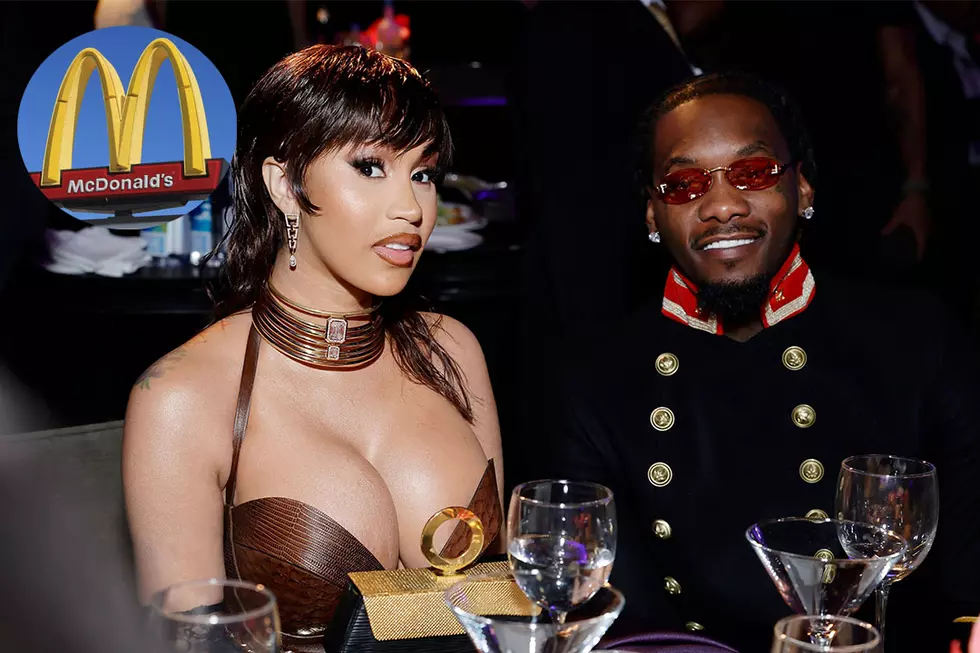 Cardi B and Offset's McDonald's Meal Appears to Leak
Emma McIntyre/Bruce Bennett/Getty Images (2)
UPDATE (Feb. 12):
Prior to the Super Bowl, McDonald's aired a new commercial featuring Cardi B and Offset called "Knowing Their Order." Check out the new promo below.
ORIGINAL STORY (Feb. 7):
Cardi B and Offset's McDonald's meal appears to have leaked online.
On Tuesday (Feb. 7), a photo of what seems to be an upcoming collab between Cardi B, Offset and McDonald's began to make its rounds across social media. A Cardi B fan account on Twitter called Bardiology apparently acquired an image of what would likely be an in-store promotional poster for a meal that contains some of the legendary fast-food franchise's most popular items branded under the names of both Bardi and her husband, Offset.
In the photo below, which, given the immediately recognizable tile floor, appears to have been taken by a franchise employee, the poster reads "The Cardi B & Offset Meal" accompanied by what a keen Mickey D's aficionado would describe as a McDonald's Quarter Pounder with cheese, a classic cheeseburger, an apple pie and of course, their famous french fries. Bardi and 'Set seem to round out the meal with a Coca-Cola, an Orange Lavaburst Hi-C and a cup of tangy BBQ sauce on the side.
Given the timing of when the photos surfaced and the fact that the poster contains two hearts above the "i" in Cardi B's name, it would seem as though the "Clout" rappers' McDonald's meal carries a couples theme just in time for Valentine's Day.
According to a report published by TMZ in January, Cardi B and Offset have already filmed a commercial for their upcoming venture with the iconic restaurant, which is reportedly set to air for the first time during the Super Bowl on Sunday, Feb. 12. The potential Super Bowl ad for McDonald's would mark the second time Cardi B and her magnetic personality have been featured in a commercial during the game's telecast as she used her humorous catch-phrase "Okurrr" in a memorable promotion for Pepsi back in 2019.
Cardi B and Offset have been making headlines left and right in recent days, specifically surrounding the hip-hop couple's presence that the 2023 Grammy Awards. The pair shared a comically intimate moment last Saturday (Feb. 4) when Cardi licked Offset's face at a pre-Grammy party.
The moment was then followed by news that Offset was involved in an alleged backstage fight at the Grammys with his former Migos partner-in-rhyme, Quavo. Despite an audio clip that popped up on Monday (Feb. 6) in which Bardi can be heard screaming at people off-camera at the awards show, presumably in an attempt to break up the fight, Offset is adamantly refuting the reports of a scuffle with Quavo.
See Cardi B and Offset's Leaked McDonald's Meal Below
See Super Unique Hip-Hop Merch That You Can Buy
From Travis Scott's McNugget body pillow to Young M.A's sex toy collection, there's plenty of unique hip-hop merchandise you can cop right now.