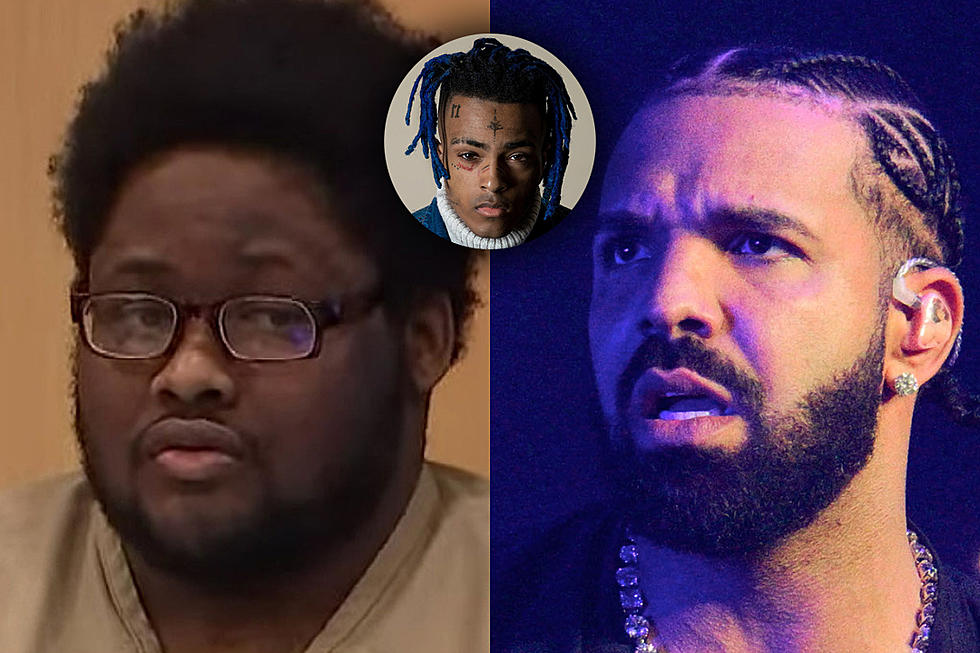 XXXTentacion Murder Suspect Asked in Court If Anyone Connected to Drake Was Hired to Kill X – Watch
Law&Crime Network/YouTube/Prince Williams/Wireimage/Jack McKain
One of the men currently on trial for XXXTentacion's murder, Robert Allen, was asked in court this week if anyone connected to Drake was hired to kill the late Florida rapper.
On Tuesday (Feb. 14), suspect Robert Allen took the stand for day six of the ongoing trial for the 2018 murder of XXXTentacion. While being questioned once again about his involvement in the Florida rapper's killing, state prosecutor Pascale Achille asked Allen directly whether or not Drake or anyone affiliated with the Toronto megastar was involved in XXXTentacion's slaying.
Achille began her line of questioning with an attempt to find out if Robert Allen knows Drake on any sort of personal level.
"Do you know Drake?" asked state attorney Pascale Achille.
"Not personally, no" replied Allen.
Following the simple reply, the attorney then asked Allen if he happens to know anyone from Toronto at all. She also inquired about any relationship he may have with XXXTentacion's longtime friend and collaborator Ski Mask The Slump God.
After Robert Allen denied any affiliation or even having been acquainted with the two rappers directly, the state prosecutor then turned her focus toward anyone who may have ordered XXX to be killed.
"Did anybody connected with Drake that you're aware of hire you to do the crime of killing and robbing the victim on June 18, 2018?" said Achille.
When Allen once again replied with a short and curt "No," state attorney Achille then repeated the question as it pertains to each of the other three men accused of XXXTentacion's murder: Michael Boatwright, Dedrick Williams and Trayvon Newsome. Allen declared that no one connected to Drake ever approached any of them regarding the heinous crime as well.
The reason why Robert Allen has been questioned about whether or not Drake was involved in XXXTentacion's murder is because for the past several weeks, the defense for Boatwright, Williams and Newsome has been trying to get Drake to sit for a deposition in the case.
According to the defense, a tweet XXXTentacion posted prior to his death serves as evidence that Drake may have been in some way responsible for the "Sad" rap-crooner's tragic death. In addition, the defense mentioned the fact that XXXTentacion once accused Drizzy of stealing his style of music as viable grounds for Drake to be deposed.
"If anyone tries to kill me it was [Drake]," X's cryptic tweet from 2017 reads.
In response, Drake's attorney argued on Monday (Feb. 12) that the subpoena affidavit for the pending deposition was filed insufficiently and that the Her Loss rapper's alleged involvement, in general, is inconsequential to the case. That led to a judge making the decision to excuse Drake from the deposition altogether, as reported by TMZ.
As for Robert Allen, his denial of Drake's involvement comes less than a week after he provided jurors with a full confession of his involvement in the killing of XXXTentacion. Allen took a plea deal last summer and is also looking to receive a lesser prison sentence by testifying against Michael Boatwright, Dedrick Williams and Trayvon Newsome. If convicted of murder, the three remaining suspects each face life sentences.
XXL has reached out to Drake's rep for comment.
See XXXTentacion Suspect Robert Allen Being Asked If Drake Is Connected to X's Murder Below
See the Current Status of Every Murdered Rapper's Case
XXL takes a look at the current status of the cases of hip-hop murders that have occurred over the past 35 years.