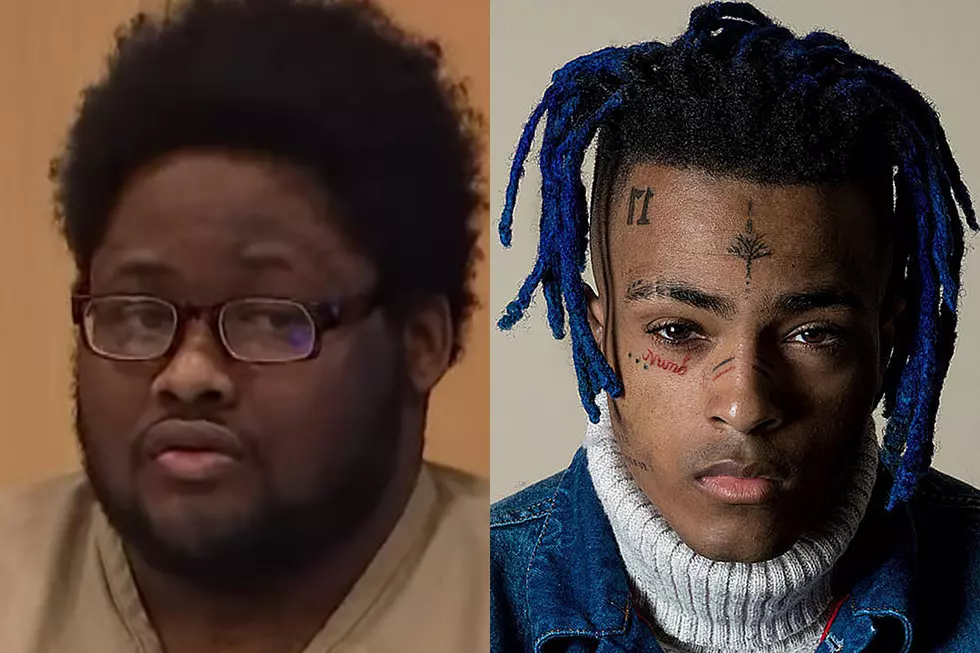 XXXTentacion Murder Suspect Testifies He Got $5,000 From Robbery, Others Split $45,000
Law&Crime Network/YouTube/Jack McKain
One of the men accused of being involved in XXXTentacion's murder testified that he only received $5,000 from the robbery of the late rapper while the other three men split the other $45,000.
On Wednesday (Feb. 8), Robert Allen took the stand for the prosecution. Allen is one of the four men charged in X's murder. However, he pleaded to second-degree murder last summer while the other codefendants, Michael Boatwright, Dedrick Williams and Trayvon Newsome, have decided to take their chances at trial. While testifying on Wednesday, Allen gave a full confession and may have provided some insight as to why he decided to turn against his codefendants.
Allen told jurors all four men were together on June 18, 2018 when Williams witnessed XXXTentacion enter the RIVA Motorsports in Deerfield Beach, Fla. Williams then spotted XXX's BMW in the parking lot and confirmed it was the rapper's via photos online, Allen testified. Allen went on to say he and Williams went into the store to confirm XXXTentacion was inside. Allen said Williams then brought up the plan to rob the rapper and allegedly purchased a ski mask in the store.
According to Allen, they left the store while XXX was still shopping and met Boatwright and Newsome outside to discuss the plan, which Allen claims he was against.
"[Boatwright] said, 'All right, we're gonna get [XXXTentacion]," Allen testified.
He claims Newsome and Boatwright agreed to run down on XXXTentacion while he was leaving the store and Williams would be the getaway driver. Allen said he refused to be involved. He went on to say they left the parking lot with plans to return when they saw XXX exiting.
"As they're driving, coming out of RIVA Motorsports, Dedrick [Williams] blocks them off, and Michael Boatwright and Trayvon Newsome get out and rob them," Allen testified.
Allen then told the jury he saw Boatwright point his gun at XXXTentacion while Newsome began taking the rapper's jewelry. Newsome then allegedly grabbed a Louis Vuitton bag from X right before Boatwright shot the rapper "two or three times" and they fled.
Allen went on to claim he only got $5,000 of the $50,000 they stole from XXXTentacion. Prosecutor Pascale Achille asked why he only got the disproportionate amount he responded, "I wasn't participating in the robbery...[Williams] actually said I wasn't going to get any money at all."
Robert Allen is hoping to get a lesser sentence by testifying in the case.
"Mr. Allen's role was much less than the other three involved," Allen's attorney Jim Lewis told NBC Miami following his plea deal last August. "It was always kind of contemplated that the State was looking to use him as a witness in the case. And finally we came to an agreement and plead to the agreement today ... Again, his involvement was much less than the others. More of an accusatory after the fact than really part of the planning. Certainly never got out of the car, never had a gun, never shot anybody. And hopefully the judge and the State will take this into consideration."
Yesterday, jurors also heard testimony from XXXTentacion's step-uncle who was present in the car during the robbery. The previous day, they saw previously unreleased footage of XXXTentacion withdrawing $50,000 from the bank just hours before he was killed.
Michael Boatwright, Dedrick Williams and Trayvon Newsome have each been charged with first-degree murder and armed robbery. If convicted on the murder charge, they face life in prison.
See Video of Robert Allen Testifying at the XXXTentacion Murder Trial Below
See 19 Rappers Who Were Shot While They Were in the Spotlight