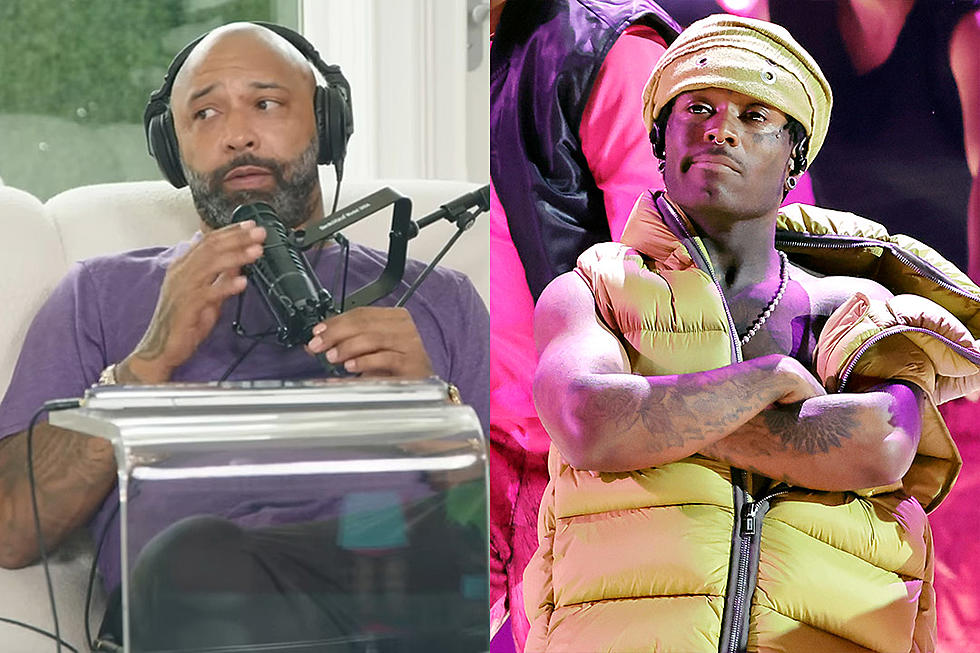 Joe Budden Says Lil Uzi Vert Isn't Trying Anymore After Listening to Their Pink Tape
Joe Budden TV/YouTube/Kevin Winter/Getty Images
Joe Budden said on a recent episode of The Joe Budden Podcast that Lil Uzi Vert isn't trying anymore after listening to their Pink Tape album.
Joe Budden Expresses His Opinion About Lil Uzi Vert's Album Pink Tape
On Sunday (July 16), Joe Budden, Parks Vallely, Ice, Ish and Queenzflip, the hosts of The Joe Budden Podcast, spoke about Lil Uzi Vert's musical direction after watching a clip of Uzi speaking with DJ Akademiks about their experimental style. In the video, which can be seen below, Joe Budden implied at the 2:18:27-mark that the 27-year-old rapper's response has no truth to it.
Joe Budden defended his stance by saying that Lil Uzi Vert had more than enough time to experiment, given the amount of time fans had to wait for new music. Joe Budden also said that once the rapper debuted Pink Tape he felt like Uzi wasn't trying anymore.
"That goes out the window once you sell it to me," Joe Budden stated in the video. "It's not, 'You're trying' anymore. This is the product that you're selling. If the plumber come over to fix some s**t and want to try out some new methods, you shoulda did that s**t before you got here. Once you're here to do the service, fix the s**t. Don't experiment with, don't experiment on my dime. Experiment on yours when you paying for studio time, when your label's paying for the studio time."
Later in the episode, Joe Budden argued that artists should stand in their decisions with music after bringing it to their record labels.
Lil Uzi Vert Talks to DJ Akademiks About His Music
On July 14, DJ Akademiks posted a video of himself and Lil Uzi Vert in the studio for his vlog. The clip below, titled INSIDE THE MIND OF LIL UZI VERT - my first vlog. (Barter 16 on the way), finds DJ Akademiks asking Lil Uzi Vert if they're still the same person because of their different approach to music. Lil Uzi Vert admits that they're trying to dabble in various sounds so that their future songs or albums are good enough to present to fans.
See Joe Budden discuss Lil Uzi Vert's new approach to music.
Watch Joe Budden Say Lil Uzi Vert Isn't Trying Anymore After Listening to Their Pink Tape Below
See Great Hip-Hop Projects This Year That Shouldn't Be Determined by Commercial Success