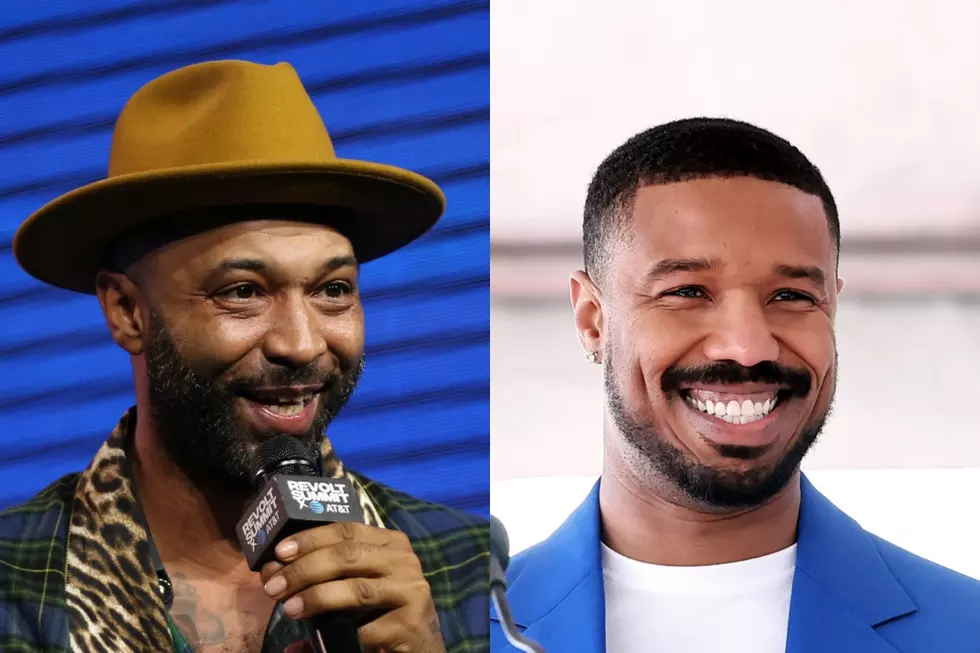 Joe Budden Faces Backlash for Comments About Actor Michael B. Jordan, People Bring Up Joe's Past Mistreatment of Women
Phillip Faraone/Matt Winkelmeyer/Getty Images (2)
Joe Budden is in social media's hot seat following a lamentation he unleashed towards actor Michael B. Jordan during a recent episode on The Joe Budden Podcast.
On Wednesday (March 1), Joe Budden became a trending topic on Twitter after video of him going off on Michael B. Jordan went viral. In the podcast portion in question, the former New Jersey rapper blasted Jordan for calling out radio host Lore'l, who is also a former classmate of the A-list actor, in a recent red carpet interview. Now, Joe Budden is at the center of backlash for his comments against MBJ.
While Joe Budden had quite a bit to say, it appears that the particular portion of his rant that landed him in a line of fire was: "Why you talking to our sisters like that on the red carpet when you don't talk to White bitches like that?"
Shortly after his diss towards Michael B. Jordan began to make its rounds online, social media users quickly called out instances in which Joe made less than favorable comments and his mistreatment pertaining to women, particularly Black women, in the past.
One person on social media said, "Joe Budden out of all people saying this is wild wasn't he just talking crazy about Megan Thee Stallion while she was going through her trial. Didn't he beat a pregnant lady till she miscarried? Like how many times has he disparaged black women to uplift latinas? Like gtfoh."
Another person typed, "Joe Budden commenting emphatically on how black men should treat black women all while repeatedly talking over and ignoring the black woman in the room is the kind of tone deafness that makes it unwatchable for ME."
A third person said, "This Michael B. Jordan take is rich coming from Joseph. It was the "why you talking to our sisters like that"? Isn't he the same nig*a who was calling Vivica A. Fox all types of old/washed up bitc*es & hoes? Joe Budden is so unserious."
Joe Budden opened a can of worms when he went on a rant about MBJ on his podcast due to video of the actor putting Lore'l on blast for calling him corny in the past. However, Lore'l never called him corny. In fact, it was Lore'l's fellow podcast host Dominique Da Diva who referred to Jordan as corny in 2021. Lore'l and Diva did The Undressing Room Podcast together.
"Dawg, you doing that to a girl is some corny-nigga shit," the rapper-turned-podcast opined. "You being Michael B. Jordan, today, allegedly sexiest man alive, all of these blockbuster movies, during your highlight week. You've probably never been more visible than you are right this second. And that's what you do to her? And if I bring back those White girl rumors, then it's gon' sound even crazier. Why you talking to our sisters like that on the red carpet when you don't talk to White bitches like that?"
"But I'm not gon' make it race here," he continued. "They say I make everything race. That was corny of him to speak to that girl like that. Michael B. Jordan, that's why niggas call you corny. Hey, Creed. In case you was confused, that corny-ass shit you did is why niggas think you corny. In case you were off a little bit."
Take a look at fans' reactions to Joe Budden's comments.
See More Reactions to Joe Budden Calling Out Michael B. Jordan Below
See 50 Lyrics Rappers Got Wrong