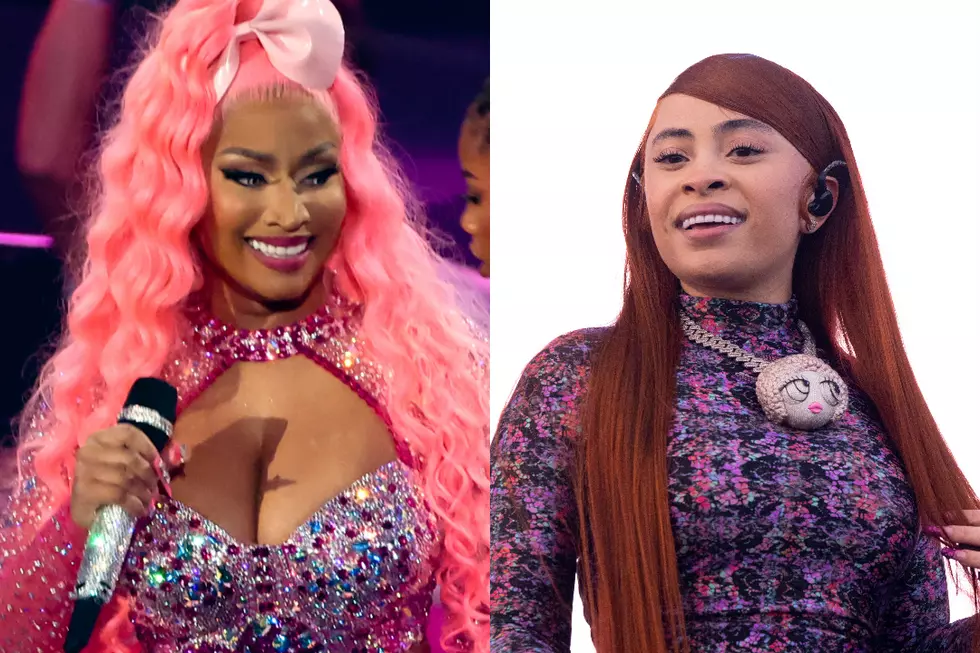 Nicki Minaj Supports Ice Spice by Quoting Lyrics to 'Princess Diana,' Tells Ice Not to Give 'No More Passes'
Arturo Holmes/Scott Dudelson/Getty Images (2)
Nicki Minaj is showing some support for Ice Spice by quoting some lyrics from Ice's song, "Princess Diana." Queen Barb told the Bronx-bred rising star to give "No more passes."
On Sunday (March 12), Nicki Minaj slid into the comments section of an Instagram post that Ice Spice made on March 7 following her performance at Rolling Loud California 2023. In quoting a line from the chorus of Ice Spice's "Princess Diana," the Queens hip-hop icon offered up encouraging words to Ice as it pertains to her current career status, which is steadily on the incline.
"B****es slow so I gih dem a pass," wrote Nicki Minaj in the comment below under a series of photos Ice Spice posted of herself after last week's Rolling Loud set. "Nah. Grah! No more passes, princess. Let's go."
The section of "Princess Diana" Nicki makes reference to finds Minaj anointing Ice Spice as a "princess" in her own right, implying that at this stage in the Like..? spitter's career, she doesn't owe a "pass" to anyone.
B****es move wock 'cause they know I got bands (Damn)," Ice Spice raps on "Princess Diana." "They be chattin', I don't give a damn and I'm still gettin' money, I know who I am (Grrah)/Tryna be low, he gon' hit up my 'Gram (Grrah)/If he smart, he gon' act like a fan (Damn)/Thinkin' you bigger, they got ya head gassed (Grrah)/B****es slow, so I give 'em a pass."
Nicki Minaj's simple acknowledgment of Ice Spice is proving to be a huge moment for both the "Munch (Feelin' U)" rapper and her fans alike. When word got back to Ice that the Pinkprint legend commented on her IG post, the Bronx, N.Y. rhymer replied to one of her own tweets from 2020. Back then, Ice posted that Nicki began following her on social media, only to later explain that she was just "practicing" for when the moment actually happened.
With a simple "OMG" via Twitter on Sunday (March 12), Ice's offered up an implication she is now being followed by her idol, Nicki Minaj, a moment that she has been fantasizing about for years.
In the roughly 24 hours since Nicki Minaj's social media interaction with Ice Spice, fans of both immensely popular artists have begun expressing strong feelings of excitement in hopes that a collab may be on the way, perhaps on a remix of "Princess Diana."
"Nicki on Princess Diana," tweeted one fan. "Immediately."
Another replied: "It's gonna happen."
"I speak for everyone when I say y'all need to make a song together," an Ice Spice and Nicki Minaj enthusiast suggested.
Another user chimed in: "Waiting for Nicki-Ice Spice collab!"
"We need you to collab wit her, mommy," begged another.
Nicki Minaj has made multiple headlines recently in the weeks since she's returned from her public hiatus over the past several months. After a lively performance during Carnival in her native country of Trinidad and Tobago, Nicki dropped her latest single, "Red Ruby Da Sleeze," on March 3. Amid the populatary of the track, which contains a prominent sample of Lumidee's 2003 hit, "Never Leave You (Uh-Oh)," much speculation circulated the internet with the notion that Nicki Minaj disses both Megan Thee Stallion and Latto in her first single of the year.
As for Ice Spice, this isn't the first time her increasingly popular lyrics have been the focal point of a viral moment. Just last month, an artificially manufactured conversation between Ice Spice and President Joe Biden found a fake version of the Commander-in-Chief reciting bars from Ice's single "In Ha Mood" in a fictional yet comical attempt to shoot his shot at the Bronx rapper.
See Nicki Minaj Support Ice Spice by Quoting "Princess Diana" Lyrics Below
Here Are the Many Times Nicki Minaj Gave Flowers to Other Women in Hip-Hop