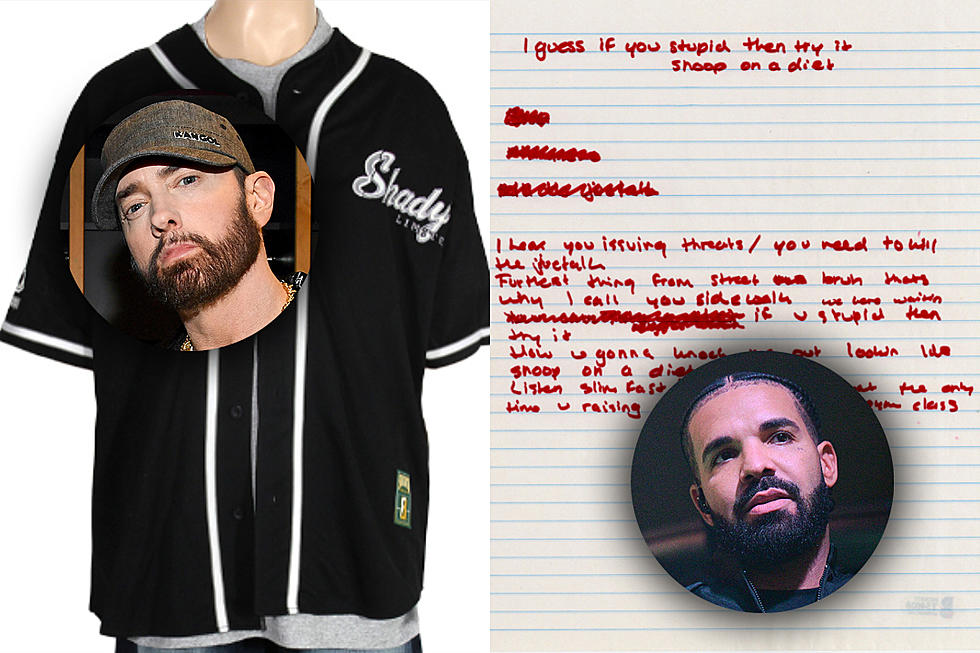 Rare Items Once Owned by Eminem, Drake, Nicki Minaj, More Up for Auction
Kevin Mazur/Prince Williams/Getty Images (2)/gottahaverockandroll.com
Rare items once owned by rappers such as Eminem, Drake, Nicki Minaj and more are all currently up for auction.
From an entire fit Eminem once wore on stage to a page straight from Drake's personal rhyme book in which he penned the lyrics to the incredibly rare diss track to Voyce, "Exposed," the Gotta Have Rock and Roll music memorabilia auction site is paying homage to hip-hop. The Hip-Hop Legends Auction also includes unforgettable artifacts from the likes of Nicki Minaj, Tupac Shakur and Snoop Dogg, among many others.
Over the course of the past 50 years, hip-hop has produced countless legendary moments in time brought to life by some of the most iconic figures the music industry has ever seen. Along with those historic moments, come certain collectibles that help to immortalize certain rappers forever, even if they've left the earthly world behind.
Oftentimes, important pieces of hip-hop memorabilia end up being auctioned off for top dollar to rap game aficionados who look to showcase their fandom and relive the genre-defining instances that made them fall in love with the culture. Even rappers who are legends in their own right have cashed in on certain mementos that through the years, have only added to the folklore that is unique to hip-hop and hip-hop only.
Back in 2021, Jay-Z and Beyoncé's daughter, Blue Ivy Carter, was spotted donning the very crown The Notorious B.I.G. famously wore in his 1997 "King of New York" photo shoot. Complete with a signed autograph from the late Biggie Smalls, Hov and Bey presumably purchased the crown at an auction in 2020 for nearly $600,000.
Now, as hip-hop celebrates its golden birthday half a century after DJ Kool Herc birthed the eventual global phenomenon on Sedgewick Avenue in the Bronx back in 1973, a new auction has been launched to honor some of hip-hop's greatest legends.
Here, XXL highlights some of the most undeniable sought-after items from the rap game's most elite artists that are all up for auction until March 3, 2023.
See Rare Items Once Owned by Eminem, Drake, Nicki Minaj, More Up for Auction