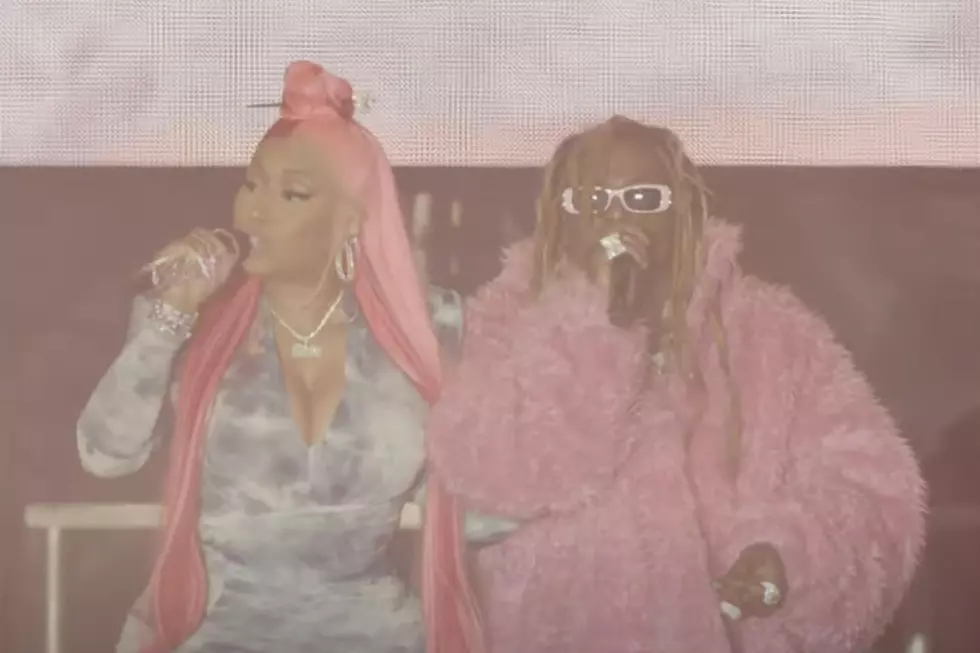 Nicki Minaj and Lil Wayne Have Sound Issues at Rolling Loud, She Says 'Kill the DJ'
Rolling Loud/YouTube
Nicki Minaj ran into some sound issues while performing with Lil Wayne during his set at 2023 Rolling Loud California leading to some tense moments.
On Saturday (March 4), Lil Wayne was one of the headliners at the Cali version of popular traveling festival. Tunechi's set included him brining out Nicki Minaj. That's when things began to go haywire in the sound department. Nicki and Wayne performed her song "High School" without incident. She then breezed through her hit single "Super Freaky Girl" before moving onto her latest single "Red Ruby Da Sleeze," during which she started having sound issues.
"Why it's off beat?" Nicki questioned at the 35:23-mark of the video below before getting the DJ to stop the music. "Is it off beat or is it just in my ear?"
The DJ then started to play "Chun-Li" but there were more sound issues.
"Stop. What the f**k is good?" Nicki questioned. "Yo Juice, fix my muthaf***in mix. What the f**k is good? You know I don't get down like that when the president is in the building. You know when the G.O.A.T. is in the building I gotta do this s**t right. You know when Young Money in the building the Queen gotta show the f**k out. Who the f**k they thought was coming here? One of my mini-mes."
The sound continued to have issues, with the track flipping from "Chun-Li" to "Truffle Butter." Wayne then joined Nicki Minaj onstage.
"Kill the DJ. Kill the sound guy," Nick said while she and Lil Wayne waited patiently for the audio to be corrected. Both rappers kept their cools while waiting things out. They waited so long, Wayne had the time to give a birthday shoutout. Things finally get corrected with "Truffle Butter" being the song that ends up getting performed at the finale to Nicki's cameo.
Rolling Loud California was full of wild moments, ranging from Playboi Carti debuting new music to Kodak Black getting hit with a water bottle.
Watch Lil Wayne and Nicki Minaj Performing at 2023 Rolling Loud California Below
See 50 Lyrics Rappers Got Wrong