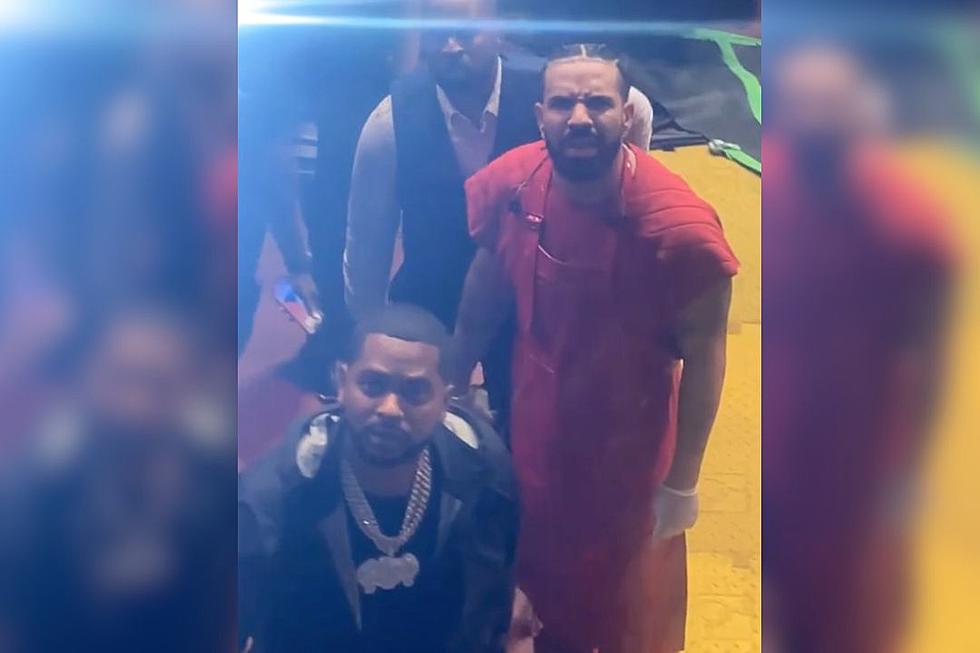 Drake Yells at Man for Fighting With a Woman Over Towel Drake Threw
asiasantiago/TikTok
In a strange incident, Drake had to yell at a man for fighting with a woman over a towel that he threw into the crowd.
Drake Yells at Man for Snatching Towel From Woman He Threw Into the Crowd
On Saturday (Aug. 12), Drake performed at his It's All a Blur Tour stop at the Kia Forum in Inglewood, Calif. After finishing his show, the rap superstar was leaving the stage and decided to toss his sweat towel into the crowd near the stage. When Drizzy threw his towel, both a woman and a man grabbed onto it at the same time. Suddenly, they fought over the possession of the towel. According to eyewitnesses, the man ultimately snatched the towel from the woman, leaving her empty-handed.
In a video that surfaced on asiasantiago's TikTok page, Drake sees the commotion and is shocked by what he saw. In an attempt to stop it, he screamed at the male fan. "Are you dumb?" he yelled.
The OVO leader then promised the woman that he would send someone to get her information so he could most likely send her something after getting her towel gaffled by a male fan.
It was a chaotic scene for sure, with security and staff looking on in disbelief. But it appears that no one was physically hurt.
Drake Wakes Up a Sleeping Fan
Drake's It's All a Blur Tour is arguably one of the strangest and wildest shows he has produced. From bras being thrown to visuals of floating sperm onstage, it doesn't cease to amaze.
Recently, while Drake was performing a soothing version of his 2016 hit "Controlla," he spotted a fan sleeping during his performance.
The Grammy-winning artist was a little bothered by the situation, so he began singing his song as loudly as he could to wake the person up. Eventually, the snoozing fan woke up and saw that Drizzy was crooning to him, while the crowd was laughing at him.
But seriously, who sleeps at a Drake show?
Check out this crazy incident after Drake's show below.
Watch Drake Yell at Man for Fighting Woman Over His Towel That He Threw
See the Guide to Rappers Touring in 2023