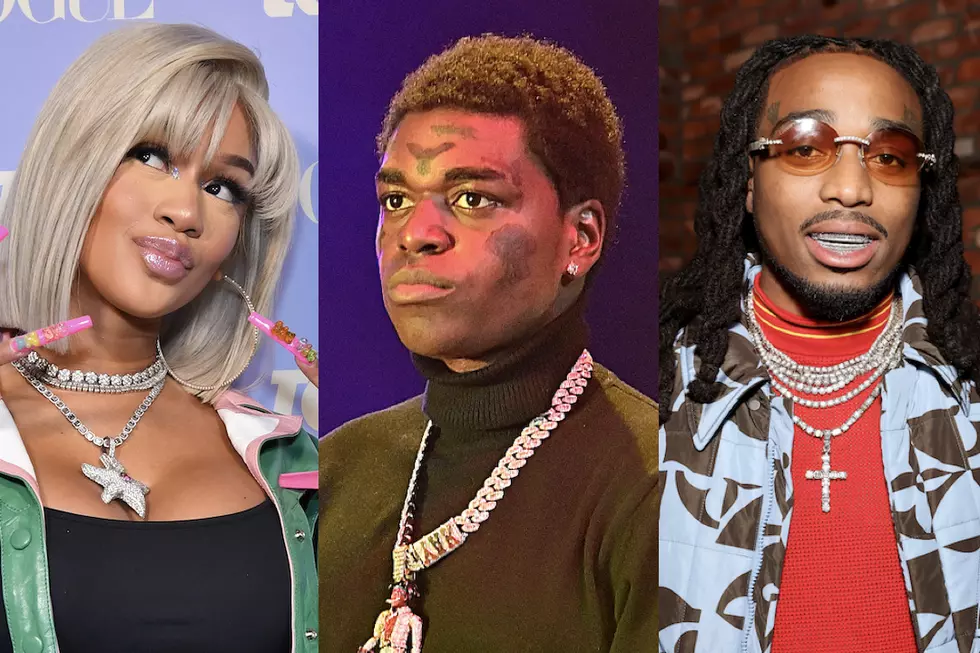 Kodak Black Admits He Cried When Saweetie Chose Quavo Over Him
Jon Kopaloff/ Roy Rochlin/Amy Sussman, Getty Images (3)
Saweetie is breaking hearts out here and she doesn't even know it. Apparently, Kodak Black cried when the "ICY GRL" chose Quavo over him.
On Friday (Jan. 6), a video surfaced of Kodak Black on Instagram Live talking with fellow Florida rapper Yungeen Ace. During the conversation, Kodak admitted that he cried after Saweetie chose Quavo to be her boyfriend over him.
"I said, when Saweetie picked Quavo over me she made me cry, brother," he revealed. "When Saweetie picked Quavo over me she made me cry, bro."
Yak then sang a cryptic broken-hearted lullaby: "I caught a case again, forgive me one last time/Saweetie picked Quavo over me, she made me cry/Better be in bed by the time them killers come out at night," he crooned.
In 2022, Saweetie aired out her relationship drama when she dropped her song, "Don't Say Nothin'." The kiss-off track, which appeared on her EP The Single Life, featured the California-born rhymer seemingly replying to the persistent rumor that she was with Lil Baby shortly after her break up with Quavo.
"Why niggas always speakin' on who I'm fuckin' on?/He must've got excited when I FaceTimed with nothin' on," Saweetie raps on the track. "Them same lips that's yappin' be the ones I nutted on/A hunnid K, please, know how much paper I be touchin' on?/That's light, better check my net worth/Post a pic' in his sweatshirt, I bet it have my ex hurt/That's what I get for kissin' on these frogs/He got mad and told my business to the blogs."
The $100,000 line seems to be aimed at rumors that Lil Baby took Saweetie on a $100,000 shopping spree following her split from Qua. Since Quavo appeared to address the situation on the Only Built for Infinity Links song "Messy," and Lil Baby also subliminally talked about the incident on his track "Not Finished," it's only right that the "My Type" rhymer would give her side.
Hopefully, Kodak Black is not too broken hearted about the situation.
Watch Kodak Black Admit He Cried When Saweetie Chose Quavo Over Him
See the 2016 Freshman Class Ranked by Billboard Hot 100 Hits