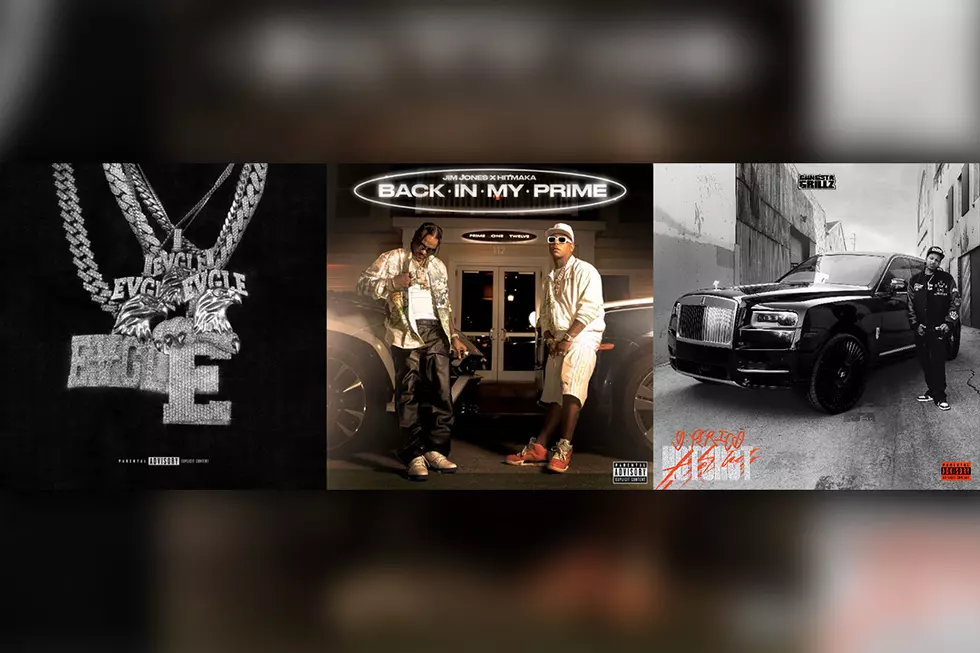 Jim Jones and Hitmaka, Blxst, G Perico and DJ Drama and More – New Hip-Hop Projects
Red Bull Records/Evgle LLC/Vamplife/Empire/Perico's Innerprize LLC
As March marches on, the rap game mounts up on another week full of new releases. This time around, a Harlem legend links up with a renowned producer from Chicago for a new LP, a West Coast rap-crooner follows up a critically acclaimed album with a fresh EP, another Los Angeles native drops a project hosted by a mixtape icon and more.
After teasing the project for well over a year, Jim Jones comes through with Back in My Prime, a full-length album comprised of beats exclusively produced by Hitmaka. Although the official release date and cover art were only just unveiled earlier this week, the Diplomats spitter and the Grammy-winning producer first announced their collab all the way back at the end of 2021 and have since unleashed a bevy of singles featured on the new project.
Back in My Prime's lead single, "I Am" features Stefflon Don and offers up summer day party vibes during an otherwise chilly time of year complete with a visual that finds Capo dipping back and forth between Miami and his hometown of Harlem, N.Y.
In a Worldstar Hip-Hop exclusive video, "Seen The Money," Jim Jones offers a glimpse into his lavish lifestyle while Hitmaka laces the track with a prominent sample of Alicia Keys' 2003 smash, "You Don't Know My Name." The project's latest single, "Stay" also features elements of a popular track from the early 2000s, Lumidee's "Never Leave You," the same song that Nicki Minaj recently flipped for her new song, "Red Ruby Da Sleeze."
In promoting the release of Back in My Prime, Jim Jones hit up Instagram with his thoughts on working with Hitmaka, who is currently one of the most revered producers in hip-hop.
"Fully produced by Yung Berg a.k.a. Hitmaka, you heard?" said Jimmy in a video clip during a recent photoshoot. "One of the top producers in the game. He be ringing off with number one hits and all that Grammy type of s**t. N***a's fire, you heard? I got a whole album with all that fire. You're going to have to deal with it."
Blxst returns with a new EP Just for Clarity 2, the sequel to his 2021 project of the same name. The 2021 XXL Freshman started teasing the project last Monday (March 6) on his Instagram account. The California rap&B singer shared a video where he manually articulated "Just for Clarity 2" with his fingers.
Blxst also posted a photo of himself in the studio with fellow producers Mustard and Terrace Martin working on a track for his JFC 2 project. The 30-year-old artist also shared photos of himself and good friend Roddy Ricch giving their young sons blinged-out "E"(vgle) and "RR" chains, respectively.
On Thursday (March 9), Blxst jumped on his IG account and posted a video of himself in his homemade studio with his song "Passionate," featuring Roddy, playing in the background. The clip also features a tracklist for Just For Clarity 2. It appears the EP will only have four songs with guest appearances from Roddy, Terrance, Mustard and Larry June, who appears on his first single, "Keep Calling," which you can watch below.
Rapper G Perico teams up with DJ Drama for a Gangsta Grillz mixtape called Hot Shot. The project follows Perico's last studio album South Central, released in December 2022. Meanwhile, DJ Drama continues his Gangsta Grillz run after dropping a bunch of albums last year, including Coke Boys 6: Money Heist Edition with French Montana, Rollin' Stone with J. Stone and most recently, Back On Dexter with Kash Doll.
For Hot Shot, the Los Angeles rapper and Grammy Award-winning producer started promoting the project back in February with the set's first single, "Action." Earlier this week, the dynamic duo premiered a Hot Shot: Gangsta Grillz Documentary on YouTube, which features Perico and Drama detailing the recording process behind their joint mixtape.
If you like what G Perico is putting down, catch him on his Hot Shot Tour, which kicks off in Brooklyn, N.Y. on March 30 and wraps up June 4 in San Diego, Calif. Peep the tour dates below.
Check out other new projects this week from Talib Kweli and Madlib, Iayze, Conway The Machine and more below.
Back In My Prime

Jim Jones and Hitmaka

Red Bull Records/Evgle LLC

Red Bull Records/Evgle LLC

Hot Shot: Gangsta Grillz

G Perico and DJ Drama

Perico's Innerprize LLC/Empire

Perico's Innerprize LLC/Empire

Liberation 2

Talib Kweli and Madlib

Simple Stupid Records/Geffen Records

Simple Stupid Records/Geffen Records

Pain Provided Profit

Conway The Machine and Jae Skeese

Drumwork Music Group/Empire

Drumwork Music Group/Empire

Doggystyle Rerelease

Snoop Dogg

Dogg Food Rerelease

Tha Dogg Pound

Street Credentials

Zaytoven

Familiar Territory, Inc./MNRK Records

Familiar Territory, Inc./MNRK Records