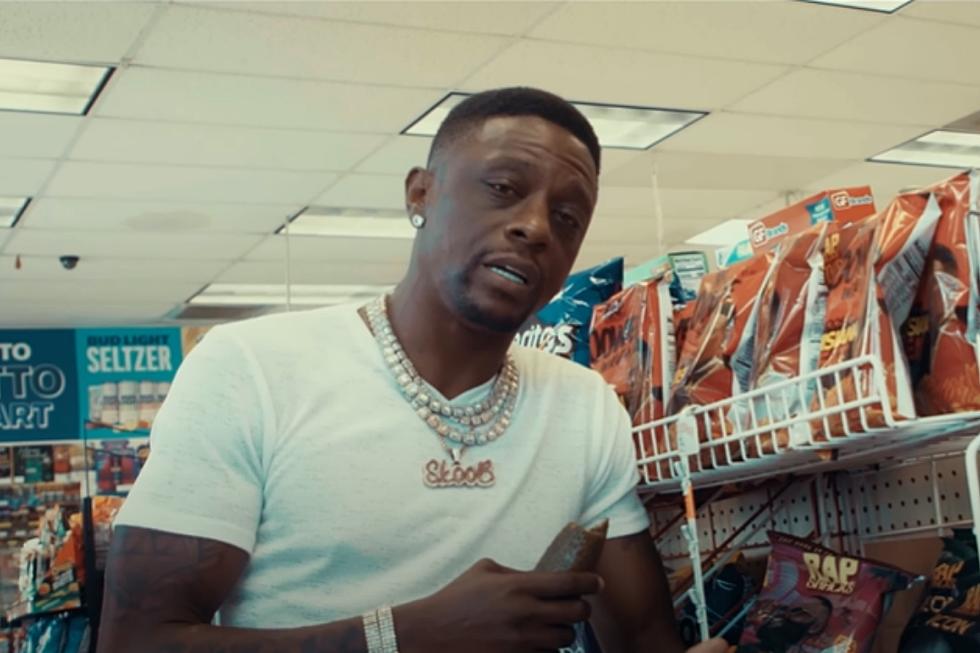 Boosie BadAzz Disses His Daughter and Her Mother on New Song, Gets Twitter Talking
boosiebadazz/YouTube
Boosie BadAzz has Twitter talking after he dissed his daughter and her mother on the new track "Ungrateful."
Boosie Takes Shots at His Daughter and Her Mother
On Tuesday (Aug. 29), Boosie became a trending topic on Twitter after people started commenting on him recently dissing his daughter and her mother on wax. On the track in question, "Ungrateful," which is off the Louisiana rapper's latest album Going Thru Some Thangs, Boosie spits vitriol about his current situation.
"Baby mama, she done hit me with the child support/Ol' dirty-ass b***h 'bout to lie in court," Boosie raps on the track. "Well, that AMG Benz I'ma need that back/Won't play it like that, you ain't 'bout to keep that/Guess the b***h still mad 'cause her brother got wacked/This the same n***a f**ked your little sister in the cat/You sucked Bleek d**k while I f**ked you from the back/You ain't never been s**t but a f**king hood rat/Your ungrateful ass."
Twitter Reacts to Boosie Diss
Twitter users have been sounding off about Boosie's diss.
"BOOSIE IS A CLOWN FOR THIS DISS TRACK TO HIS BM AND DAUGHTER," one person tweeted. "It's killing me cause he deadass."
"Lil Boosie did not have to diss my his bm and daughter like that in that song," another person opined.
"Cause why Boosie done Snap on the Diss song to his Baby mama and Daughter," one post reads, along with crying laughing emojies.
Boosie's Issues With His Daughter and Her Mother
Last month, Boosie made headlines after his daughter Tori called him out for  repossessing the Mercedes-Benz he gifted her for her 16th birthday after she left their home in Atlanta to go take care of her mother. Boosie responded to his daughter's backlash online.
"I've always taking care my children," he wrote in a lengthy response. "She wasn't saying this two weeks ago when she was n Atl going on shopping sprees everyday n has never said this but now I'm not a dad (Spoiled)."
"If u go down talk you father talk the truth about your mother who's been arrested over 12 times for stealing n been in n out of jail her whole life," Boosie continued. "Your dad always tried to raise you not to be this woman. U called another woman mama the first 3 years of your life. We took care [of] you when she was n out of jail. Your mother named you after another man when u was born. I changed your name n took responsibility."
Boosie later revealed he was giving the car to charity.
Check out Boosie laying out his issues with his child's mother and daughter on the new song "Ungrateful" below.
Watch Boosie's "Ungrateful" Video and See Reactions
See Wild Rap Beefs That'll Probably Never Be Resolved
Pusha-T and Drake, YG and 6ix9ine, and more.