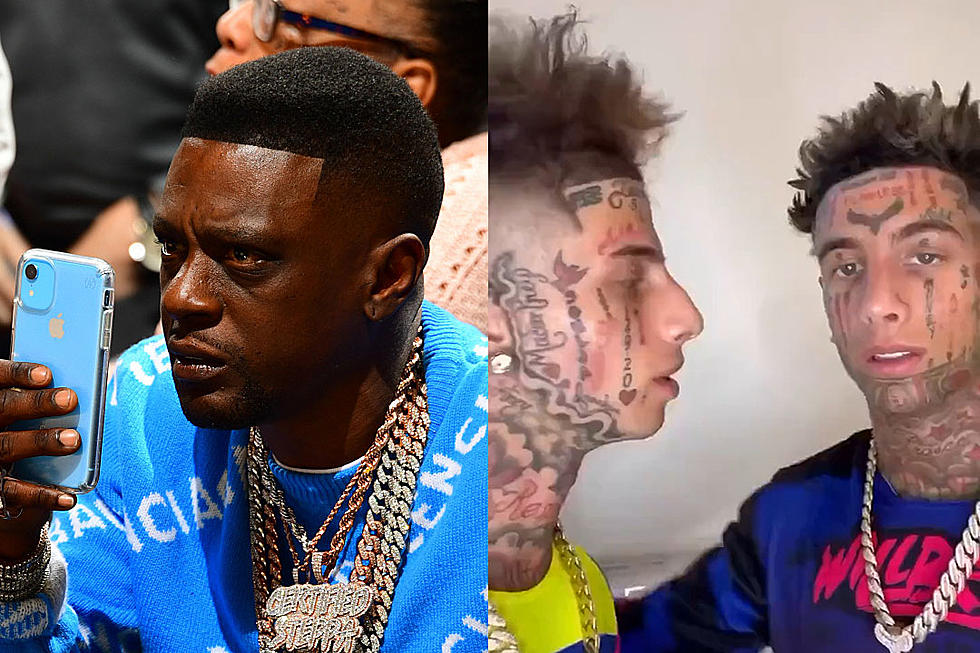 Boosie BadAzz Goes Off After Video of Island Boys Kissing Each Other Goes Viral
Scott Cunningham/Getty Images/No Jumper/Twitter
Boosie BadAzz is going off on Twitter after a video of the Island Boys kissing each other went viral this week.
Boosie BadAzz Reacts to Video of the Island Boys Kissing
On Friday (July 14), Boosie BadAzz hopped on Twitter to share his opinion about a video of the Island Boys making out. In the tweet below, Boosie criticized the twin brothers for exchanging a kiss. The rapper also seemingly ridiculed male rappers for getting manicures and derriere enhancements. The Baton Rouge, La. rapper added that he's repulsed by "this feminine rap game."
"ISLAND BOYS KISSING, N***AS PAINTING THEY NAILS , BBLs smh IM SICK OF THIS Feminine ASS RAP GAME," Boosie wrote in a tweet.
Boosie predicted that in the future, more male rappers will present themselves femininely. Additionally, the rapper stated that female rhymers are currently dominating the hip-hop scene because male rappers are trying to embody a girly-girl aesthetic. Before ending his rant, Boosie prematurely apologized to the City Girls.
"THESE MFS BOUT TO START WEARING THONGS n EYE LASHES NEXT. N U WONDER WHY THE WOMEN TAKING OVER CAUSE YALL TRYING TO BE THEM N BACK OF YALL MIND SOME DAYS YALL WANNA BE H**S . MY BAD CITY GIRLS," Boosie BadAzz continued.
Island Boys Share Video Kissing Each Other
On Thursday (July 13), the twin brother rappers, Kodiyakredd and Flyysoulja, made headlines after Flyysoulja posted a video of him and his brother leaving a few smooches on each other's lips. The tweet's caption reads, "make out [kissing emoji]," with a web link to OnlyFans, which appears to mean the brothers recorded themselves in the act to potentially gain more subscribers on the risqué platform.
See Boosie BadAzz go off on Twitter after video of the Island Boys kissing each other went viral below.
See Boosie BadAzz Go Off on Twitter After Video of Island Boys Kissing Each Other Went Viral Below
See the Definitive List of Bizarre Tweets From Rappers