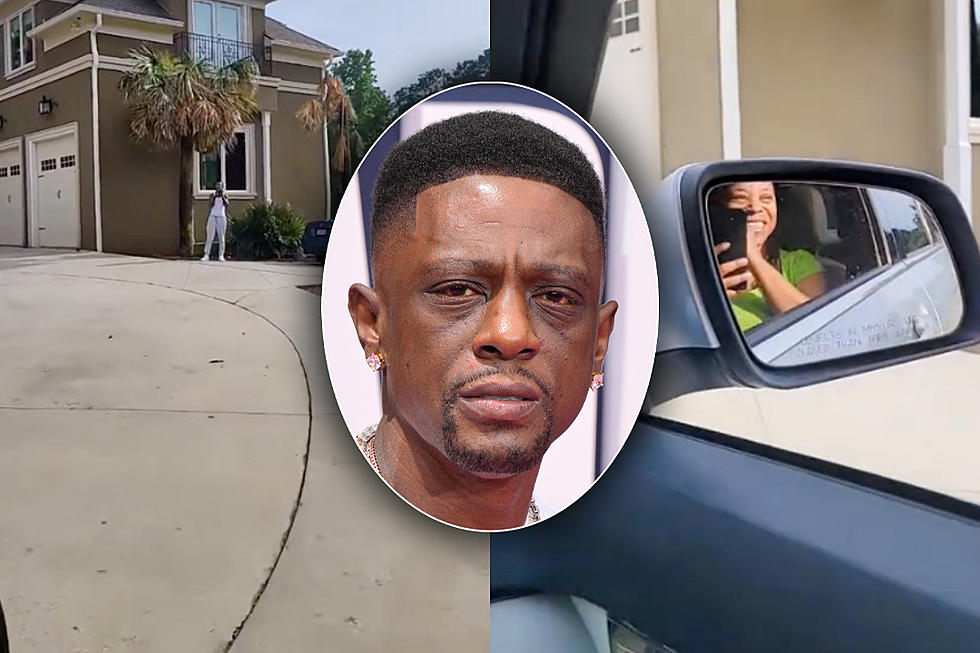 Boosie BadAzz Fan Drives Onto Rapper's Property in a Strange Attempt to Cook for Him – Watch
ishaqbff/TikTok/Prince Williams/Getty Images
A Boosie BadAzz fan drove onto the rapper's property this week in a strange attempt to cook for him.
On Saturday (July 15), a woman who goes by ishaqbff on TikTok posted a video of herself pulling up to Boosie BadAzz's mansion to try and cook for him, which can be seen below.
"I risked it ALL," the Boosie BadAzz fan captioned the strange video clip. "I'm just trynna cook for you BOOSIEEEEE."
In the video, the fan drove to the front of Boosie's home after seeing that the gate to the Baton Rouge, La. rapper's property was open. However, the fan's desire to chef up something for Boosie BadAzz got shut down after two male residents told the fan and her passenger they must leave. Before being motioned to get off the property, the passenger apologized and defended their actions. According to the unknown rider, they both misinterpreted a hand gesture one of the men made. Despite being told that "it's not that type of time" by one of the unidentified residents, the fan still took it as a win.
"We did it!" the fan stated at the end of the video.
Fans on Social Media Are Shocked By the Boosie Badazz Fan Who Drove Onto His Property to Try and Cook for Him
In the wake of a Boosie fan's strange attempt to cook for him, some TikTok users expressed how wild it was for her to drive onto his property unannounced, which can be seen below.
"Fans getting out of hand dude really just went through his gate on his property [two skull emojis] [face palm emoji]," wrote one TikTok user.
Another user stated: "Why did they think they were entitled to just pull up to that man's house?"
Boosie Badazz has yet to comment on the matter.
Watch the Boosie BadAzz fan drive onto the rapper's property in a strange attempt to cook for him below.
Watch the Boosie BadAzz Fan Drive Onto the Rapper's Property in a Strange Attempt to Cook for Him in the Video Below
See the Most Expensive Rapper Homes Anyone Would Want to Live In
Homes owned by Future, Drake, YoungBoy Never Broke Again and more.