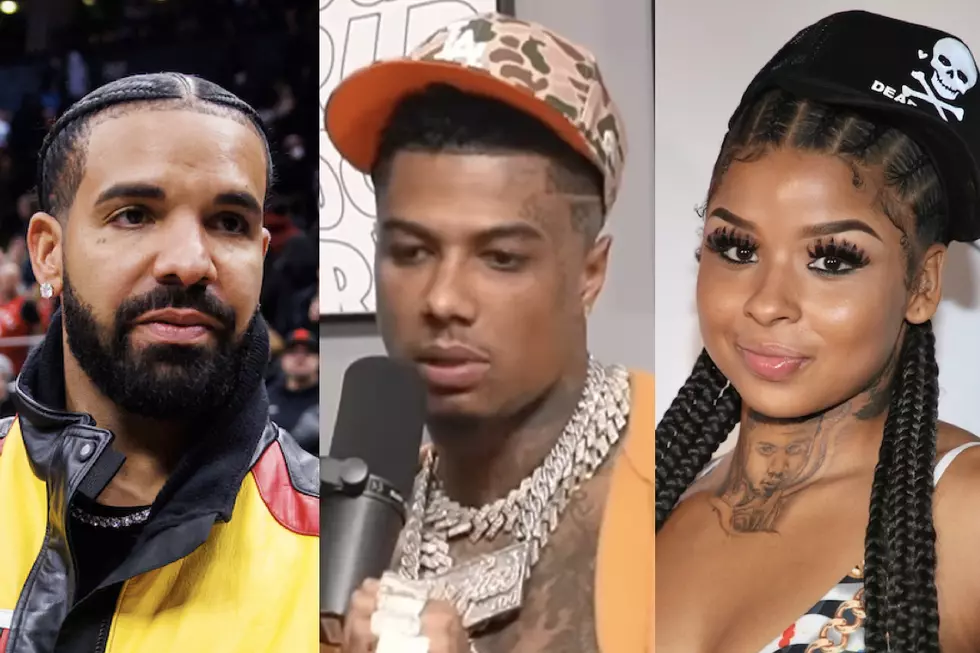 Blueface Claims Drake Follows Chrisean Rock Because Drake's Infatuated With Him
Cole Burston/Getty Images/No Jumper/YouTube/ Robin L Marshall/Getty Images
Blueface made a strange revelation during an interview this week. The Los Angeles rapper claims that Drake follows Chrisean Rock on social media because he's infatuated with him.
During an interview on No Jumper's Sharp Tank podcast, which premiered on Friday (Jan. 20) on YouTube, Blueface asserted that the only reason why Drake follows Chrisean Rock on social media is because he once admired him.
"I took it like he's following me," he stated at the 54-minute mark in the video below. "Me and him have a past where he was a fan of me at one point in time. And so, my offspring, obviously he's gonna…it's just kind of an infatuation with me through her."
Drake's name came up after Sharp Tank host Sharp asked Blueface if he's caught Chrisean cheating on him. The "Thotiana" rapper acknowledged that Chrisean cheats on him plenty of times and vice versa. The subject of people sliding into DMs prompted Sharp Tank co-host Gina Views to ask Blue about Drake following Chrisean, who is currently pregnant.
Blueface then went on to say that he's caught other rappers sliding in Chrisean's DMs. But he doesn't get mad at the rappers, instead, he holds Chrisean accountable for her actions.
"I don't ever get mad at them. I get mad at her," he explained. "I would do the same thing. There's plenty of...rappers I did songs with I met with they bitch and then they bitch [try to holler at me]."
"I'm never mad at the rapper. I name them, they homies. I don't give a fuck about them," he continued. "But her [Chrisean], I'm gonna hold her in court like, 'What was the response?' 'What was the delay?' 'What was, how many minutes?' 'Did you accept?' Did you decline?'"
As far as Blueface having a history with Drake, in November of 2019, Blueface reportedly shared on his Instagram page a DM from Drizzy praising him for Blueface's songs "Next Big Thing" and "Dead Locs," and that he's ready to go in the studio and "cook" something up with him. Drake added that Boi-1da had "a beat he made for us that slaps so hard." Sadly, it seems, the two rhymers never linked up in the studio.
Also, during Blueface's interview with Sharp Tank, Chrisean Rock was forcefully kicked out of the studio.
Watch Blueface's Interview With No Jumper's Sharp Tank Podcast Below
See The Relationship Advice From Future You Never Knew You Needed