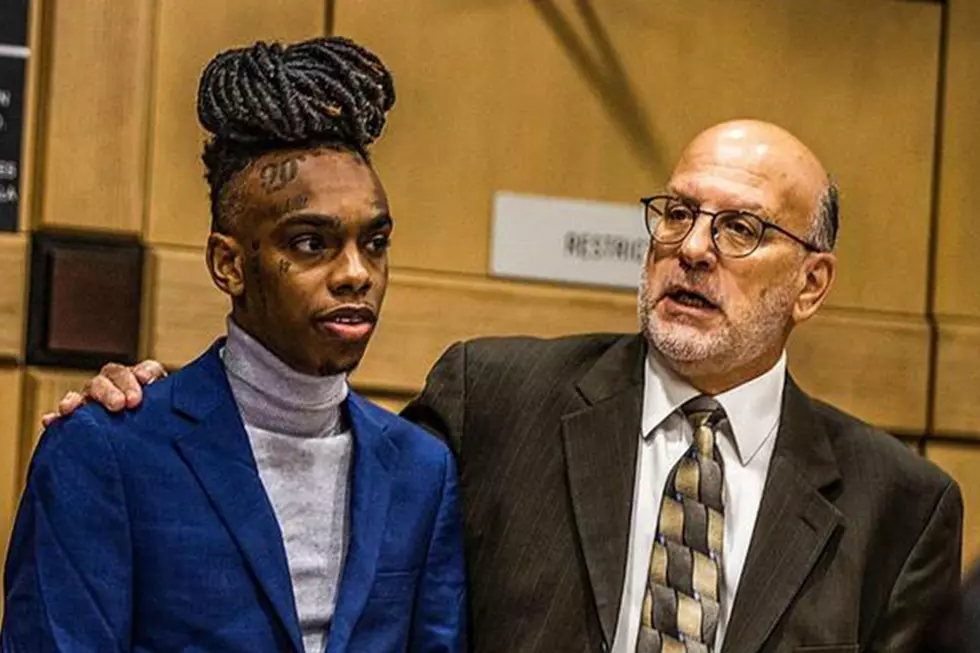 What We Learned on Day Two of YNW Melly's Murder Trial
Pedro Portal/Miami Herald/Tribune News Service/Getty Images
YNW Melly's double murder trial is in full swing as the South Florida native is accused of being responsible for the 2018 shooting deaths of two of his close associates, YNW Sakchaser and YNW Juvy.
On day two of YNW Melly's court proceedings, which took place on Tuesday (June 13) in Broward County, Fla., many interesting aspects of the case played out both in the courtroom and across social media including a live stream video of the trial as the court was in progress via Law and Network's YouTube channel.
YNW Melly Promotes Day Two of His Double Murder Trial on Instagram
Just prior to his second court appearance, where YNW Melly faces two charges of first-degree murder, the "Murder on My Mind" rapper promoted the trial's Law and Crime live stream on his own Instagram page.
"Go watch and support me during trial," YNW Melly wrote in a since-deleted IG post along with a photo of himself in court. "Send a prayer for me. Day 2 @lawandcrime."
YNW Melly's Defense Attorneys Attempt to Keep the Mother of a Victim from Testifying
While prosecutors from the State of Florida looked to have the mother of victim YNW Juvy, born Christopher Thomas, identify her slain son on the stand, YNW Melly's defense attorneys attempted to block her from testifying.
As the trial's jurors were temporarily removed from the courtroom, the defense argued that YNW Juvy's mother being allowed to testify could potentially have an undue impact on the jury. After hearing arguments from both sides, Judge John J. Murphy III decided to delay a ruling on whether or not Juvy's mom can testify until he can thoroughly look into the state's case law as it pertains to the matter.
YNW Melly Faces Backlash for His Demeanor in the Courtroom During Day Two of the Double Murder Trial
According to Law and Crime Network, the families of both alleged victims, YNW Juvy and YNW Sakchaser, became "visibly frustrated" at one point during the second day's proceedings when YNW Melly closed his eyes and folded his hands to pray before making what appeared to be a kiss-blowing gesture.
Key Evidence Presented on Day Two of the YNW Melly Double Murder Trial
After being shown initial surveillance footage of YNW Melly leaving a recording studio in Fort Lauderdale, Fla. and getting into the same car in which the shooting occurred on the first day of the trial, jurors were shown more footage from both inside and outside the studio. Additional key pieces of evidence presented on day two included photos of a Jeep Compass, which the prosecution claims Melly and his co-defendant, YNW Bortlen, used to make it appear that the two slain individuals were killed in a drive-by shooting.
What Happens to YNW Melly If He is Convicted of First-Degree Murder?
While YNW Melly's trial is expected to last for the next few weeks, Florida prosecutors are seeking the death penalty if the "Suicidal" rhymer is found guilty of killing YNW Juvy and YNW Sakchaser. Despite a potential sentence to death row having been previously dropped back in 2022, the motion was proposed again and approved following a new Florida statute in which all 12 members of a jury no longer have to come to a unanimous decision regarding the death penalty. The new statute allows for a death sentence to be recommended with an eight to four vote.
YNW Melly's Music Increased in Popularity During Double Murder Trial
As YNW Melly is tried for the murder of his two friends, his music is seemingly more popular than ever. In the days since the trial started, Melly's most popular songs including "Murder on My Mind," "Suicidal" and "223's" featuring 9lokknine have collectively amassed over a million streams on Spotify.
Watch Day Two of the YNW Melly Double Murder Trial Below
See 44 of the Longest Prison Bids in Hip-Hop History
C-Murder, Max B, B.G. and more.