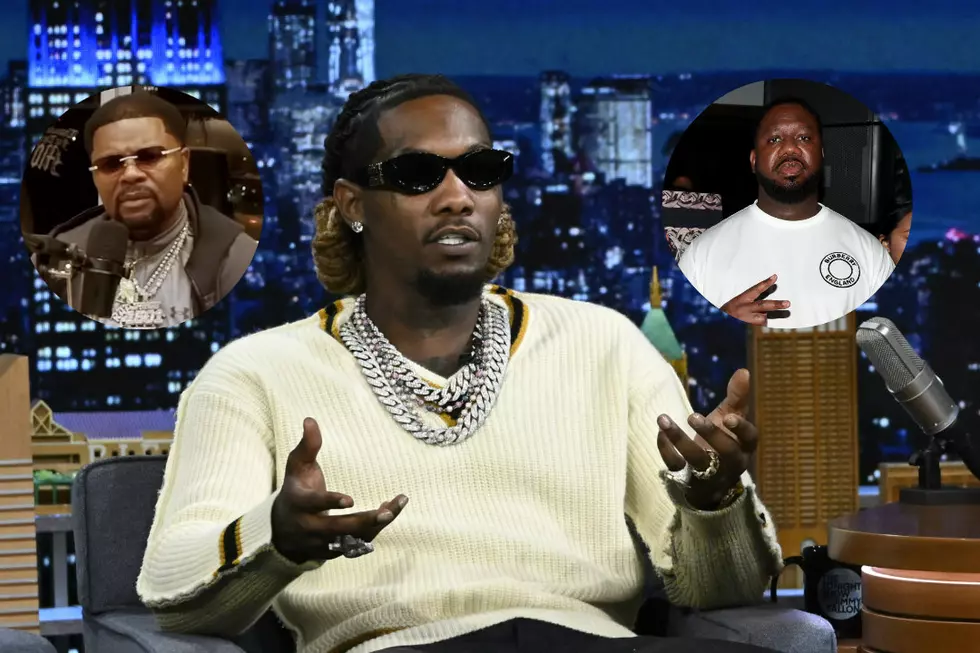 Offset Appears to Throw Shade After J Prince Posts Photo With Quality Control CEO Pierre Thomas
Todd Owyoung/Getty Images/MillionDollazWorthofGame/YouTube/ Cassidy Sparrow/Getty Images
Offset appears to be upset after J Prince posted a photo with 'Set's estranged CEO, Quality Control's Pierre "P" Thomas.
On Wednesday (April 26), J Prince uploaded a picture to Instagram that shows him posing with Larry Hoover associate Johnny "Crusher"Jackson and QC's Pierre Thomas. Prince captioned the photo: "Congratulations to both of the homies that are making big moves where they're from Chicago and Atlanta. Keep doin what you doin the real recognize the real."
Shortly afterward, Offset put up two posts on his Instagram Story that appear to be a response to the photo.
"I hate you n***as with all my heart," Offset shared without context. "Fake love a mf smh," he added in a follow-up post.
Wack 100 later chimed in on the photo, revealing it was taken in 2021 and accusing the Rap-a-Lot founder of clout chasing.
"SWIPE LEFT @jprincerespect CLOUT CHASING AT ITS FINEST," Wack captioned a screenshot of J Prince's post along with the original image. "NEGRO DONT POST THIS LIKE ITS GOOD . THIS PIC WAS TOOK 2021 WHEN IT WAS GOOD NOT 4 HRS AGO MORE LIKE 18 MONTHS AGO."
Offset and J Prince have not seen eye-to-eye since Takeoff was killed in J Prince's hometown of Houston following a private party for J Prince's son, J Prince Jr., last November. Back in February, Prince called out Offset during an interview on the Million Dollaz Worth of Game podcast.
"This Offset dude. I ain't gon' leave him out," J Prince said at the 57:59-mark of the interview. "I'm just real like this. Ni***s be throwing rocks and hiding their hands, right. I don't like them kind of individuals. The truth of the matter is, one can dance and do different things in front of these different cameras and all kinds of s**t. The truth of the matter is, n***a, you wasn't really right there with Takeoff when he was alive."
He continued: "For you to be taking these positions that you taking. I got people everywhere, so I hear all kinds of things. I'ma just say this to you. Don't never put me in no position where I have to defend myself. That wouldn't be healthy for you."
Offset responded to the name-drop in his own Instagram video.
"First off, y'all ni***s speaking on my real brother," Offset started. "I don't know what the fuck y'all ni***s got going on. Y'all ni***s speaking on my real brother. How dare you ni***s even speak on me and Take relationship, n***a. I don't know you, n***a, from a can of paint, n***a. Y'all ni***s don't know how me and my brother rocked, n***a. You trying to clear your face. This your fifth interview n***a done did about my brother, n***a. You ain't think about his momma? You ain't think about the family, n***a? We ain't said nothing. Nobody said nothing but you ni***s."
Offset's issues with Quality Control date back a few years. In 2021, he sued the label after trying to renegotiate his contract to have full ownership of his solo masters. Both sides have called each other out publicly.
See Wild Rap Beefs That'll Probably Never Be Resolved
Pusha-T and Drake, YG and 6ix9ine, and more.