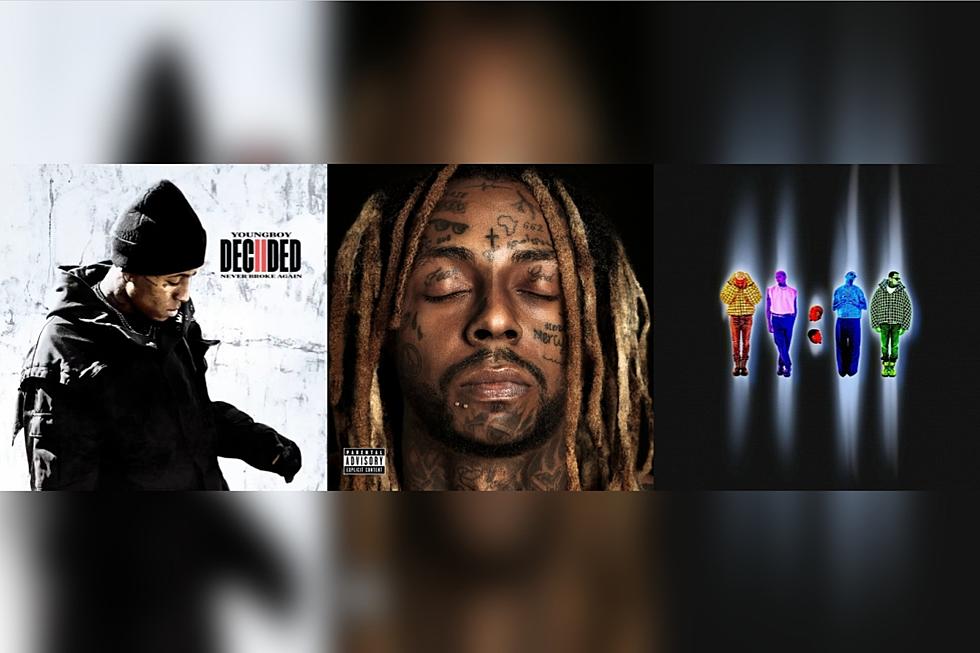 November 2023 New Music Releases
Never Broke Again/Motown / Gamebread/Def Jam / Chris Brown Entertainment/RCA Records
The back half of 2023 has featured big-name releases from the likes of Drake, Travis Scott and Lil Uzi Vert, and November follows suit with more A-list projects.
Lil Wayne and 2 Chainz Return With Welcome 2 Collegrove 
Lil Wayne and 2 Chainz are finally set to release their follow-up joint album Welcome 2 Collegrove. The collab project is the sequel to their album Collegrove, which dropped in 2016 and features production from Southside, Mike Will Made-It, TM88, Zaytoven, Metro Boomin and others. The album debuted at No. 4 on the Billboard 200 chart.
Tunechi and Tit have been teasing the follow-up album for years. During a March of 2022 digital cover story interview with XXL, 2 Chainz spoke about the release. The duo gave fans a taste of the new album with the Bangladesh-produced single "Presha," which dropped on Oct. 20. W2C will feature 21 tracks.
YoungBoy Never Broke Again Drops Latest Album Decided 2
YoungBoy Never Broke Again refuses to take his foot off the gas, returning with a new album Decided 2, the sequel to his 2018 mixtape and third release of 2023. In January, YoungBoy dropped off his first project of the year with I Rest My Case, followed by Don't Try This at Home in April. NBA dropped off his three singles "Deep Down," "My Body" and "Now Who" in promotion for his new project.
YoungBoy most recently made headlines for his rumored beef with J. Cole, which started after fans believed the latter took shots at Top on Lil Yachty's song "The Secret Recipe." However, Cole clarified during his guest appearance on Drake's "First Person Shooter" that this wasn't the case. "I still wanna get me a song with YB, can't trust everything that you saw on IG," Cole raps. "Just know if I diss you I make sure you know that I hit you like I'm on your caller I.D." YoungBoy has yet to respond to Cole's latest bars.
Chris Brown Releases 11th Album 11:11
It's been two years since Chris Brown dropped a solo LP. The Virginia crooner will close out 2023 with his 11th album 11:11. CB first announced the album back August, revealing the offering would feature 11 songs, which is a big different from his previous LPs, which included over 20 tracks.
"I see Some of my die hard fans wanting me to add more songs for the new project and I love y'all for that," Breezy wrote on an Instagram post about the project over the summer. "But, I just feel I need you all to really miss me and take my art seriously. IM JUST focused on giving y'all the best to digest. 11:11 make a wish."
The new album has been preceded by the singles "Summer Too Hot" and "Sensational."
See more November new releases from Rick Ross and Meek Mill, Lola Brooke, Danny Brown and more below.
See November 2023 New Music Releases