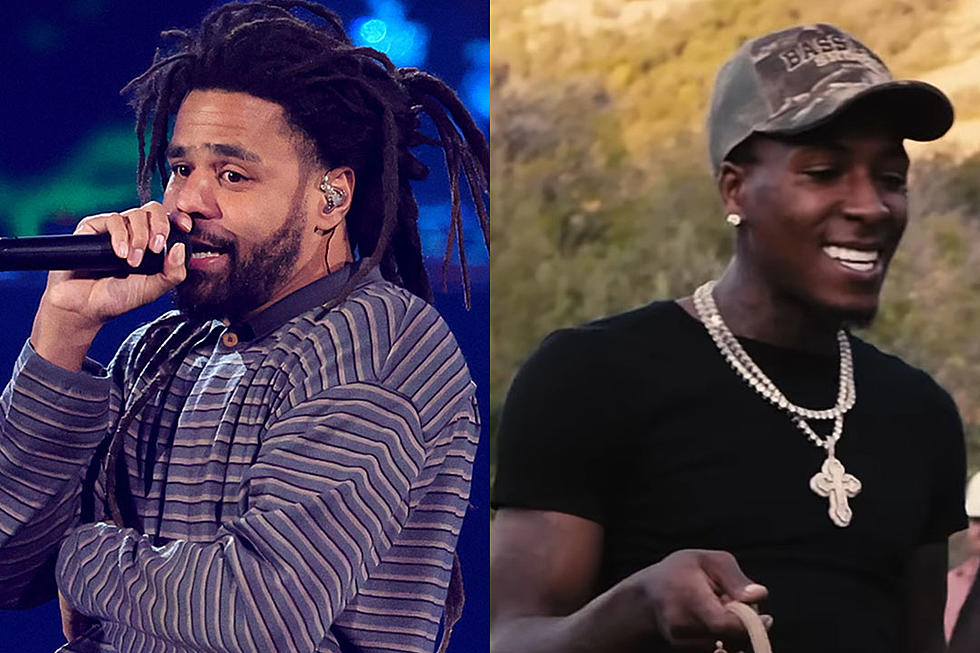 J. Cole Addresses Any Beef With YoungBoy Never Broke Again on Drake's 'First Person Shooter'
Ethan Miller/Getty Images/YoungBoy Never Broke Again/YouTube
J. Cole has addressed his rumored beef with YoungBoy Never Broke Again on Drake's new album, For All the Dogs.
J. Cole Addresses Any Beef With YoungBoy Never Broke Again on "First Person Shooter"
On Friday morning (Oct. 6), Drake released For All the Dogs with a J. Cole feature on "First Person Shooter." The track finds Cole name-dropping NBA YoungBoy on the sixth track on Drake's For All the Dogs. During his verse, Cole told his supporters that they shouldn't believe everything they see online. He seems to be referring to recent rumors he dissed YB on "The Secret Recipe," a Lil Yachty song Cole is featured on.
"I still wanna get me a song with YB, can't trust everything that you saw on IG," Cole raps. "Just know if I diss you I make sure you know that I hit you like I'm on your caller I.D."
Fans Believe J. Cole Took Shots at YB on Lil Yachty's Song "The Secret Recipe"
On Sept. 29, Lil Yachty released the new EP, The Secret Recipe, which features the title track with J. Cole. Many fans speculated Cole was taking shots at YB, but his manager later disputed that notion.
"N***as makin' threats and I laugh, that's 'cause you ain't a threat/Don't ask how I feel 'bout no rappers, s**t, they OK, I guess," the North Carolina rhymer spits. "Incomin' call, press the button, the one that say accept/He FaceTime to ask for a feature and saw the face of death/I'm on your song, your streams goin' up, not quite the Drake effect/But don't complain, b***h, take what you get and cut the label check."
Later, Cole's manager Ibrahim Hamad posted on X, formerly known as Twitter, that his artist dissing YB was "cap."
"Not sure how y'all heard that cole verse and put that together, impressive," Hamad wrote.
NBA YoungBoy had previously dissed Drake and seemingly J. Cole back in May on the track "F**k the Industry Pt. 2," off his Richest Opp album. The Louisiana rapper appeared upset about not getting a feature from the Dreamville leader.
Listen to "First Person Shooter" below.
Listen to Drake and J. Cole's "First Person Shooter"
See Rappers' Most Wildest Insults They've Said During Beefs