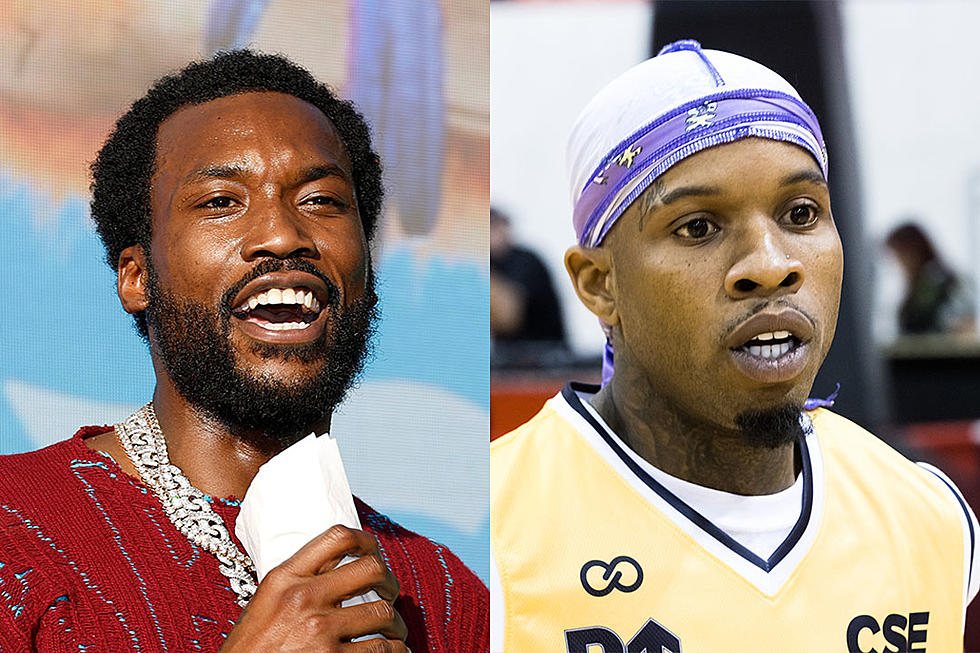 Meek Mill Reacts to Backlash for Saying 'Free Tory Lanez' at Recent Show
Mike Coppola/Getty Images for Fanatics/Greg Doherty/Getty Images
Meek Mill reacted to backlash on social media this week for saying "Free Tory Lanez" at a recent show.
Meek Mill Doesn't See the Problem With His Statement at Rolling Loud Portugal
On Tuesday (July 11), Meek Mill hopped on Instagram's new app, Threads, to respond to the people with something negative to say after he screamed for the "Say It" rapper's freedom from confinement at the 2023 Rolling Loud Portugal music festival in Portimão, Portugal. In the threads below, Meek Mill said he's previously spoken about wanting justice for incarcerated rappers like Young Thug, YFN Lucci and YNW Melly with no issues whatsoever.
"I say free young thug … free lucci … free melly," Meek Mill wrote in the threads below.
The Championship rapper added: "I don't even know why y'all start dealing with us if yall gone try to smear us …. That's why I stick to the trenches."
In a following thread, which can be seen below, Meek Mill continued to address the backlash from what he said on stage at Rolling Loud Portugal.
"Narrative control starts every Monday, lol nobody gives a f**k what these people talking we making real-life change out here every day!" Meek Mill wrote.
The "24/7" artist defended his statement, adding that Tory's sentencing isn't solidified.
"If I said free MUMIA a. I gonna be shamed! he's allegedly guilty for killing a few male cop!" Meek Mill wrote on Threads.
The "R.I.C.O" rapper continued: "I grew up to the black nation screaming that!" Meek Mill continued. "Why do y'all think y'all can control us we got millions and real man influence not internet tricks!"
What Happened During Meek Mill's Set at Rolling Loud Portugal?
Meek Mill recently performed his 2016 single "Litty," featuring Tory Lanez, during his set at Rolling Loud Portugal on July 7. At the end of the song, the rapper could be heard saying, "That was f**king lit." He also closed out his set by saying, "Free Tory Lanez, too, one time."
Tory Lanez Waits for His Sentencing
In December of 2022, Tory Lanez was found guilty of assault with a semiautomatic firearm, among other related charges, in connection with the shooting of Megan Thee Stallion in July of 2020. The singer-rapper is waiting for his official sentence, which is set to be handed down on Aug. 7. Tory Lanez faces a maximum sentence of 22 years in prison. However, prosecutors are asking that the Canadian-born artist be sentenced to serve 13 years.
See Meek Mill react to backlash for saying "Free Tory Lanez" at a recent show.
These Tone-Deaf Hip-Hop Moments Prove Rappers Can Get Hit With Serious Backlash