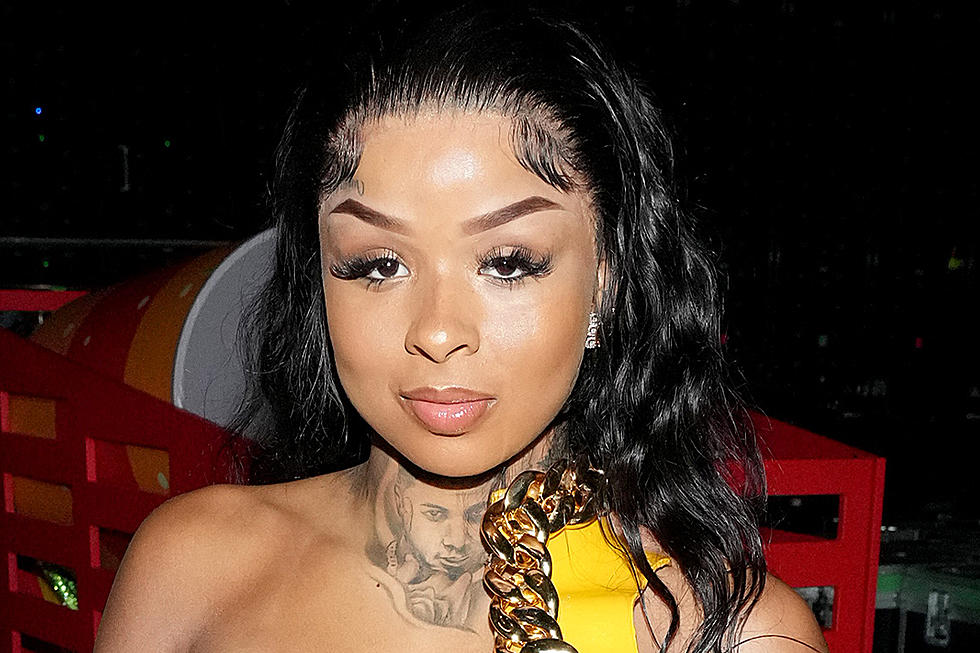 Chrisean Rock Removing Blueface Tattoos?
Bennett Raglin/Getty Images
Is Chrisean Rock about to have her Blueface tattoos removed?
Chrisean Rock Considers Laser Tattoo Removal
On Friday (July 14), Chrisean Rock hit up Twitter to let her 1.3 million followers know that she is heavily considering undergoing laser tattoo removal. It's been well-documented that Chrisean, who is currently pregnant with her ex-boyfriend Blueface's child, has several tattoos dedicated to the Los Angeles rapper.
"I'm trynna convince myself to go through with the laser removal," Chrisean Rock tweeted along with a frightened emoji and a crying emoji. "I made the appointment im just so attached to it it's crazy."
Meanwhile, over on Instagram, Chrisean Rock decided to share a screenshot of some text messages between her and a tattoo removal company called LaserAway regarding a confirmation for a consultation appointment. In the photo posted below, it appears as though the appointment is set, Chrisean is still on the fence about the whole idea. Rock allowed herself some more time to think about her decision by moving the appointment from 8:45 a.m. to 2:00 p.m.
Will Chrisean Rock Be Removing One or More of Her Seven Blueface Tattoos?
With Chrisean Rock's laser removal appointment apparently pending, the question now is, will she be wiping herself clean of one or more of the many ink pieces dedicated to Blueface?
While that question has been left unanswered at the moment, the probability of Chrisean removing Blueface's likeness from her body is high as she currently has seven tattoos of her estranged lover including two detailed portraits of the "Thotiana" spitter on her throat and side of her neck. Aside from the ink, Chrisean Rock also once had a tooth implanted into her gums with Blueface's smiling face on it back in July of 2022.
Has Blueface Moved On From Chrisean Rock?
As Chrisean Rock could potentially be gearing up to remove her Blueface tattoos, it appears as though the California-bred rhymer has more than moved on from their incredibly rocky past relationship. Just last week, Blueface was hit with some heavy backlash for questioning his 6-year-old son's sexual orientation while a whole slew of scantily clad women twerked around his house. That same day, Blueface's mom, Karlissa Saffold, made light of the situation by downplaying the controversial video on social media.
Check out Chrisean Rock confirming that she intends to undergo laser tattoo removal and see some of her Blueface tattoos below.
See Chrisean Rock Contemplate Laser Tattoo Removal and Some of Her Blueface Tattoos Below
See 33 Rappers With Wild Neck Tattoos
Check out 33 rappers with wild neck tattoos.