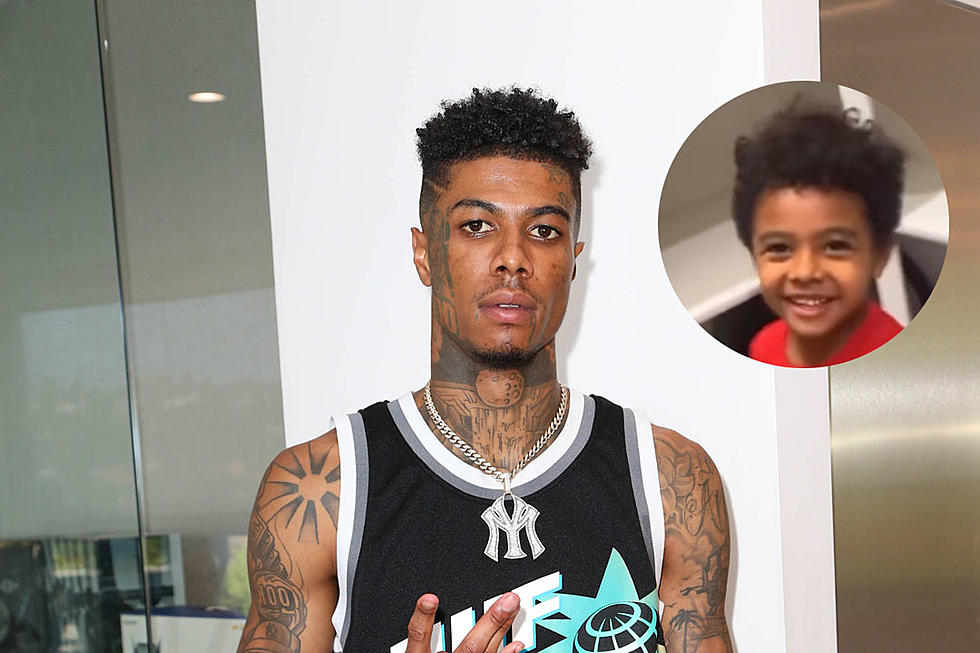 Blueface Receives Backlash for Questioning 6-Year-Old Son's Sexual Orientation While Women Twerk in the House
Maury Phillips/Getty Images for Wealth Garden Entertainment Juneteenth Celebration/bluefasebabyy/Instagram
Blueface is getting backlash for questioning his 6-year-old son's sexual orientation because the kid wanted food instead of sitting in a room with scantily clad women.
Blueface Asks Son If He's Gay
On Thursday (July 6), Blueface shared video on social media that has people going in on the "Thotiana" rapper. In the clip below, it shows multiple women in skimpy bikinis dancing in the rapper's living room. Blue then leaves to room to go find his 6-year-old son who apparently left to go find something to eat. Blue locates the kid in a sparsely populated food pantry.
"It's booty cheeks out here. You over here looking for chips and Slim Jim's and s**t," Blueface tells the kid.
"I love Slim Jims," the boy responds.
"You ain't gay is you?" Blueface then asks. The child seems slightly confused by the question. So, Blueface asks him multiple times until the boy says no.
"My man!" Blueface celebrates before giving the kid dap. "My dawg!"
Blueface has also drawn side-eyes for a follow-up clip that shows him addressing his son and some other kids.
"Y'all sit right here while I go fondle with these young women for a while, alright?" he tells the children.
Blueface Faces Backlash
Blueface has been in the hot seat on social media due to the video.
"#Blueface grooming his son," one Twitter user opined. "If this had been a lil girl with grown as men swinging penis in the background the internet would've crashed with outrage …..and y'all wonder sometimes why boys get 'left behind' in society."
"I need [Child Protective Services] to get that baby like yesterday," someone else posted.
"He hasn't even hit puberty yet," another post reads. "Why don't you take him to a nanny or somewhere he can play instead of him seeing this hypersexualized behavior? How can you be so ignorant as an adult. This hip-hop lifestyle yall forcing on kids is not talked about enough."
See video of Blueface questioning if his son is gay below.
Watch Blueface Question His Son's Sexual Orientation and Backlash Below
See the Definitive List of Bizarre Tweets From Rappers