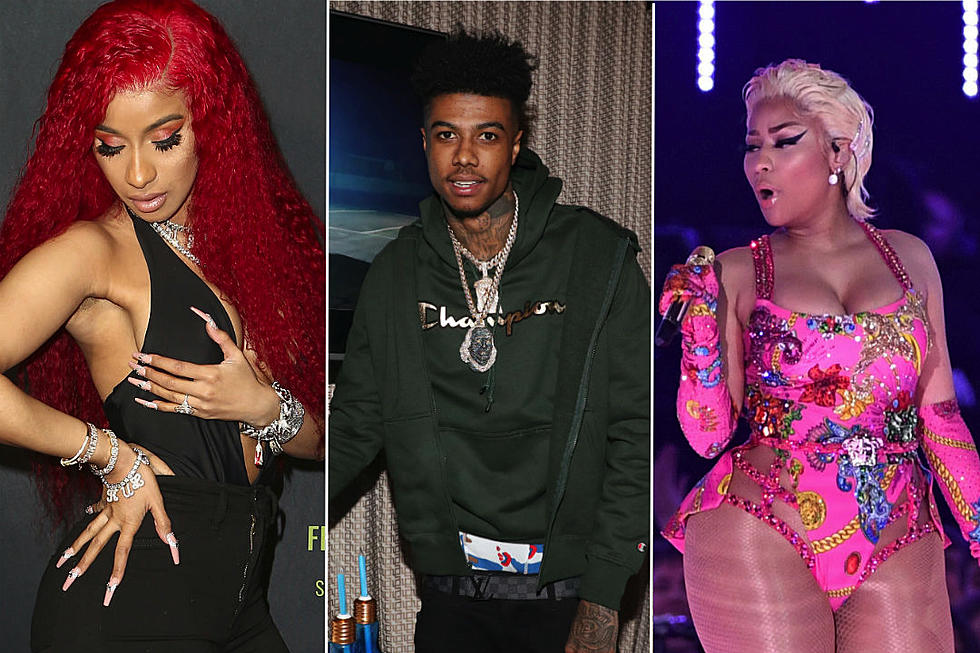 11 Bust-Down-Friendly Remixes to Blueface's "Thotiana"
Tommaso Boddi / Johnny Nunez / Ian Gavan, Getty Images (3)
Los Angeles rapper Blueface burst onto the music scene in late 2018. Following a record deal with Cash Money West and a management deal with The Game's manager, Wack 100, his breakout hit, "Thotiana," has him quickly becoming one of the hottest new artists in the game—and his peers are taking note.
Everyone from the likes of Nicki Minaj to Cardi B to YG have remixed the Scum Beats-produced track. Some are official remixes and others are just fun freestyles for the fans to enjoy. Desiigner falls under the latter; he used his bars to take a dig at his G.O.O.D. Music boss, Kanye West.
"I like to mix the codeine with the Fanta, huh/I got it going crazy, like Desiigner, huh," the Brooklyn rapper spits on his remix. "Oh god, it goin' crazy, like Kanye, huh/I brought it to my house on a Sunday."
On the second of the track's two official remixes, Cardi showed some love to her baby girl, Kulture.
"Cardiana/I was home with my kid, mommiana," she opens her verse with. "Real bitch, I don't be with all that drama/Mindin' my business, I'm unbothered."
While Nicki Minaj has not commented on Cardi's remix, she did show love to Young M.A.'s version just before the Brooklyn rapper released it in full.
"Eat da 😻 then I beat da blockiana," Nicki tweeted with a preview of M.A.'s remix. "u better drop this ain't nobody bout ta play wit u!"
Check out XXL's roundup of the most fire "Thotiana" remixes below.
"Thotiana (Remix)"

Blueface Featuring Cardi B

"Thotiana (Remix)"

Blueface Featuring YG

"Thotiana (Remix)"

Desiigner

"Thotiana (Remix)"

Young M.A

"Thotiana (Remix)"

Slim Thug

"Thotiana" (Freestyle)

Skinnyfromthe9

"Thotiana (Blueface Remix)"

Cuban Doll

"Thotiana Freestyle (Tyga Diss)"

Soulja Boy