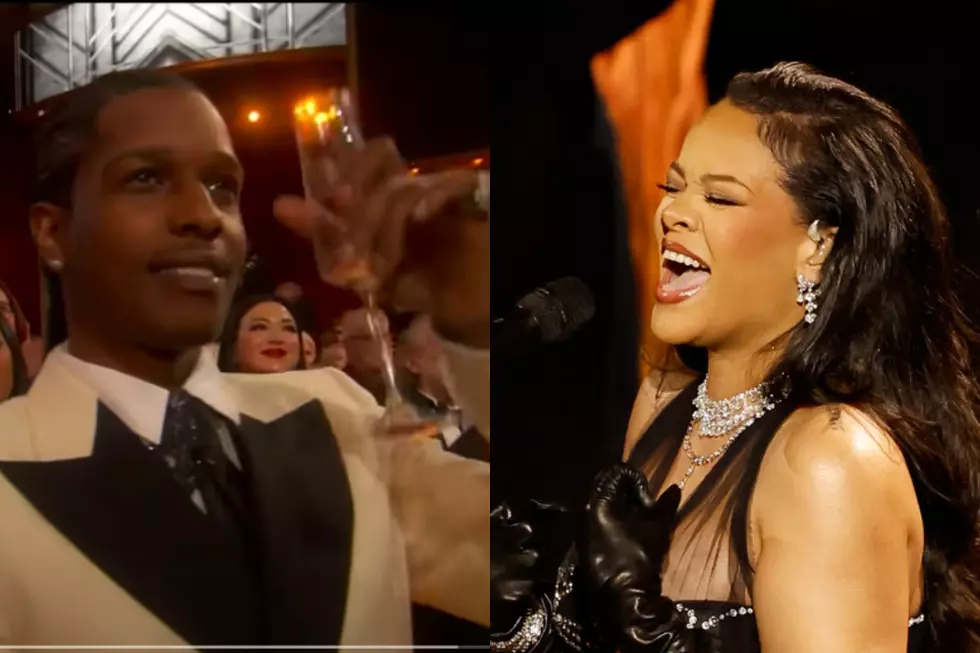 ASAP Rocky Offers Up a Toast to Rihanna Following Her Emotional Oscars Performance of 'Lift Me Up' – Watch
Entertainment Tonight/YouTube/ABC/Contributor/Getty Images
A$AP Rocky offered up a toast to Rihanna following her emotional performance of "Lift Me Up" at the Oscars.
On Sunday (March 12), A$AP Rocky was spotted in the crowd during Rihanna's performance at the 95th Academy Awards in Hollywood, Calif. As Rihanna wrapped up her soul-stirring live rendition of "Lift Me Up," the lead single from the Black Panther: Wakanda Forever soundtrack, A$AP Rocky basked in the moment with a prideful acknowledgment of his longtime girlfriend and soon-to-be mother of two.
In the video posted below, A$AP Rocky can be seen beaming with pride as the tearful Oscars audience at Los Angeles' Dolby Theater greets the end of Rihanna's touching tribute to late Black Panther actor, Chadwick Boseman, with a raucous standing ovation. Donning an immaculate white tuxedo with black accents, the "Praise The Lord (Da Shine)" rapper pumps his first in a moment of triumph before raising his glass to toast Rihanna accompanied by a warm smile from ear to ear.
Rihanna's flawless live presentation of "Lift Me Up" and Rocky's heartwarming reaction is the second time in a month that the A-list hip-hop couple has made major headlines. During Ri Ri's outstanding performance at Super Bowl LVII, A$AP Rocky immediately began to trend across social media as speculation rapidly circulated that Rihanna may be pregnant due to the fact that she rocked the halftime set with a noticeably adorable baby bump.
Within moments following the performance on Feb. 12, it was confirmed that Rihanna and the "A$AP Forever" spitter are indeed expecting the birth of their second child.
See ASAP Rocky Toast Rihanna and Her "Lift Me Up" Oscars Performance in the Videos Below
See Rappers' Birthdays