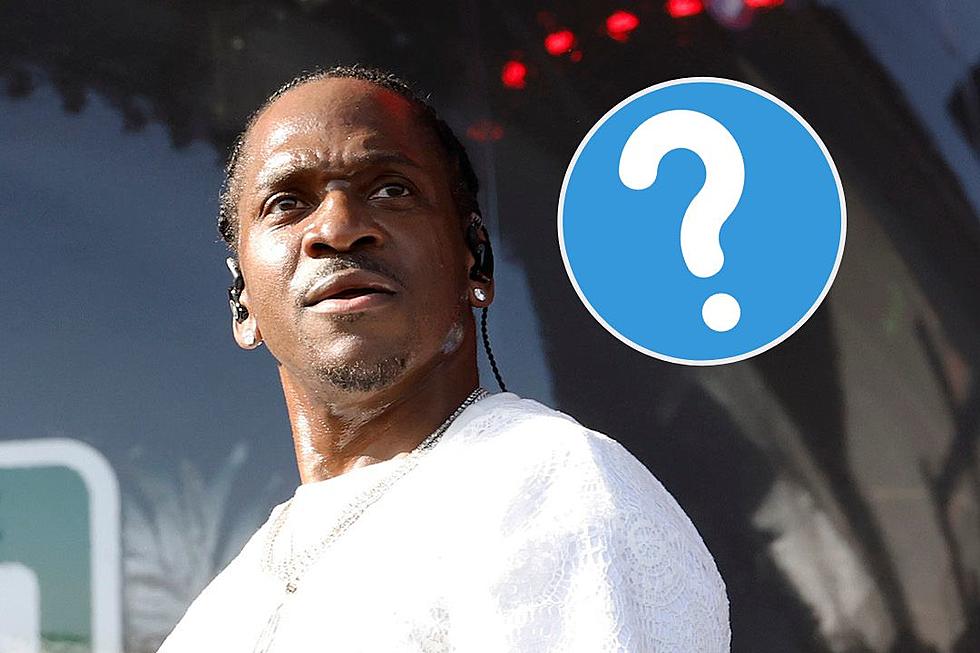 Is Pusha T a Victim of a Mysterious Bot Army Posting Malicious Tweets About Him?
Frazer Harrison/Getty Images/masterSergeant/iStock/Getty Images Plus
It looks as if Pusha T may be a victim of a mysterious bot army that's posting malicious tweets about him.
Is Pusha T a Victim of a Mysterious Bot Army?
On Saturday (July 15), Twitter user Kurrco brought to people's attention that a secretive bot army is posting defamatory tweets about Pusha T. Some of the off-color messages are slanderous and evil. Mysteriously, there seems to be no reasoning behind these tweets aimed at the Virginia rhymer.
Here's a sampling of the crazy tweets:
"Pusha T collects salamanders and impregnates them during the summer [sunshine emoji]," read one strange tweet.
Another weird message reads: "Pusha T sold coke to my little cousin in 3rd grade."
And this tweet appears to be in jest but it's still kind of inflammatory: "Pusha T don't do nothing but brush his braids, love his wife, and sell cocaine to the community and folk stay attacking fam. Let the man deal in peace. [three tired face emojis]."
Fans Wonder Who Is Behind the Bot Army Brigade Against Pusha T
In the wake of the mysterious bot army slandering King Push on Twitter, fans are speculating about who is behind this vicious attack. Many people are pointing the finger at Drake. As you may know, Drizzy and Push's infamous rap feud dates back to 2013.
But things came ahead in 2018 when Drake dropped his "Duppy Freestyle" which was aimed at Pusha T who returned fire with the blistering response track "The Story of Adidon." Since then, the 6 God has never replied back, thus making Push the winner of their lyrical feud.
Then there's Jim Jones. In June, the Harlem rapper dissed the Thornton brothers on his response video "Summer Collection." This after a Clipse track debuted at Pharrell's first Louis Vuitton show in Paris. On the rap duo's song, Pusha T delivers several subliminal shots at the Dipset member. In one verse, he dissed Jim's diamond-encrusted necklaces and accessories that he wears often.
"And those lab diamonds under inspection/The question marks block your blessings/It's no tombstones in the desert/I know by now you get the message," rapped Push.
Jim responded on "Summer Collection" by comparing the Thornton brothers to slaves and allowing Kanye West to buy them cars. On top of that, Capo called No Malice a crackhead.
However, it's unlikely that Jim would hire army bots to post malicious tweets about Pusha T. The rap veteran doesn't have a problem handling his rap beefs personally or lyrically.
So the mystery continues.
There's more defamatory tweets about Pusha T below.
Read More Malicious Tweets From a Bot Army About Pusha T Below
Here's a list of bizarre tweets from rappers.
See the Definitive List of Bizarre Tweets From Rappers