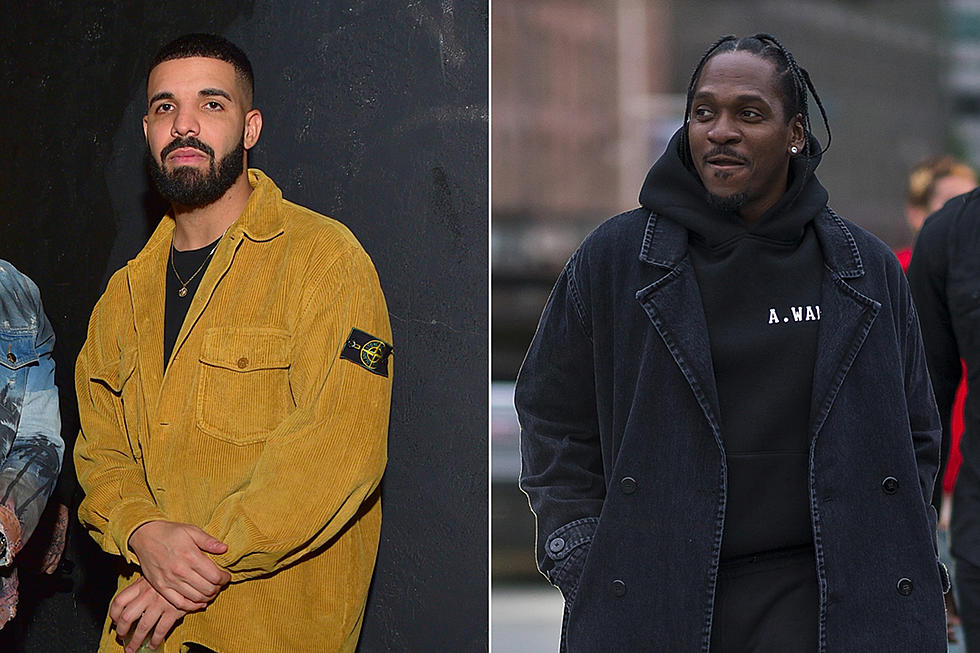 A Complete Timeline of Drake and Pusha-T's Unpredictable Beef
Prince Williams/Gotham, Getty Images (2)
In hip-hop, there are few moments as entertaining and riveting as witnessing two heavyweights battle it out for rap supremacy. The latest rift to capture the culture's attention is the war of words between Drake and Pusha-T.
Over the past few weeks, the two rivals have been trading jabs. The immediate action began with Pusha's Daytona closer "Infrared," which was followed by Drake's vicious retort "Duppy Freestyle." The battle has kept listeners on edge as fans anticipate the next domino to fall in a feud with roots that stretch back more than a decade.
Back when Pusha made up one-half of the Clipse, he was a streetwear trendsetter—most notably, the brothers helped to popularize the legendary brand Bape, which became a staple of hip-hop fashion. When Lil Wayne began to sport the brand, the Virginia duo believed he was jacking their style, a sentiment that inspired their 2006 single, "Mr. Me Too." Tunechi responded via a 2006 interview with Complex, a move that officially set off a beef between the Clipse and Cash Money Records that has only grown in spite over the years.
Drake inherited this ill will when he joined the label's ranks—he and Pusha have been trading subliminal disses for nearly 10 years now. And while those jabs have been subtle, the directness and vitriol of the recent shots have elevated this rivalry to an all-time great battle status.
To sum up all of this bad blood, XXL compiles a timeline of Pusha-T and Drake's beef, from inception to present-day.
Drake Shouts Out Clipse

May 15, 2010

In 2010, months before the release of his debut album, Thank Me Later, Drake made an appearance on an episode of MTV's When I Was 17, during which he professed his love and admiration for rap duo Clipse. Drake also revealed he had once purchased a microphone allegedly bearing Pusha-T's signature on eBay, a testament to the Canadian's fandom for the Virginia natives.

Drake Drops "Dreams Money Can Buy"

May 20, 2011

In May 20, 2011, Drake unleashed the song "Dreams Money Can Buy," a loosie to tide fans over until the release of his sophomore album, Take Care. The track captured Drake's boastful nature, with lines like, "And I feel like lately it went from top five to remaining five/My favorite rappers either lost it or ain't alive." The statement—considered by some to be a shot at Pusha—opened him up for return fire.

Pusha-T Releases "Don't Fuck With Me"

September 26, 2011

Jacking for beats is no unordinary occurance, but when Pusha-T hijacked the track for Drake's "Dreams Money Can Buy" for "Don't Fuck With Me," there was plenty of cause for speculation. Bars like "sophomores, actin' like they boss lords" were attributed as disses towards Drake, given the forthcoming release of his own sophomore album, Take Care, which hit shelves less than two months after the song's release.

Drake Addresses "Don't Fuck With Me" During Hot 97 Interview

October 14, 2011

During the press run leading up to the release of Take Care, Drake stopped by Hot 97 to chop it up with Funkmaster Flex about the album. He also shared his thoughts on Pusha-T's alleged shots on "Don't Fuck With Me."

"I've never had an issue with him," Drake shared when asked about the jabs. "But, you know, it's a frustrating time for a lot of people right now—I get it. So if it was directed at me, just make it a little more direct next time."

Pusha-T Drops "Exodus 23:1"

May 23, 2012

Pusha-T took the first direct shots in his subtle war of words with Drake on "Exodus 23:1," a hard-boiled track disparaging Drake, Lil Wayne and Cash Money Records. The lyrics, "Contract all fucked up/I guess that means you all fucked up/You signed to one nigga that signed to another nigga/That's signed to three niggas, now that's bad luck" put the rap world on notice that the tension between the two camps was thick.

Drake Disses Pusha-T on "Tuscan Leather"

In 2013, Drake threw a few stray shots in Pusha-T's direction on "Tuscan Leather," the intro track to his third studio album, Nothing Was the Same. Taking offense to Pusha's loose words in regard to Lil Wayne, Drake clapped back with the lyrics, "I'm just as famous as my mentor/But that's still the boss, don't get sent for/Get hype on the tracks and jump in front of a bullet you wasn't meant for," which many credit as the first instance of the OVO boss jumping into the fray, on wax.

Pusha-T Disses Drake On "Suicide"

October 8, 2013

Pusha-T continued his verbal assault on Drake on the My Name is My Name track "Suicide," featuring Re-Up Gang member Ab-Liva. He throws a few darts, showing his hand with a reference to Drake's single "Headlines": "I build mine off fed time and dope lines/You caught steam off headlines and co-signs/Young niggas cliquing up with my rivals/Like the Bible don't burn, like these bullets don't spiral/Like I can't see the scenes that you mirror in your idol/But a pawn's only purpose is completely suicidal."

According to Pusha's lyrics, his rivalry with Drake is the product of collateral damage, but he had no qualms about making the 6ix God a casualty nonetheless.

Pusha-T Fires More Shots on "Crutches, Crosses, Caskets"

December 11, 2015

In December 2015, two years after the release of his solo debut, Pusha-T returned with King Push – Darkest Before Dawn: The Prelude. The high-powered release features the song "Crutches, Crosses, Caskets," in which Pusha-T makes light of Drake's dust-up with Diddy—during which Drizzy received a black eye. "Old niggas slapping young niggas/Ha! Imagine that, where you from nigga?"

Pusha-T Unleashes "H.G.T.V. Freestyle"

October 12, 2016

While Drake had vanquished Meek Mill after the Philly rapper accused him of using ghostwriters, one opponent he had yet to directly confront was Pusha-T, who continued to go on the offensive with his "H.G.T.V. Freestyle" in 2016. "It's too far gone when the realest ain't real/I walk amongst the clouds so your ceilings ain't real/These niggas Call of Duty 'cause their killings ain't real/With a questionable pen so the feelin' ain't real," he rhymes, further questioning Drake's credibility as an MC.

Drake Drops "Two Birds, One Stone"

October 23, 2016

Weeks after "H.G.T.V. Freestyle" began to circulate, Drake returned fire with "Two Birds, One Stone," which included jabs aimed in the direction of Pusha-T and G.O.O.D. Music labelmate Kid Cudi. In addition to addressing Cudi's mental health issues, Drake questioned the validity of Pusha-T's past as a hustler, rhyming, "But really it's you with all the drug dealer stories, that's gotta stop, though/You made a couple chops and now you think you Chapo/If you ask me though, you ain't lining the trunk with kilos/You bagging weed watching Pacino with all your niggas." Although Drake didn't mention Pusha by name, the general public quickly put two and two together realizing that Drake had no intentions of backing down.

Pusha-T Gets More Specific on "Infrared"

May 25, 2018

Drake and Pusha-T's subtle feud remained dormant for nearly two years after the release of "Two Birds, One Stone," but Pusha reheated the beef with "Infrared," a diss record aimed at Drake, Lil Wayne and Birdman. Making reference to Quentin Miller—the alleged ghostwriter who worked with Drake on If You're Reading This It's Too Late—the jab was more of a warning shot than a full-fledged attack, but it set off a chain of events unforeseen.

Drake's Drops "Duppy Freestyle"

May 25, 2018

Known for his prowess when in the throws of lyrical warfare, Drake quickly responded to "Infrared" with "Duppy Freestyle," released on the same day as Daytona. The includes the most direct disses either MC had put forth up until that point. Painting Pusha-T as a hypocrite in light of his musical relationship with Kanye West, Drake further downplayed the rapper's past as a drug dealer. It was a swift, serious blow from Drizzy, complete with an invoice for "promotional assistance and career reviving."

Pusha-T Releases "The Story of Adidon"

May 29, 2018

Pusha-T dropped a bomb in the form of "Story of Adidon," a scathing diss record aimed at Drake that proved to be a damaging blow and brought to light chinks in the seemingly invincible star's armor. Over the beat for Jay-Z's "The Story of O.J.," Push accuses Drake of secretly fathering a child and insults his mother, father, and producer Noah "40" Shebib." Pusha-T held no punches, removing the kids gloves in what's been the most effective chess move of their drawn-out battle. The song's accompanying artwork pictures Drake in blackface—a questionable image with curious origins.

Drake Releases Statement About Blackface Photo

May 30, 2018

One of the more damaging aspects of Pusha-T's "Story of Adidon" diss was the artwork, which used an old picture of Drake wearing blackface and red lipstick that was taken during a photo shoot in 2007, prior to his star turn as a rapper. In response, Drake released a statement explaining his reasoning for taking the photo, writing "the photos represented how African-Americans were once wrongfully portrayed in entertainment," later adding, "This was to highlight and raise our frustrations with not always getting a fair chance in the industry and to make a point that the struggle for black actors had not changed much."

Pusha-T Responds To Drake's Statement

May 31, 2018

Pusha-T didn't buy Drake's reasoning for his blackface flick. During an interview on Real 92.3, Pusha voiced his doubt, responding "I don't believe it at all... You are silent on all Black issues, Drake, with a huge platform." It's a critique that has been made against Drake at various points in his career.

Kanye West Comments on Beef

June 2, 2018

Following the release of "The Story of Adidon," Kanye shared his thoughts on the beef between Drake and Pusha-T, tweeting that he's "about love" and that "lines were crossed and it's not good for anyone." Yeezy declared that the beef between the two spitters was dead.

Pusha Reveals Drake's $100,000 Reward For Compromising Info

May 31, 2018

According to Pusha T, Drake was willing to go to great lengths to find mud to sling at his rival. Push hinted at Drake offering up $100,000 to anyone willing to share info that he could use for a reply record.

J. Prince Sides With Drake

June 2, 2018

The beef between Drake and Pusha-T took an interesting twist when rap mogul J. Prince hopped on the phone with the 6ix God and requested a cease fire following "The Story of Adidon" and Pusha's veiled threats in interviews.

During an interview with Radio One D.C., J. Prince voiced his disdain for Pusha-T's slights against Drake's mother and father, referring to the G.O.O.D. Music president as a "hog" and letting it be known where his allegiance lies.

Chatter About Drake Reply Continues... But Nothing Materializes

June 5, 2018

Around the time Drake and Pusha-T's disses went nuclear, J. Prince was on a press tour for his book, The Art & Science of Respect, for which Drake penned the foreword. The beef was a consistent talking point for J. Prince, who told Ebro in the Morning that Kanye West reached out to him to end the beef. One day prior, he told Sway's Universe that Drake is sitting on a record that would've been devastating to both Kanye West and Pusha-T.

Push wasn't buying it. "I don't want to call them scared," he told GQ. "I just want to say that they're thinking. They're doing what's best for them." Speaking with Vanity Fair, he also insisted that the back-and-forth was done.

Drake's Dad Takes a Shot at Pusha-T

June 7, 2018

Dennis Graham—Drake's mustachioed dad—became a casualty of war when Pusha-T dropped "The Story of Adidon" and clowned the elder Graham's suits and parenting. When TMZ ran up on Dennis, he was locked and loaded with a perfect dad joke:

"Who? I don't know Pusha-T. I don't know anything about anybody named Pusha-T, and if I did, I would push their tee."

Lil Twist Inserts Himself Into the Fray

June 7, 2018

Here's a plot twist that no one expected. Young Money's young vet Lil Twist handed out smoke to Pusha-T with "Message 2 G.O.O.D. Music." He raps:

"Pushin' me, ain't no fuckin' pushin' me/We take the nigga to the cliff and push 'em off/Pusha-T, who is he? Shit, I heard about where he chill, shit, I heard about where you live/And now you heard this how I run all off up in a nigga crib/Nah, for real, you niggas weak, G.O.O.D. Music need to chill/Before I show 'em what's real, Ice Cube, Cypress Hill."

The track went largely unacknowledged by G.O.O.D. Music, so Twist followed that up with "Another Message To G.O.O.D Music!" one week later.

Drake Responds to "The Story of Adidon" Claims on 'Scorpion'

June 29, 2018

After a long silence—save for the release of Drake's "I'm Upset" video—the 6ix God dropped Scorpion, which includes both direct and indirect responses to Pusha-T's "The Story of Adidon." On the intro, he makes reference to his dad's fashion sense ("Daddy got suits like Bernie Mac, he dresses himself") and opens up about his parenting ("The only deadbeats is whatever beats I been rappin' to") and the reasons he didn't tell the public about his son ("I wasn't hidin' my kid from the world/I was hidin' the world from my kid").

All of his responses are spread out thinly, nothing too direct or pointed. But on "8 Out of 10," he makes a spot-on subtle reference to G.O.O.D. Music's seven-song albums—and Pusha-T's line about having a "devil flow, 666": "All sevens, no sixes, rest easy, get some shut eye."