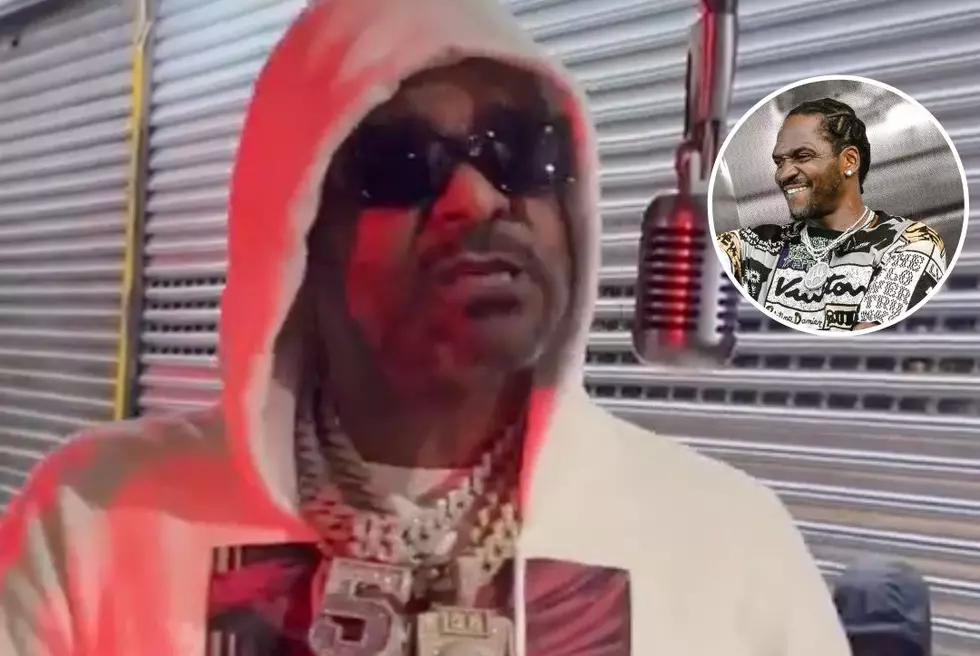 Jim Jones Appears to Call No Malice a Crackhead in Alleged New Pusha T Diss Track Preview
itsrikip_/Instagram/Astrida Valigorsky/Getty Images
It looks like Jim Jones is gearing up to respond to Pusha T following a new Clipse track where it appeared that Push was firing subliminal shots at Capo.
Jim Jones Prepping Response Song to Pusha T's Diss Track
On Friday (June 23), a video surfaced online of Jim Jones recording a video of what appears to be his response song to Pusha T's diss track. In the clip, the former Dispet member is spitting acidic bars into a hanging microphone on the streets of New York (possibly in his hometown of Harlem). Although Capo doesn't say Push's name, he is rapping over Clipse's song that was played at Pharrell Williams' Louis Vuitton Menswear Spring-Summer 2024 show in Paris.
But there are some hints that Jim is aiming lyrical shots at King Push. The Harlemite rapping over the Clipse beat is an obvious sign. In one line he raps, "The only beef you know n***a, is the Arby's or the Big Mac/When we drive through, we drive-by in the car with the big macs."
In that verse, Jim could possibly be referring to Pusha T's 2022 song for the fast-food chain Arby's where he dissed McDonald's. But clearly, Jim prefers the big Macs. Get it?
Also, Jim may have called Push's brother No Malice a crackhead while referencing Baby and Clipse's classic 2022 collabo "What Happened To That Boy."
"Plus you got your brother up, what you tryna bring The Clipse back?/Talking about your brother, what happened to that boy?/It's looking like you were selling crack to that boy," he raps.
So yeah, it appears Capo is prepping a response to the Thornton brothers.
Jim Jones Wasn't Impressed by Pusha T's Alleged Diss Track
On Thursday (June 22), Jimmy shared a clip on his Instagram account where he offered his thoughts on the new Clipse track that appeared to feature subliminal disses aimed at him.
"That was not a top 50 verse," he said. "Not at all. Still not in my top 50."
"That verse did not make the list champ, it was cute," Jim also wrote in the caption.
Why Are Jim Jones and Pusha T Beefing?
Back in April, Jim Jones was asked about Billboard and Vibe's much-talked about 50 Greatest Rappers of All Time list. During the discussion, Pusha T was singled out by Jim as someone who he didn't think should have been on the list. Push was ranked at No. 29, but the rap veteran questioned his place on the tally.
"What has he done that puts him in the greatest rappers of all time besides talk about c**e that he probably didn't get himself?" Jim asked RapCaviar host Brandon "Jinx" Jenkins. "He's nice as s**t. He could rap his ass off, but what has he done?"
Jim Jones would later doubled down in an interview on The Breakfast Club and challenged the entire staff to rap five Pusha T songs.
Jim Jones Asks Entire Staff at The Breakfast Club If They Can Rap Five Pusha T Songs
Watch Jim Jones Shoot His Video for His Response to Pusha T's Diss Track Below
See Wild Rap Beefs That'll Probably Never Be Resolved
Pusha-T and Drake, YG and 6ix9ine, and more.