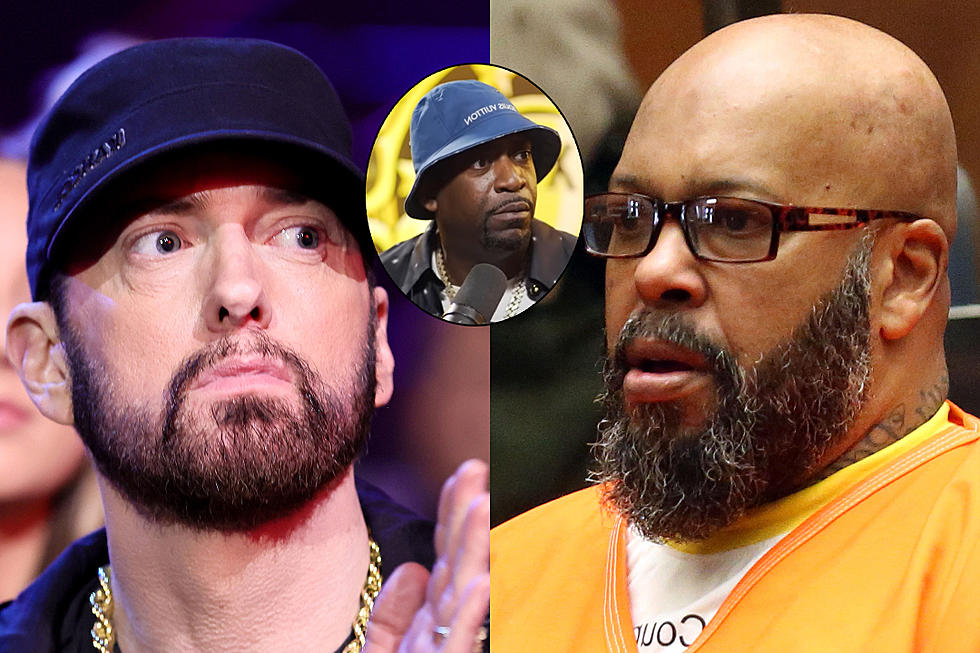 Eminem Didn't Back Down From Suge Knight and a Group of Suge's Mexican Friends, Tony Yayo Says – Watch
Theo Wargo/Frederick M. Brown/Getty Images(2)/Revolt/YouTube
Eminem didn't back down from an incident with Suge Knight and a group of Suge's Mexican friends, according to Tony Yayo.
On July 8, Tony Yayo sat down for a lengthy interview on N.O.R.E.'s Drink Champs podcast. During the five-hour conversation, the G-Unit rapper discussed many tales from the New York crew's heyday including one in particular that involved Eminem and Suge Knight. As Yayo tells it, Slim Shady was not impressed by the heavy-handed former record exec.
Eminem Once Forced Suge Knight and a Group of Suge's Mexican Friends to Back Off
As Tony Yayo recalls a day in the early 2000s when 50 Cent, G-Unit and Eminem were on the set filming the music video for Fif's smash hit "In Da Club," Tony says a run-in with Suge Knight was the moment he knew Slim Shady was "a real n***a." According to Yayo, when Suge Knight and a crew of Mexicans showed up to the video shoot uninvited, Eminem didn't have time for Suge's notorious intimidation tactics.
"This the s**t about Suge," Tony Yayo says around the 1:51:00-mark in the video below as he sets the scene. "He lights the cigar, and he's trying to see what you gon' do. So, Eminem, 50, everybody outside. N***a light the cigar [and] I was buggin' 'cause this is when I knew Eminem was real. He's like, 'I don't give a f**k, man!'"
He continues: "And then the n***a, Suge, walked away. The Mexican n****s looked kind of confused like they didn't know what was going on. Eminem came outside a hundred percent. Eminem was like, 'Yo, I don't give a f**k, man!'"
Why Did Eminem Have Beef With Suge Knight?
As Tony Yayo continues his story regarding Eminem and Suge Knight, the Queens-bred spitter infers that the beef was sparked due to something Em's best friend and fellow D-12 member, Proof, once said to Suge. Yayo explained that the slain Detroit MC accused Suge Knight of killing Tupac Shakur and Proof supposedly said as much right to Suge's face.
"Remember, it's documented," Tony Yayo says in the Drink Champs clip. "Proof told Suge, 'Yo, you killed Tupac,' in the middle of a party. Them Detroit n***as are kind of crazy. Them 7- 8 Mile n***as, they always been crazy."
What Else Did Tony Yayo Say on Drink Champs?
Aside from telling stories about rappers like Eminem and 50 Cent from a bygone era, Tony Yayo took some time out during his five-hour Drink Champs interview to discuss the current state of hip-hop. In particular, Yayo expressed how he feels the New York Drill scene is too dangerous.
"Now, New York is worse than Chicago," Tony Yayo opined. "And California, with the drill, because n***as is throwing like n***as dead friends in there. When we had battle raps with Ja Rule and them, n***as was still alive. […] But there's no remorse with the drill music. N***as is shooting little kids."
See Tony Yayo tell the story of how Eminem got Suge Knight to back down at 50 Cent's "In Da Club" video shoot in the Drink Champs interview below.
Watch Tony Yayo Say How Eminem Didn't Back Down From Suge Knight in the Drink Champs Video Below
See Wild Rap Beefs That'll Probably Never Be Resolved
Pusha-T and Drake, YG and 6ix9ine, and more.