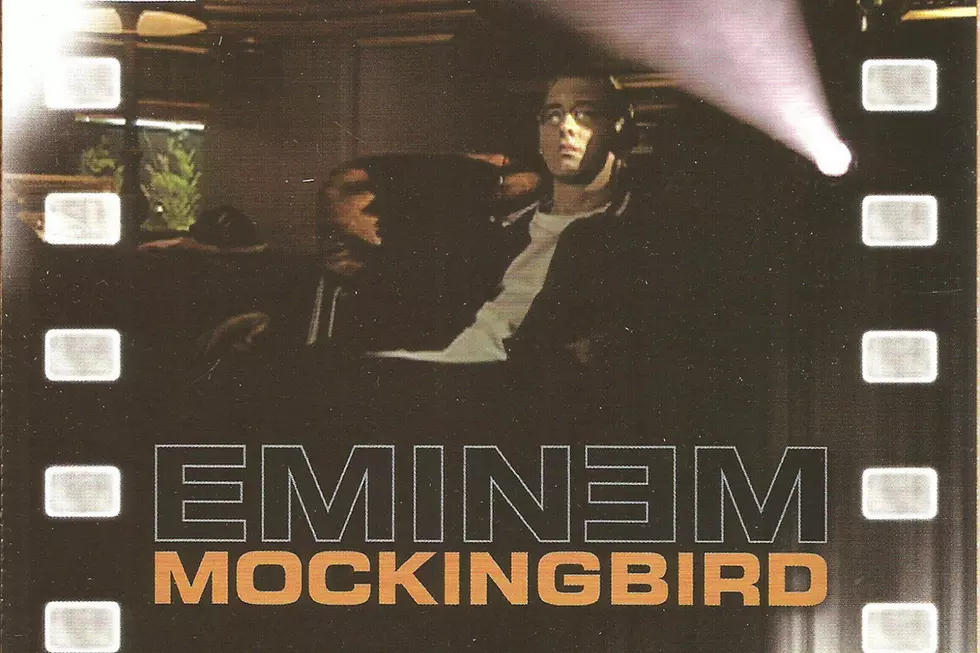 How TikTok Helped Eminem's 'Mockingbird' Get to 1 Billion Spotify Streams
Aftermath Entertainment/Interscope Records
Eminem's 2004 song "Mockingbird" hit a major milestone this week (March 16): It crossed 1 billion streams on Spotify. Although the Encore single was a hit when it was first released—peaking at No. 11 on the Billboard Hot 100—it only had 500 million streams in April of 2022. Since then, it's become one of the most popular rap songs on Spotify. This week, the song is No. 42 on Spotify's Top Songs - Global chart with 14.5 million plays. For context, "Mockingbird" is four spots ahead of current hits like Drake and 21 Savage's "Rich Flex" (13.7 million plays) and only 200,000 streams behind Lil Uzi Vert's "Just Wanna Rock" (14.7 million plays).
How did a nearly 20-year-old  Eminem song dedicated to his daughter, Hailie Jade, and niece, Alaina, become so popular again? Well, like most old songs that resurface these days, it's because of TikTok.
On TikTok, the hashtag #mockingbird has been used in videos that have gotten over 1.5 billion views while #mockingbirdeminem has gotten an additional 375 million views. Like many other TikTok songs, a sped-up version of "Mockingbird" is also popular, having been used in over 150,000 videos. Many TikTok users have also covered the song, mimicking the Detroit rapper's singsong style but adding their own vocal chops. A number of the cover songs actually use lyrics from the end of the song when Eminem sings, "It may seem a little crazy, pretty baby/But I promise mama's gon' be alright/And if you ask me to, daddy's gonna buy you a mockingbird/I'ma give you the world."
After hearing a snippet of the song on TikTok, many users likely flocked to Spotify to hear the full version, helping it garner 500 million streams in roughly a year.
Despite the newfound popularity of "Mockingbird," the album it was originally featured on, Encore, was not warmly received—not even by the rapper himself. The album sold well, going five-times platinum in the U.S., but critics reviewed it much more harshly than his three previous albums. No one was harsher than the rapper himself. On the 2010 song "Talkin' 2 Myself," Eminem apologized to his fans for making an album while dealing with drug addiction and rapped, "It's different them last two albums didn't count/Encore I was on drugs, Relapse I was flushing 'em out."
Eminem reflected on the legacy of Encore last year in his XXL 25th Anniversary cover story: "It became a misstep and I struggled to get over the fact that I didn't do my best. My best would've been good enough if the leaks hadn't happened. But I released what I had at that point in time, and I feel that put a kind of a mark on my catalog. Encore did some decent numbers, but I was never that concerned with numbers. I was more so worried about what people think about the album. Critics and fans were important to me, and they were always at me about that project."
"Mockingbird" is Eminem's seventh song to score over 1 billion streams, joining other hits like "The Real Slim Shady," "Without Me" and "Lose Yourself." "Mockingbird" was included on his 2005 compilation album, Curtain Call: The Hits. The song received a Grammy nomination for Best Rap Solo Performance and was certified five-times platinum in March of 2022. Eminem also recently became the first rapper to ever score two diamond albums.
Watch Eminem's "Mockingbird"
See 20 of the Best-Selling Hip-Hop Albums of All Time