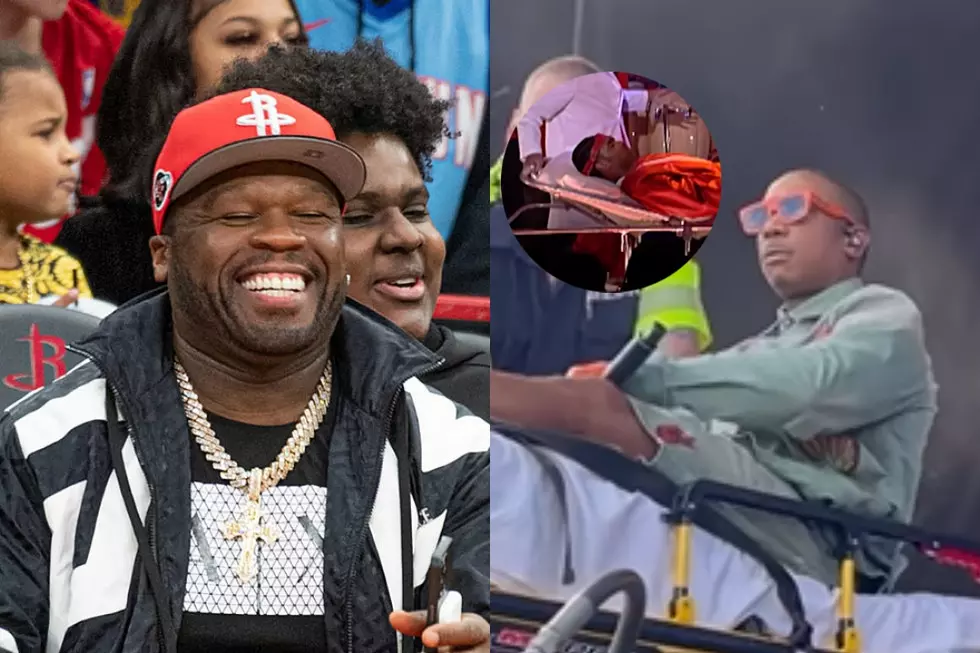 50 Cent Mocks Ja Rule's Recent Onstage Stunt
Marcus Ingram/Getty Images/BETNetworks/YouTube/thhguru/Instagram
50 Cent has jokes for Ja Rule after Ja appeared to swagger jack Ginuwine's famous 106 & Park entrance during a festival performance over the weekend.
50 Cent Mocks Ja Rule for Stretcher Entrance at Festival
On Thursday (June 29), 50 Cent reacted to a viral video of Ja Rule's performance at the 2023 Hot in Herre Festival in Toronto on June 24. In Fif's post (below), he shared a screenshot of Ginuwine being brought out on a stretcher for his performance of "Pony" on 106 & Park back in 2003. In the next photo, 50 shared a screenshot of Ja Rule doing that same thing.
"Lol WTF I ain't gotta say s**t stupid [ninja emoji]'s SMH," 50 Cent captioned the post.
Reaction to Ja Rule's Hot in Herre Festival Intro
Video recently went viral of Ja Rule rising from a stretcher wheeled by two paramedics to perform his Hot in Herre Fest set over the weekend. Many fans were not impressed.
"Because his career's on life support?? is that it?" one Instagram user commented under the post.
"He thought he ATE," someone else posted.
"It's the paramedics leaning over him like they picking out toppings for a subway sandwich and got 5min to get back from break," another person joked.
As 50 Cent did, many people also called out Ja Rule for ripping off Ginuwine's intro when he performed "Pony" on 106 & Park 20 years ago.
Nelly's Hot in Herre Festival also featured performances from T.I., Rick Ross, Akon, Fat Joe, Chingy, Ne-Yo and Keri Hilson.
See 50 Cent's Reaction to Ja Rule Biting Ginuwine's Epic 106 & Park Entrance Below
See Wild Rap Beefs That'll Probably Never Be Resolved
Pusha-T and Drake, YG and 6ix9ine, and more.