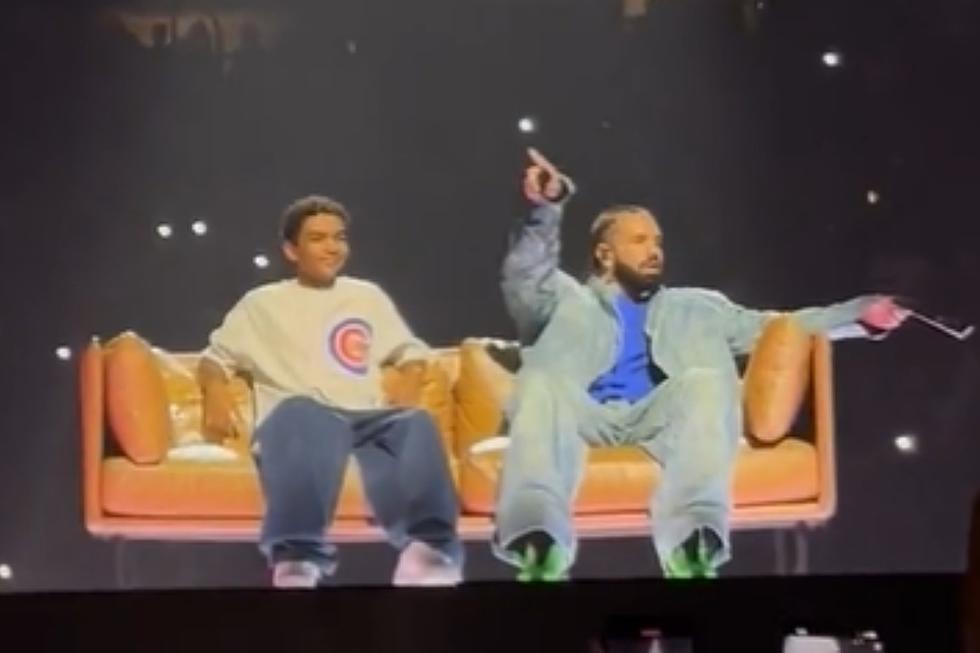 Drake Fans Are Confused, Think Real Person on Stage at Rapper's Show Is a Hologram
@HydratedHero/Twitter
Drake is pulling out all the stops on his It's All a Blur Tour with 21 Savage including brining out a person to play the younger version of himself that some fans are convinced is a hologram.
Drake Brings Out "Younger Self" During It's All a Blur Tour Show
Drake and 21 Savage's It's All a Blur Tour kicked off with back to back shows in Chicago on July 5 and July 6. Multiple headline-grabbing moments came from the opening of the tour including Drake brining out a person to play the rapper as a teen. However, some fans believe the person was actually a hologram.
In video from the opening date of the tour below, a kid who is supposed to represent a prepubescent Drizzy is on stage sitting on a bed while the theme song to the show Family Matters plays. In another scene, a slightly older "Drake" is sitting on a couch. The real Drake comes out and is handed a rhyme book by the actor. Many people presumed the scenes were made possible by holographic representations of the rapper.
"Drake's hologram hands him a book," one viral clip is captioned.
"Everyone saying Drake performed with a hologram got me tweaked out rn... If it was, I'm lowkey shocked because I looked at that boy with my own eyes and thought he was real," another person wrote on Twitter.
"This younger Drake has to be a hologram or AI generated I can't believe he's a real human," someone else posted.
Besides evidence of the "hologram" being a real person being in the fact that he handed the rap star a whole book, internet sleuths have apparently discovered the identity of the boy seen on stage with Drake.
Drake Kicks Off It's All a Blur Tour
The It's All a Blur Tour also featured some more viral moments including a visual of floating sperm, a huge Virgil Abloh statue, Drake being hit by a phone thrown from the crowd and a Childish Gambino diss.
See video of the person people believe is Drake's hologram below.
Watch Drake Interacting With a Real Person Some Fans Think Is a Hologram and Reactions Below
Read 10 Wild Stories That Took Place During Hip-Hop Tours