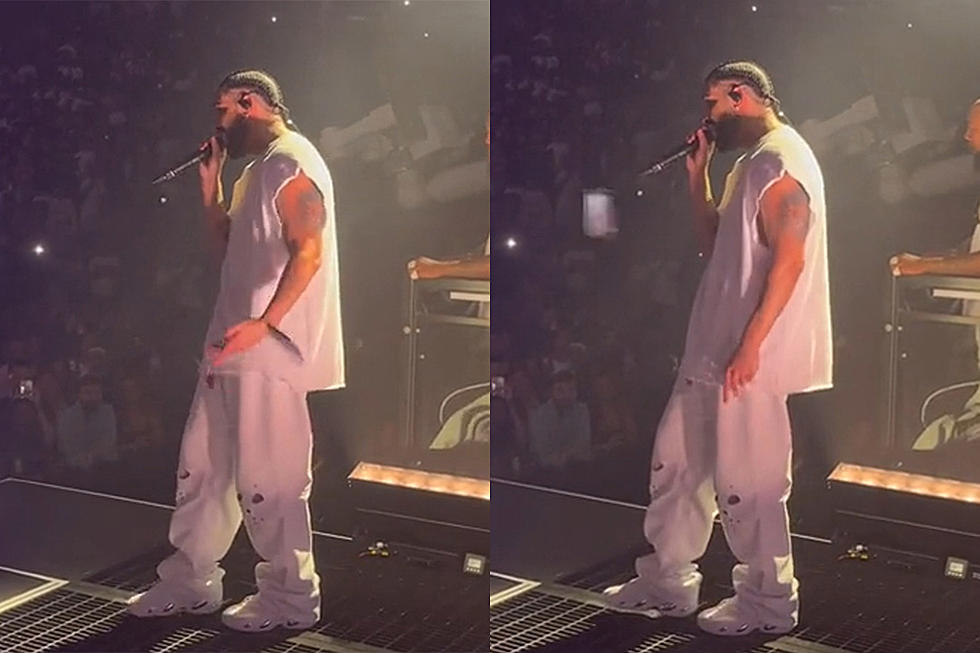 Drake Hit With Cell Phone While Performing, Continues to Sing Ginuwine's 'So Anxious' – Watch
jordantaylor28/TikTok
Drake got hit with a cell phone while performing his rendition of Ginuwine's song, "So Anxious" at his It's All a Blur Tour with 21 Savage this week. After the impact, Drake continued his performance.
Drake Gets Hit With Cell Phone During Performance
According to a TikTok account named Jordyn Taylor, on Wednesday (July 5), a fan in the crowd hit Drake with a cell phone while he was performing Ginuwine's 1999 hit single, "So Anxious," at Chicago's United Center, which can be seen below. Chicago is the first of many stops for Drake and 21 Savage's It's All a Blur Tour.
In the clip, a person chucked the cellular device at Drizzy's wrist as he sings. However, the Certified Lover Boy artist remained unfazed by the treacherous act and continued to sing his heart out.
What Else Happened on the First Night of Drake and 21 Savage's It's All a Blur Tour?
Aside from almost being harmed by a flying phone, Drake performed while surrounded by a light show of floating sperm. In the clip below, a backdrop of what seems to be sperm moves in a circular motion while Drake performs one of his ballads. The sperm seemingly follows the "God's Plan" artist around the stage as he delivers emotive lyrics.
Drake also walked down memory lane with a holographic version of his younger self and performed alongside a statue of the late fashion designer Virgil Abloh.
On Wednesday, the "Look What You've Done" rapper posted a picture of the Virgil Abloh statue on his Instagram Story, which can be seen below.
"Our brother is watching," Drake wrote on the top of the picture.
The statue is an homage to Virgil's first Louis Vuitton fashion show in 2018. Drake also has this image tattooed on him.
See Drake get hit with a cell phone and continue his performance of Ginuwine's "So Anxious" below.
Watch Drake Get Hit With a Cell Phone And Continue His Performance of Ginuwine's "So Anxious" Below
See 50 Lyrics Rappers Got Wrong