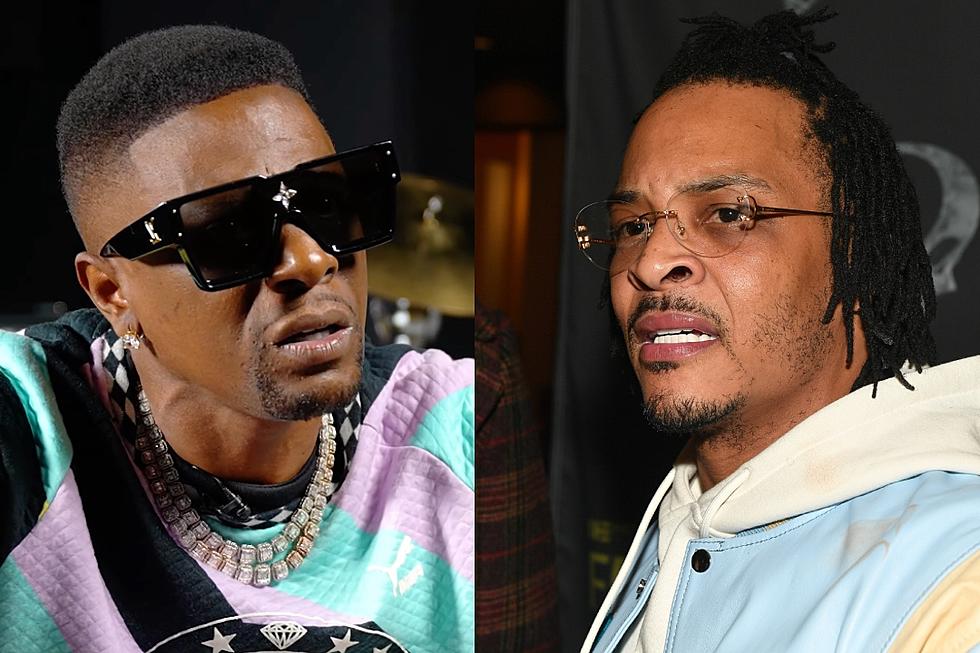 Boosie BadAzz Scraps Joint Album With T.I. Due to Snitching Backlash
VladTV/YouTube/Paras Griffin/Getty Images
Boosie BadAzz has scrapped his joint album with T.I. in the wake of Tip admitting in an old interview he snitched on his cousin to avoid charges years ago.
On Monday (Feb. 20), VladTV shared their latest interview with reoccurring guest Boosie. During the sit-down, the Baton Rouge, La. rapper was asked by DJ Vlad about T.I. admitting to putting charges on his cousin when the relative died shortly after they got arrested together.
"With the T.I. situation, if he did that, you a fucking rat, too," Boosie said at the 3:52-mark of the interview below. "I don't spare no-muthafuckin-body. Because if you doing anything wrong and you cooperate with law enforcement to get you out of trouble, that means you're cooperating. That means you're a rat."
"But I'ma tell you like this," Boosie continued. "When I saw that, I think T.I. fucking lying. I think he went up there and got to fucking talking. You think something happened at 17, 18 years old, right. How vocal he is. You gon' hold that in all them damn times? All this damn time, for 20-something years, you gon' hold that in and it finally came out?"
"I just feel like from me talking and vibing with this man, I don't feel like he could have held that in for fucking all these years," Boosie added. "And then I was like, 'Why the fuck he say that when we got an album finna come out?'"
Boosie then confirmed the joint project would not see the light of day due to the backlash he received from friends and family over Tip's revelation.
"It ruined everything," Boosie admitted.
Last December, an ExpediTIously podcast episode from 2020 resurfaced where T.I. admitted he told on his dead cousin to avoid a gun charge.
"We caught those gun cases, Toot died," T.I. explained. "My lawyer said, 'Well, you know, I could make everything go away if it was Toot's, it was Tremel's.' After he had passed, I had a talk with him. Toot said, 'I'll take all the charges you got. If you can walk away free and put it on me, goddamn right. 'Cause I'll be damned if they gon' come and muthafuckin extradite me from here.'"
Boosie has been a stickler to the no-snitching code. Most recently, he was vocal about Gunna taking a plea deal in the YSL RICO case and admitting the record label is a gang in court.
See Boosie BadAzz Commenting on T.I. Telling on His Dead Cousin Below
See Rappers Named After Notorious Crime Figures