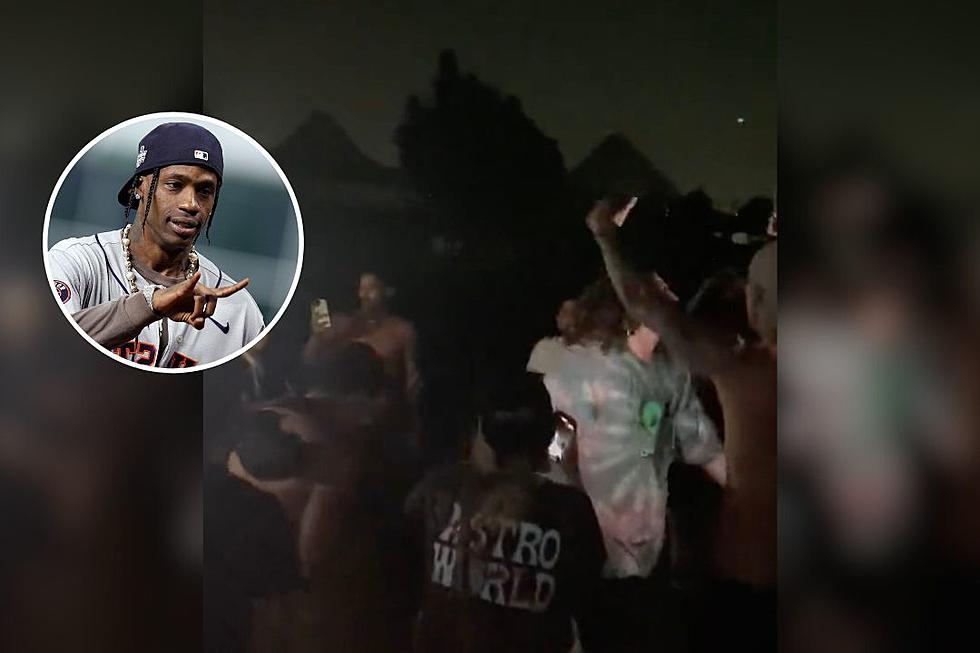 Travis Scott Fans Show Up to the Pyramids in Egypt Even After Utopia Concert Canceled
RodeoTheAlbum/Twitter/Carmen Mandato/Getty Images
One thing about Travis Scott's fans, they are very resourceful. Despite Trav canceling his Utopia concert at the Pyramids in Egypt, his diehard fans threw a party anyway at the site and raged through the night.
Travis Scott Fans Showed Up at the Pyramids in Egypt
On Friday (July 28), Travis Scott fans threw a party at the Pyramids in Egypt even after the Utopia concert was canceled. In a video posted on a Travis Scott Fan Page on Twitter, several dozen fans appeared to be chanting lyrics from "Bystanders" from Travis' Astroworld album before jumping up and down and repeatedly yelling, "F**k the club up! F**k the club up!" The line is actually from Three 6 Mafia's 1997 anthem "Tear Da Club Up," which Travis sampled on "Bystanders."
Travis Scott Insists Utopia Concert at the Pyramids Will Happen
Last week, Travis Scott jumped on Twitter to inform his fans that he will perform at the Pyramids and other locations in the near future.
"Egypt at the pyramids will happen, but due to demand and detail logistics they just need a bit a time to set lay on lands," he clarified. "I will keep u posted on a date which will be soon love you alllll."
"But in good news I had 4 more of these type of experiences in other places. COORDINATES SOON REACH," he added.
See video of Travis Scott's fans celebrating his album release near the Pyramids of Giza below.
Watch Travis Scott Fans Party at the Pyramids in Egypt
Every Artist That Appeared on Travis Scott's Utopia Album