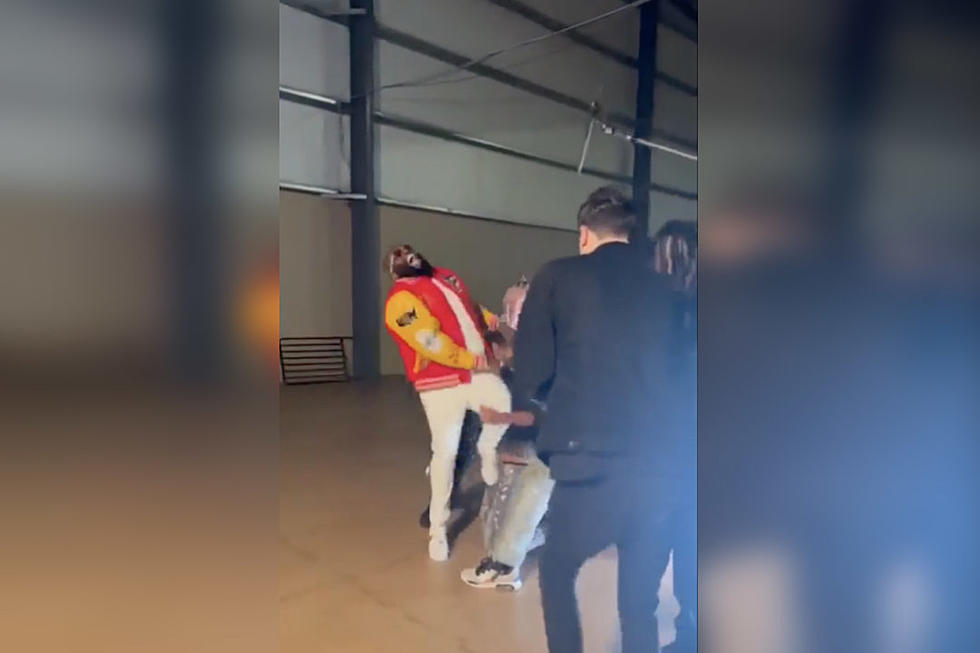 See Rick Ross Knee Little Person in Stomach in Previously Unreleased All Elite Wrestling Video
javalle/Twitter
Behind-the-scenes video from Rick Ross' appearance on All Elite Wrestling has surfaced.
On Sunday (May 7), video of Rick Ross on set recording an unreleased promo for his appearance on All Elite Wrestling hit the 'net. The clip (below) shows Rozay addressing a little person who is being restrained by AEW's Parker Boudreaux and Trench, while wrestler Swerve eggs on Rozay.
"You think you big now, don't you?" Ross snaps. "You know what it is."
Rick Ross then knees his short antagonist in the stomach before belting out a primal yell.
Rick Ross made his debut on AEW last December, joining forces with Parker Boudreaux, Trench and Swerve in a collective called Mogul Affiliates. The South Florida native appeared in multiple promos and even made a ring appearance. Back in March, Swerve noted that the AEW filmed more content with Ross that ended up on the cutting room floor. It looks like this is some of Ross' unreleased outtakes.
The AEW has featured several rappers in its programming including Trina, Action Bronson and Kevin Gates. This isn't Ross' first time taking part in professional wrestling. Back in 2016, Rick Ross appeared on WWE's Monday Night Raw.
In other Rick Ross-related news, Rozay is currently battling with his neighbors over whether or not he can host his annual car and bike show at his Atlanta-area estate. The rapper's neighbors have petitioned the city to prevent the event from happening, citing traffic issues that plagued the event last year.
See Rick Ross Knee a Little Person in Stomach in Behind-the-Scenes All Elite Wrestling Video Below
See Rappers Named After Notorious Crime Figures