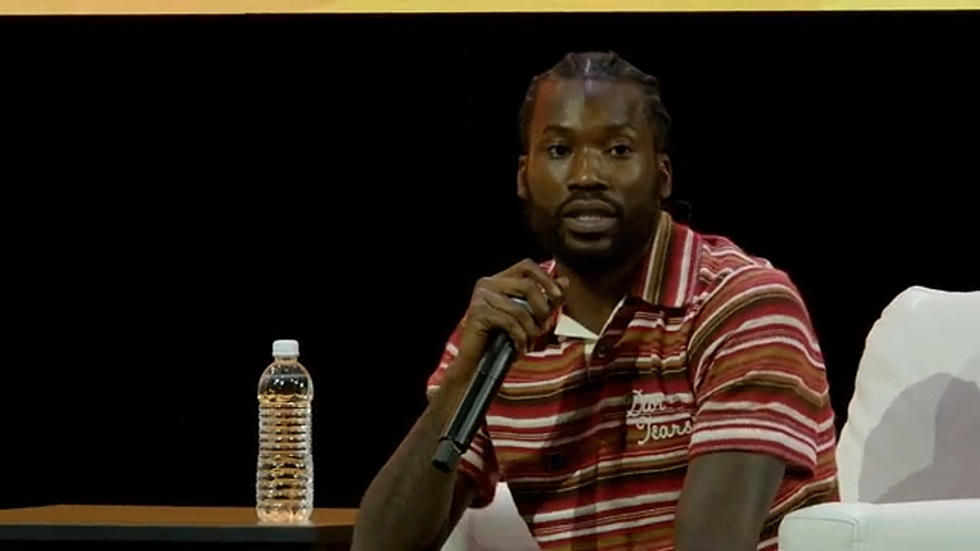 Meek Mill Claims Rappers Are Paid More to Rap About Violence and Guns
NAACP/YouTube
Meek Mill claimed over the weekend that rappers are paid more to rap about violence and guns.
Meek Mill Claims Rappers Get Extra Dough for Rapping About Guns and Violence
On Sunday (July 30), Meek Mill made a revelation about rappers getting extra compensation for delivering rhymes pertaining to violence and guns during a panel discussion titled "Hate Has No Home Here – A Moderated Conversation on Racism, Antisemitism and Building Bridges to Fight All Hate" at NAACP's 114th National Convention in Boston, which can be seen below. While speaking to the panel's hosts Robert Kraft, Chairman of the Kraft Group and Founder of the Foundation to Combat Antisemitism, Henry Louis Gates and NAACP President Derrick Johnson, the Philadelphia rapper recalled the topics he used to touch on within his music and how he intends on being an advocate for positive changes at the 1:27:06-mark of the video. Meek Mill also expressed how rappers are funded a bit more.
"Before, I wasn't on stages like this," Meek Mill stated in the video below. "I was on rap stages rapping about violence and guns. We get paid to rap about that stuff. They actually pay us more when we rap about more ignorant stuff so I make sure I even the line and come and talk on stages like this."
What Else Did Meek Mill Speak About at NAACP's 114th National Convention?
At the NAACP 114th National Convention, Meek Mill and the other panel hosts also spoke on racism, anti-Semitism and how they can plan on taking a stand against hate crimes. Meek Mill revealed how he met Robert Kraft as well and how it was visiting the former Nazi concentration camp Auschwitz in Poland.
Take a look at Meek Mill's claim about how rappers make extra cash below.
Watch Meek Mill Claim Rappers Are Paid More to Rap About Violence and Guns
See 50 of the Worst Lyrics From Rappers