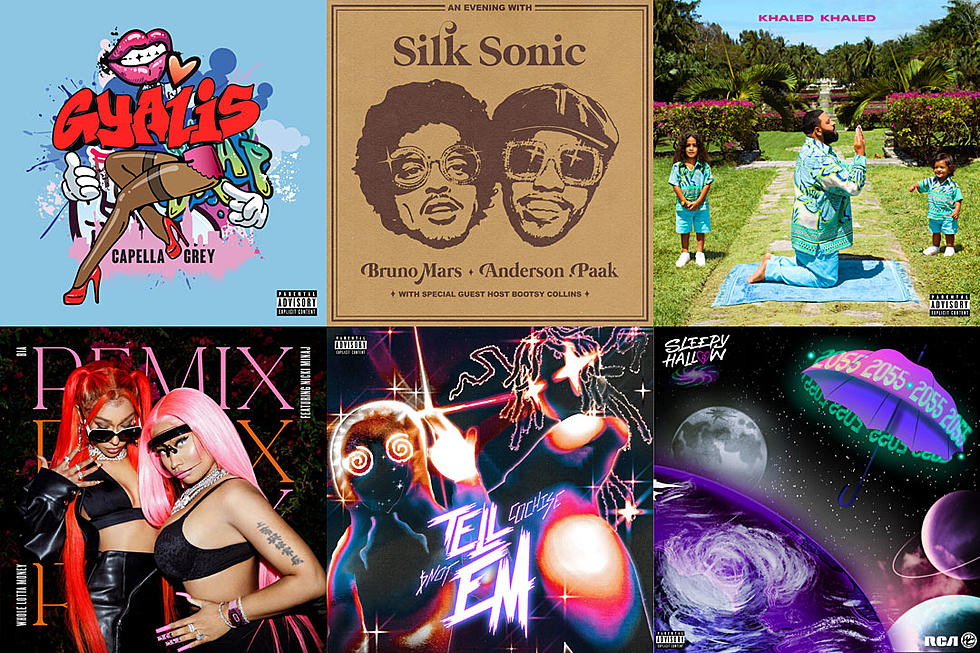 Here Are the Best Hip-Hop Songs of Summer 2021 Now That We're Back Outside
Allepac The Family / Capitol Records / Aftermath Entertainment / Atlantic Records / We The Best / Epic Records (2) / Columbia Records / Winners Circle Entertainment / RCA Records
This summer, hip-hop witnessed the return of being outside after quarantining due to the COVID-19 pandemic last year. The last three months gave fans a chance to enjoy huge group gatherings at concert venues and music festivals with COVID-19 protocols or mkore intimate gatherings like backyard barbecues. During this time, plenty of the game's favorite rappers released some big songs for fans to get lit to at parties, live events or simply bumping in their cars.
The perfect summer song is often ubiquitous; you can hear it on the radio, television and in every car speaker outside. A great summer tune can urge you to move your body on the dance floor or help you chill out on a warm summer evening.
Rising newcomer Capella Grey has New York City—and beyond—on lock this summer with his smash hit "Gyalis." A tribute to a guy who's good with the ladies, the Bronx native incorporated a classic Juvenile record into the dancehall, hip-hop and R&B-flavored track, which is clilmbing up the Billboard Hot 100.
The City Girls' "Planet Rock"-sampled "Twerkulator" will undoubtedly spark spontaneous twerking on the dance floor. Fellow rapper Megan Thee Stallion also released her twerking anthem "Thot Shit" for the Hotties. The Houston representer's song is perfect for summertime parties and testing to see how strong your knees are.
Meanwhile, Tyler, The Creator dropped a head-nodding track that bangs. On the boom-bap track "Lumberjack," Wolf Haley dips into his rhyme bag and spits boastful raps about his love for Drake and copping a Bentley after winning a Grammy. Play this in your car and let the head-nodding begin.
Silk Sonic, comprised of Anderson .Paak and Bruno Mars, delivered this summer's love anthem with "Leave the Door Open." With its throwback soul vibe, the song is the perfect slow jam to play on those romantic summer nights with your significant other.
Now that everyone is back outside, XXL highlights Best Hip-Hop Songs of Summer 2021. Lil Baby, Lil Durk, Sleepy Hallow, Coi Leray and plenty more included.—Trent Fitzgerald
"Whole Lotta Money (Remix)"

BIA featuring Nicki Minaj

Strip clubs took a big hit during the pandemic, but now that things are back open, BIA has the perfect shake joint anthem with her track, "Whole Lotta Money (Remix)" featuring Nicki Minaj. Produced by BeatGodz, Tee Romano and London Jae, the July release revived the Massachusetts native's original, peaking at No. 16 on the Billboard Hot 100. With a hard beat packed with subterranean bass and standout verses from Nicki and B, "Whole Lotta Money" is pressuring for position as one of this summer's most memorable cuts. An empowering anthem for women everywhere. Where them dollars at?—C. Vernon Coleman II

The spotlight is back Uptown. One of the biggest hip-hop songs of the summer comes out of the Bronx, where the genre all began. Rising artist Capella Grey brings the compelling string line of Juvenile's "Back That Azz Up" to his hit song "Gyalis." The track highlights Grey's West Indian roots, hip-hop sensibilities, dancehall energy and R&B flair. Staying true to the Jamaican term for a player or someone who's good with the ladies—as Grey puts it—he tells the story of a one-night stand that turns into a gyal trying to "stay the whole week." He dropped "Gyalis" in January of this year, and its now grown legs past its New York City stomping grounds. The heater sits at No. 71 on the Billboard Hot 100 and has over 10 million Spotify streams. Grey is truly living his lyrics: "It's just the vibe, I'm that guy."

It seemed like it'd been a while since we got an anthem from the Migos, and the trio of Quavo, Offset and Takeoff delivered with the second Culture III single "Straightenin." Taking advantage of hip-hop's infatuation with flutes, the woodwind and bass-driven instrumental hits harder than linebackers on steroids. On the big record, the Atlanta trio prove they've never left despite a lengthy time between albums, and still have the ability to make a summer jam. Straight. No chaser.—C.V.C II

Moneybagg Yo made a heart-to-heart about his struggle with lean addiction and turned it into a banger. In a similar vein to Jay-Z's "I Know" and 50 Cent's "A Baltimore Love Thing," the Memphis rapper uses personification to wax poetic about his drug of choice. Tapping into a sample of DeBarge's "Stay With Me"—also famously used on The Notorious B.I.G.'s "One More Chance (Remix)"—Moneybagg's quasi-confessional is more than just a deep cut. It's one of the more addictive records of the warm months.—C.V.C II

"Thot Shit"

Megan Thee Stallion

After coming through with a summer anthem in 2019, on the aptly titled "Hot Girl Summer" featuring Nicki Minaj and Ty Dolla $ign, Megan Thee Stallion ended a brief musical hiatus in early June this year by releasing the single "Thot Shit." Filled with unapologetic raunch, the hard-hitting LilJuMadeDaBeat and OG Parker-produced track is hand-crafted for fully packed parties in the summertime and testing those Megan knees. The Houston hottie narrates on the chorus: "Hands on my knees, shaking ass on my thot shit." Round of applause for the Billboard Hot 100 riser, which peaked at No. 16.—C.V.C II

"Every Chance I Get"

Lil Baby and Lil Durk

Despite dropping the collab project The Voice of the Heroes in June, Lil Baby and Lil Durk's track, "Every Chance I Get" may be the duo's shining moment. The song, released via DJ Khaled's Khaled Khaled album, is backed by a lush instrumental from Tay Keith and Khaled. Baby and Durk apply pressure on the certified banger with smooth chemistry and grabbing bars. "Every Chance I Get" has since reached platinum status, stamping Baby and Durk as two of rap's big dogs.—C.V.C II

"Back in Blood"

Pooh Shiesty featuring Lil Durk

2021 XXL Freshman Pooh Shiesty's breakout single "Back in Blood" featuring Lil Durk dropped at the top of the year and received much praise, but the YC-produced track never got a chance to fully ring off, as clubs closed and shows shut down. With possibly 2021's most memorable chorus of "Bitch, I got my own fire, don't need security in the club…," the grimy street record peaked at No. 13 on the Billboard Hot 100 and still has staying power to slap mid-year.—C.V.C II

Last year, City Girls had complained about the pandemic preventing them from dropping music due to them not wanting to release club records while the venues were closed. As soon as outside began to open back up, they released the club single "Twerkulator" in late May of this year. A play on the chorus of Cajmere's classic 1992 house record "Perculator," while also making use of a sample of Afrika Bambaataa's "Planet Rock," the jam is just what the summer needed: a party record that can get things popping off at the drop of a hat. You know what time it is.—C.V.C II

"Late at Night"

Roddy Ricch

Fans have been waiting for the follow-up to Roddy Ricch's 2020 abum, Please Excuse Me for Being Antisocial, after he had the top song of the year with "The Box" that year. The Compton, Calif. rapper came through in the summer of 2021 with his latest banger, "Late at Night." A sobering rap love ballad, Roddy tests his vocals over savory production from Mustard and GYLTTRYP.  Peaking at No. 20 on the Billboard Hot 100 chart, the song didn't have the hit power of "The Box" but still slaps as a late-night go-to.—C.V.C II

"Tell Em"

Cochise featuring $not

Cochise's "Tell Em" featuring $not is pure energy and just what the doctor ordered following the drab year that was 2020. The May release served as the Florida rapper's second viral output following 2019's "Hatchback." Produced by Jootsu, the pounding bass and 'Chise's constant reminder of, "Nigga better turn me up," makes it damn near impossible to sit still while this track is playing. The song pushes the button on mosh-mode and now that concerts and shows are back in full effect, it's on.—C.V.C II

"No More Parties (Remix)"

Coi Leray featuring Lil Durk

Vocal chord-bending software continues to thrive almost a dozen years after the release of Jay-Z's "D.O.A (Death of Auto-Tune)." Coi Leray's "No More Parties (Remix)" featuring Lil Durk is one of many examples of the once-maligned crutch still being alive and well. Released in February, the song gained clout via its run on TikTok and has continued make noise.

The 2021 XXL Freshman's hit is a slow burn, counteracted with Coi ripping off choppy Playboi Carti-esque quips over a bassy Okaykhan and Maaly Raw-produced track. Durk's placement on the song is foolproof, with both rhymers propelling the melody via Auto-Tuned lyrics. A definite track to ride to now that we have places to ride to. The original has reached platinum status. Keep the party going.—C.V.C II

Polo G's single, "Rapstar," turned him into just that. The Chicago rapper released the Einer Bankz and Synco-produced track in April, and it quickly rose to the top of the charts, debuting at No. 1 on the Billboard Hot 100—the young rapper's first No. 1 record. The ukulele-driven trap sonnet is less turn-up and more laid-back with 'Lo rhyming about newfound fame and relationships. Despite the mellowed motif, "Rapstar" is a go-to record with over 100 million streams on YouTube. Starboy.—C.V.C II

"Lumberjack"

Tyler, The Creator

Tyler, The Creator's Call Me If You Get Lost album is one of the best hip-hop projects of 2021. The Cali-based rhymer is in certainly in his rhyme bag on the effort, dropping crazy bars over neck-snapping, sample-based production and R&B-influenced grooves. On "Lumberjack," produced by the Odd Future leader himself, Tyler flosses on his haters as he raps about his love for Drake, copping a Bentley after winning a Grammy Award and laughing at naysayers. "Rolls-Royce pull up, Black boy hop out/Shout-out to my mother and my father, didn't pull out/MSG sell out, fuck these niggas yap 'bout?/Whips on whips, my ancestors got they backs out," he raps on the song with DJ Drama yelling his famous "Gangsta Grillz" ad-libs throughout. "It's different, it's really different," says founding OF rapper Jasper on the track. It's different and it's truly dope.—T.F.

"Leave the Door Open"

Silk Sonic (Bruno Mars and Anderson .Paak)

The combined forces of Anderson .Paak and Bruno Mars are better than we could have imagined. The two crooners formed the duo Silk Sonic and released the sultry debut single "Leave the Door Open" in March. With a purposeful throwback vibe, the song leans on lyrics and instrumentation to drive home the point and delivers with pinpoint accuracy. "Leave the Door Open" peaked at No. 1 on the Billboard Hot 100 and has Grammy written all over it, as well as a nod for one of the summer's most impactful slow jams.—C.V.C II

"Montero (Call Me By Your Name)"

Lil Nas X

Lil Nas X's hand-clapping hit "Montero (Call Me By Your Name)" is one of the hottest songs of the summer. Not only did the song burn up the Billboard Hot 100 chart, garnering him his second No. 1 single in his career, but his fiery video also provoked outrage among the religious clergies who felt he was worshipping Satan. Controversy aside, the clip has reached over 326 million views on YouTube so far. As for the song, it's a love anthem of sorts as the Atlanta rapper celebrates his queerness among an omnipresence of hate and homophobia. "What a time, an incline, God was shinin' on me/Now I can't leave/And now I'm actin' hella elite," he raps on the song. Lil Nas X is spreading love this summer.—T.F.

"His & Hers"

Internet Money featuring Don Toliver, Gunna and Lil Uzi Vert

Producer collective Internet Money continue to churn out bangers. This summer's "His & Hers" featuring Lil Uzi Vert, Gunna and Don Toliver is another notch on the belt. Produced by IM's Taz Taylor, Nick Mira, Alec Wigdahl, Pharaoh Vice and Cxdy, "His & Hers" has bubbly vibes with Don Toliver's catchy chorus and Uzi and Wunna's verses being a perfect match. When it's time to turn up at a full capacity party, this track, which is now at over 70 million Spotify streams, is money in the bank.—C.V.C II

"Ski"

Young Thug featuring Gunna

Young Thug and Gunna's "Ski" started a whole wave avalanche. Appearing on the YSL compilation, Slime Language 2, the Outtatown, Wheezy and Babywave-produced track quickly became a fan favorite and a viral sensation on TikTok this year due in part to the accompanying Ski Challenge, which even Drake participated in. The song itself, which makes use of a stripped-down chorus, is infectious, with Thugger and Gunna's tag-team job proving formidable. "Ski" proved to be another top 20 Billboard Hot 100 hit for the them both and another record 2021 will be remembered by.—C.V.C II

Brooklyn also calls home to a banger this summer. Sleepy Hallow, one of the more versatile artists in the BK drill movement, unleashed the Great John and uv killen em-produced track "2055" this past April. The guitar-driven slow groove is an open diary into Sleepy's inner thoughts—even the hope that his "kid never try drugs." While the subject matter may seem grim, the hook of "I just wanna slide, huh/Parties in the sky like it's 2055, huh" grabs listeners from the jump, flipping the effort into a more upbeat ode. "2055" has now locked in a No. 55 position on the Billboard Hot 100 and a Coi Leray assist on the remix.