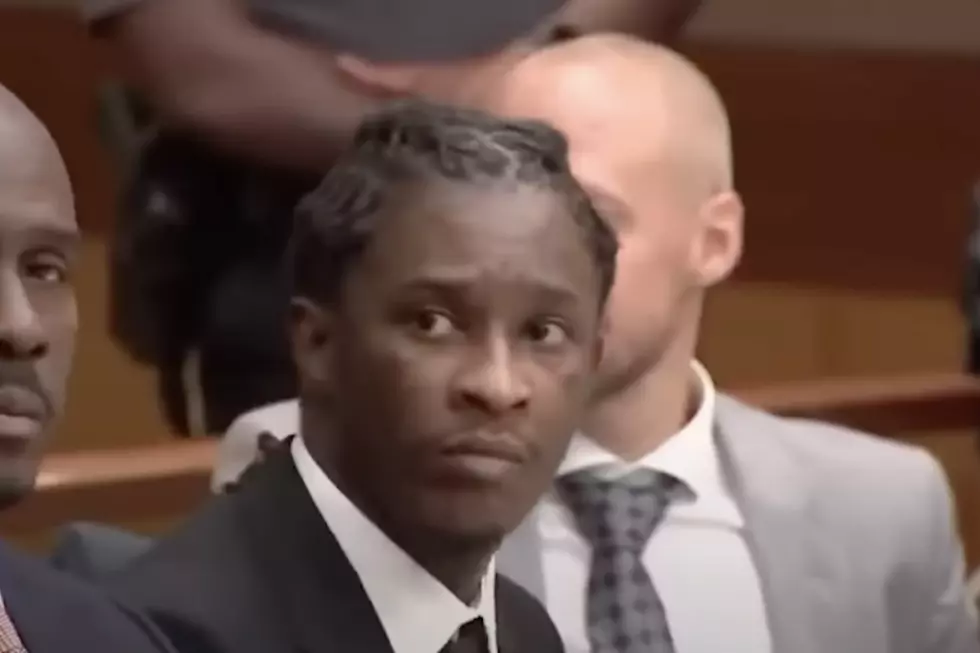 Young Thug's YSL Trial in Need of More Than 500 Jurors to Pick From
Law&Crime Network/YouTube
Despite beginning in January, Young Thug's YSL RICO trial has yet to officially begin as the defense and prosecution sift through hundreds of potential jurors. Now, the judge in the case says at least 500 more people should be brought into the jury pool.
On Tuesday (Feb. 21), Atlanta Journal Constitution reporter Shaddi Abusaid shared an update from the Atlanta trial, which is currently moving at a snail's pace due to jury selection.
"Judge Glanville thinks we'll need 500-600 jurors in the pool after hardships," Abusaid tweeted. "Of those, 'We'll need to qualify close to 100 folks.' before strikes."
In addition, more potential jurors will be called in in the coming months.
"More groups of jurors being brought in Feb. 24, March 17, April 28 and May 19," Abusaid added.
Hundreds of people have already been brought in as potential jurors, with most of them requesting hardship deferrals, which the judge has granted, according to a Fox5 Atlanta news report. The trial is expected to take close to a year to try and many people are unable to commit that amount of time out of work. Last month, Judge Ural Glanville scolded a juror for missing jury duty and going on a trip to the Dominican Republic, assigning her a 30-page essay on the importance of jury duty.
Young Thug and his 13 codefendants have a long legal battle ahead of them and at times he has looked defeated in court. The Fulton County, Ga. D.A. has accused the Grammy-winning rapper of being the spearhead of a violent street gang, YSL, which the rapper has allegedly fronted as a record label. Thug has been charged with eight counts of violating the RICO Act as well as possession of marijuana with intent to distribute, possession of codeine with intent to distribute, possession of cocaine, possession of a firearm and possession of a machine gun charges.
While Gunna and 14 other people who were arrested in the wide-spread RICO case back in May of 2022 have already taken plea deals, the trial is still expected to take several months to complete. Also adding to the length of the trial, the State claims to have over 300 witnesses ready to testify against the group.
See 22 Hip-Hop-Related Police Raids
These rappers had some serious run-ins with the police.