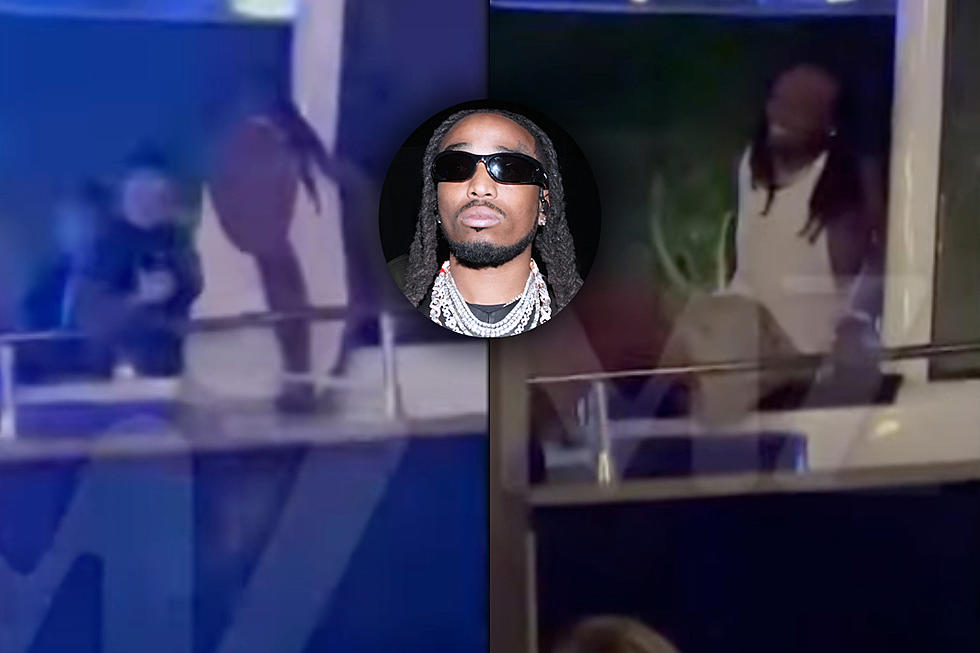 Quavo Has His Hands in Zip Ties as Police Appear in New Footage From Yacht Incident
TMZ/YouTube/Bennett Raglin/Getty Images
Quavo can be seen with his hands in zip ties as police appear in new video footage from a recent incident on a yacht in Miami.
Quavo Seen With Hands in Zip Ties During Yacht in Miami
On Sunday (July 23), local Miami news outlet 7 News reported that Quavo was among several passengers aboard a charterd yacht during an incident in which the vessel's captain was allegedly threatened in what police are apparently investigating as an armed robbery. In the newly surfaced video footage below, which was obtained by TMZ, the former Migos member appears with his hands seemingly zip-tied behind his back while police conduct their investigation.
What Happened During the Incident Involving Quavo on the Yacht in Miami?
According to 7 News, a police report from the Miami Beach Police Department describes a scene in which officers responded to a yacht docked in the area of The Wharf Miami to investigate a possible armed robbery.
While it appears as though all of the details surrounding the incident have not yet been revealed, the South Florida news outlet explains that the yacht's captain accused two men involved in chartering the boat of becoming "very aggressive" toward the crew when they were told it was time to head back to shore. The captain alleges that the men, identified by police as Cornell A. Whitfield and Anteneh A. Workeneh, threatened his life and said they would "throw him off" the yacht if the money for the charter was not refunded.
What Was Quavo's Role in the Miami Yacht Incident?
According to Page Six, the Miami Beach Police Department included in their report that Quavo was on the yacht during whatever incident went down, as evident in the video below. When XXL reached out to Quavo's team regarding the matter, a rep for the Atlanta rapper provided an official statement.
"To be clear Quavo was NOT mentioned in the police report narrative," the statement reads. "Not only was Quavo NOT arrested, he is not even listed as a witness to any alleged dispute. Ultimately, no one on the boat was arrested. There is no story here regarding Quavo and any incident."
News of the incident in Miami comes less than a week after Quavo announced the release date for his upcoming album, Rocket Power, which is set to drop on Aug. 4.
Check out the TMZ video that shows Quavo with his hands zip-tied behind his back below.
Watch Quavo With His Hands in Zip Ties as Police Appear in New Footage From an Incident on a Yacht in Miami
See 22 Hip-Hop-Related Police Raids
These rappers had some serious run-ins with the police.