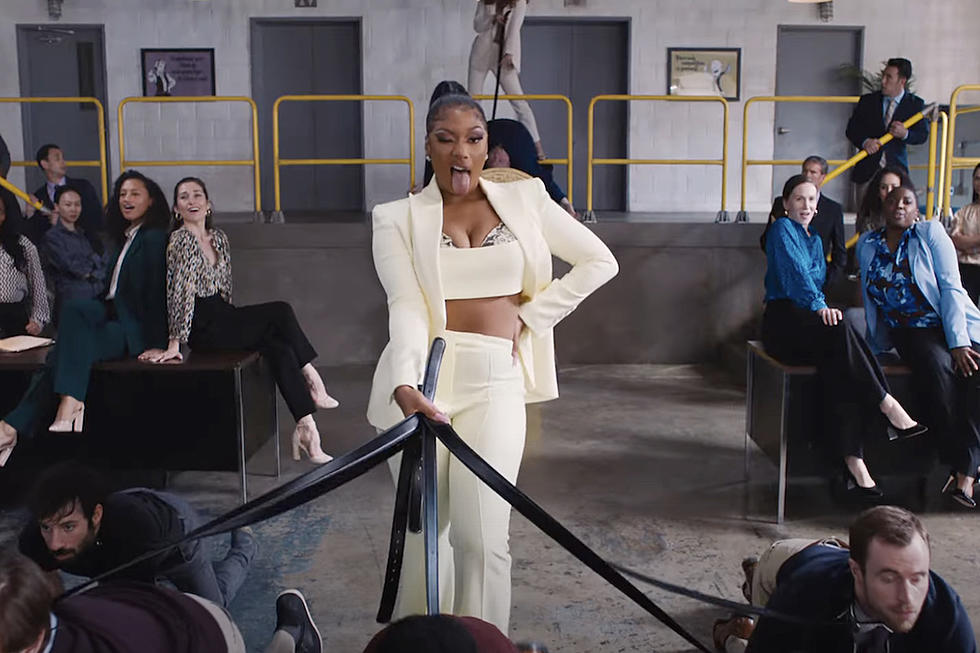 Megan Thee Stallion Starring in New Musical Dicks – Watch the Trailer
A24/YouTube
Megan Thee Stallion's film acting debut has a very provocative title. The Houston rhymer will appear in the film, Dicks: The Musical.
Megan Thee Stallion Makes Her Film Acting Debut in Dicks: The Musical
On Thursday (Aug. 3), the first trailer for the musical film, Dicks: The Musical, hit social media and it features Megan Thee Stallion as a "lady boss" who is tough on her male employees. The zany trailer also briefly shows the Hot Girl Coach performing a rap song with the lyrics, "Y'all are my servants, this is my palace built it brick by brick/So get in line, drop on ya knees and suck my f**kin' d**k."
According to The Hollywood Reporter, the R-rated comedy features comedians Aaron Jackson and Josh Sharp, and is based on their 2014 two-man stage show titled "F**king Identical Twins," which ran at the Upright Citizens Bridgade. Aaron and Josh Sharp play two long-lost twins with a plan to trick their separated parents, played by Nathan Lane and Megan Mullally, into getting back together.
Megan will make her film debut as their tough-as-nails boss in Dicks, which is directed by Larry Charles, who previously directed Borat and was a writer on Seinfeld.
Dicks: The Musical is set to penetrate theaters on Sept. 29. You can watch the trailer below.
Megan Thee Stallion's Previous Acting Stints
Megan Thee Stallion has been dabbling in acting with a few small television cameos. The 28-year-old rhymer has appeared on Starz's hit drama P-Valley. She also appeared on an episode of She-Hulk: Attorney at Law on Disney+ last year.
In the episode, Megan played herself who is named in a catfishing case. She hires Jennifer Walters, a.k.a. She-Hulk, to represent her in court. After winning the case, Jen—as She-Hulk—celebrated with Megan by twerking together to the song "Body." Watch the video below.
See the Dicks: The Musical trailer below.
Watch Megan Thee Stallion in Dicks: The Musical Trailer
See Essential Hip-Hop Movies to Watch