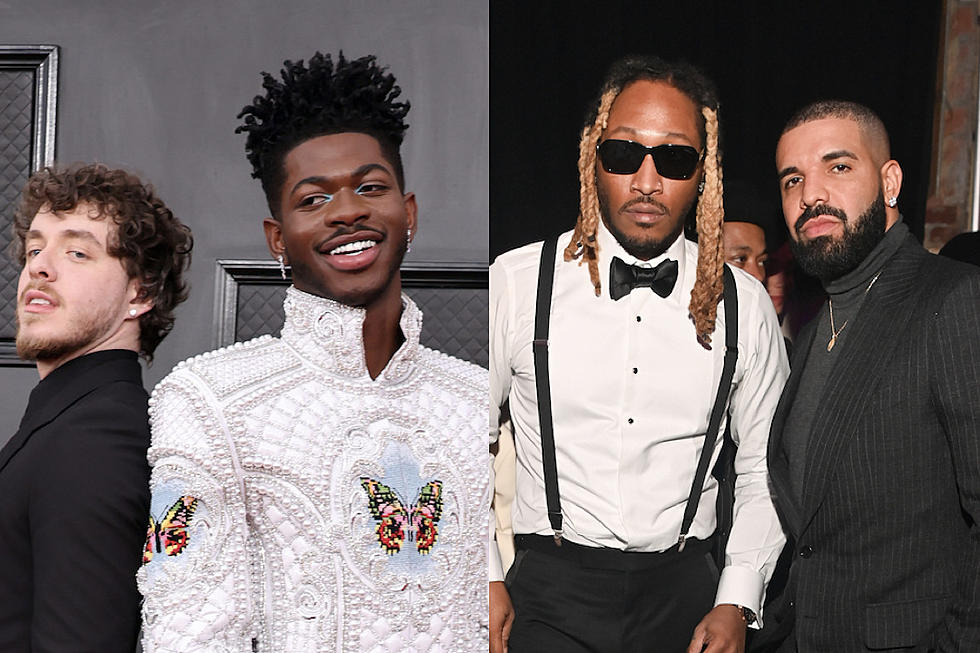 Lil Nas X and Jack Harlow's 'Industry Baby' Passes Drake and Future's 'Life Is Good' for Most-Streamed Song of 2020s – Report
Amy Sussman/Getty Images/Prince Williams/Wireimage
Lil Nas X is still breaking records. His 2021 collaborative track "Industry Baby" with Jack Harlow has passed Drake and Future's 2020 joint effort "Life Is Good" for the most streamed song of the 2020s.
On Wednesday (Feb. 15), Chata Data announced on Twitter that Lil Nas X and Jack Harlow's tune is the No. 1 most on-demand streamed song released in the 2020s, displacing HNDRXX and Drizzy's from that streaming title.
Interestingly, Future and Drake's music video for "Life Is Good" notched 2 billion views on YouTube, while Nas X and Harlow's visual is at 400 million views. Nevertheless, The What A Time To Be Alive collaborators join Eminem and Rihanna's "Love the Way You Lie" and Wiz Khalifa and Charlie Puth's "See You Again" in the two-billion views club.
Meanwhile, Lil Nas X is still enjoying the success of his 2019 viral song "Old Town Road." The Billy Ray Cyrus-assisted tune is now tied with Post Malone and Swae Lee's 2018 song "Sunflower" with 17x platinum status by the Recording Industry Association of America.
According to Forbes, the Grammy Award-winning rapper earned $14 million pretax from the song during its height in popularity in 2020. Although the Atlanta artist had to split some of his earnings with Trent Reznor of Nine Inch Nails for sampling his song "34 Ghosts IV." Nevertheless, Nas X saw some profits with his catchy tune.
In 2023, fans can catch Lil Nas X performing at various festival stages this summer, including the Governors Ball and Bonnaroo Music + Arts Festival in June.
Watch Lil Nas X and Jack Harlow's "Industry Baby" Video Below
Watch Future and Drake's "Life Is Good" Video Below
See Greatest Hip-Hop Duos of All Time