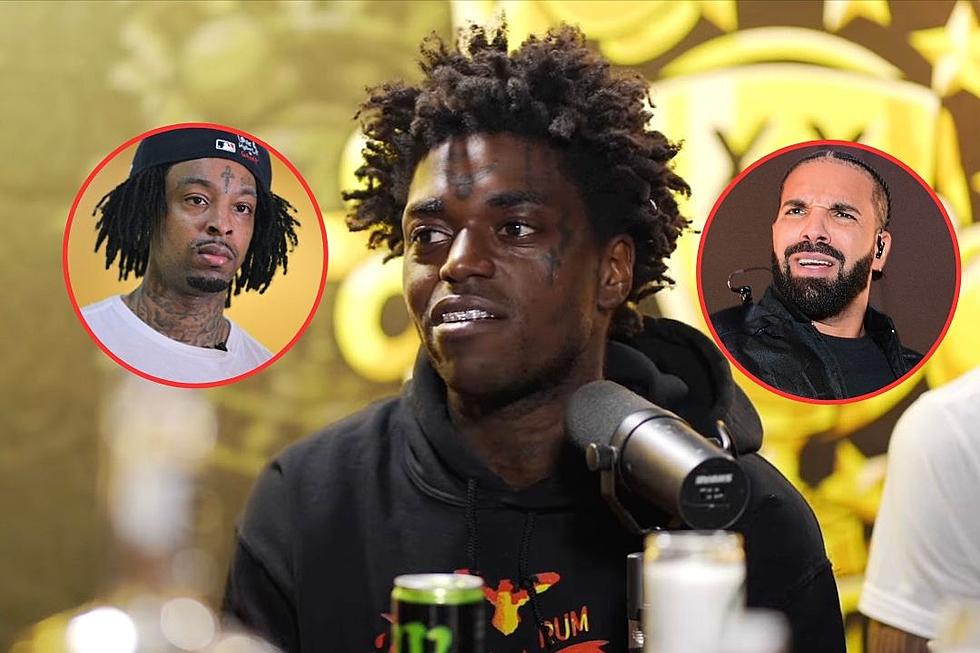 Kodak Black Thinks 21 Savage Acts Differently Toward Him After Making Her Loss Album With Drake
REVOLT/YouTube/Prince Williams/WireImage (2)
Kodak Black thinks 21 Savage acts differently toward him after working with Drake on their collaborative album, Her Loss.
Kodak Black Thinks 21 Savage Acts Different Since Working With Drake
On Saturday (Oct. 28), Drink Champs podcast premiered their latest episode featuring their special guest Kodak Black. During the two-hour video interview below, Yak discussed myriad topics, including his rap career and his support for Donald Trump. During the show's drinking game, "Drink Time with Slime," Kodak was asked to pick between Future or 21 Savage. The South Florida rapper frowned and had some choice words about 21.
Kodak Black claimed in an incoherent rant that he and 21 Savage were close friends, but that 21 started acting differently towards him after he collaborated with Drake on their joint album, Her Loss.
"Drake just got a certain little effect he do to muthaf**kas and s**t," Kodak said at the 42-minute mark in the video below. "After the album they did together all the sudden that n***g on that p***y-a*s s**t. You vocalize it for real for real on the 'Gram on the internet like you ion't never vibe with me and s**t."
Why Kodak Black and 21 Savage Aren't Friends Anymore?
It's unfortunate that Kodak and 21 are not good friends since they were both featured in the 2016 XXL Freshman Class issue. Kodak and 21's friendship may have crashed and burned last year after Yak called out the Atlanta rapper for calling Nas irrelevant, among other things. Last November, Kodak went on Instagram Live and slammed 21 for his comments and added that he should stop being a Drake fanboy.
"This muthaf**ka talking about Nas irrelevant," Kodak said. "How the f**k Nas ain't relevant, homie? N***a smoking d**k because of Drake. We from the projects. We from the trenches. We don't give a f**k about no f**king...you did a Drake. We salute Drake. We love Drake. OK, whatever. Fam, folks smoking d**k. Nas that n***a."
In that same month, Kodak also went after 21 Savage for a comment he made on his X account. 21 tweeted, "Where all y'all fans be at when these n***as drop albums," which many fans believed was 21 trolling him over the drama.
Watch Kodak Black talk about 21 Savage in the video below.
Watch Kodak Black's Interview with Drink Champs
See Unnecessary Disses in Hip-Hop History