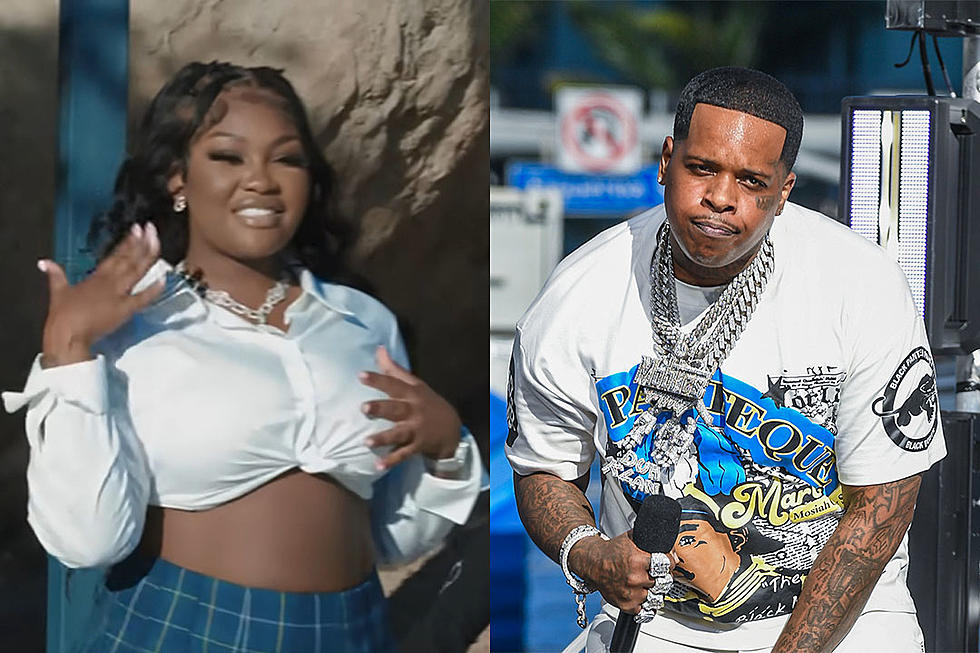 Gloss Up Exposes Finesse2tymes for Allegedly Flirting With Her Prior to Brawl With One of His Girlfriends
Hitkidd WIDM/YouTube/Aaron J. Thornton/Getty Images for BET
Gloss Up recently exposed Finesse2tymes on social media for allegedly flirting with her prior to Gloss' recent fight with one of Finesse's girlfriends.
Gloss Up Exposes Finesse2tymes' Flirtatious DMs
On Wednesday (July 5), the "Shabooya" rhymer hopped on Facebook and posted screenshots of what seems to be DMs between herself and Finesse2tymes.
In the post below, the "Black Visa" rapper allegedly shoots his shot at Gloss Up. Yet, Finesse's attempts were shut down after Gloss makes it known that she considers him family.
"Ahh no cap you juicy ash," Finesse wrote in the DM.
"Foo you my brother," Gloss Up responded.
Instead of accepting the situation for what it is, Finesse assures Gloss Up that if she ever spun the block, he'd reciprocate the energy, which can be seen below. However, the "Rich Baby Mama" rapper didn't seem hurt by what was said. Instead, she laughed it off.
"S**t crazy ash. Aight when u spin block I'm a give you same energy ni [upside smiling emoji]," Finesse wrote further into the DM.
"Maneee chilll [four laughing emojis]," Gloss Up replied.
In the screenshot, that can be seen below, Finesse2tymes also allegedly texted Gloss Up to see if she was OK. In response, the Memphis, Tenn. rapper told Finesse that she was good before telling him to keep going.
"U good," Finesse2tymes said in the alleged texts.
"I'm all good love keep going It's all good," she responded.
Finesse2tymes Responds to Gloss Up's Claims
After seeing Gloss Up expose their personal messages, Finesse logged on to Facebook to allegedly respond to Gloss Up's claims, which can be seen below.
The Bread Gang Entertainment rapper stated that he doesn't speak on female beef and insisted that he'd leak alternate footage of the fight between Gloss Up and BBJay.
"I don't be speakn on female beef, or get in the way of the s**t, but when a muthaf**ka try to come for me and mine, when all I ask is be quiet and this s**t dead, ok, so when I get drunk tonight I'ma upload the REAL video," Finesse wrote in a Facebook post.
Finesse2tymes also suggested in the following post below that he'd bet on his girlfriend, BBJay, if a potential rematch between her and Gloss would happen.
"MANE WE CAN MEET UP IN SOUTH VEGAS WITH THE GLOVES BBJ READY I GOT MY WHOLE BANK ACCOUNT ON IT," he stated.
The rapper added that he was shooting his shot at Gloss prior to his relationship with BBJay, which can be seen below.
What Happened Between Gloss Up and Finesse2tymes' Girlfriend, BBJay?
Over the weekend, Gloss Up and one of Finesse2tymes' three girlfriends, BBJay got into a fight. When the Quality Control artist was asked about the incident from a gossip social media page named The Neighborhood Talk, she was very enigmatic.
"Hey, there is nothing to explain but thank you for support 'Rich Baby Mama,'" she reportedly told the outlet.
After a video of Gloss Up and BBJay's fight surfaced online, the rapper explained what really happened in her Instagram story, which can be seen below.
"I'm Say This & Im Done[.] No 304 Did S**t To Me[.] The Video Y'all Seee Is Clearly The End Of The Fight," she wrote on her Instagram story.
"I'm The One Popped The S**t Off [pensive face emoji][.] Y'all 304s Walk Pass Y'all "Opps" & That's The Problem Yall Nice Asf," Gloss Up continued.
See Gloss Up expose Finesse2tymes for allegedly flirting with her below.
See Gloss Up Expose Finesse2tymes For Allegedly Flirting With Her Below
See Finesse2tymes Respond to Gloss Up's Claims Below
See 10 of the Shortest Beefs in Hip-Hop
Beefs within rap that ended quickly.