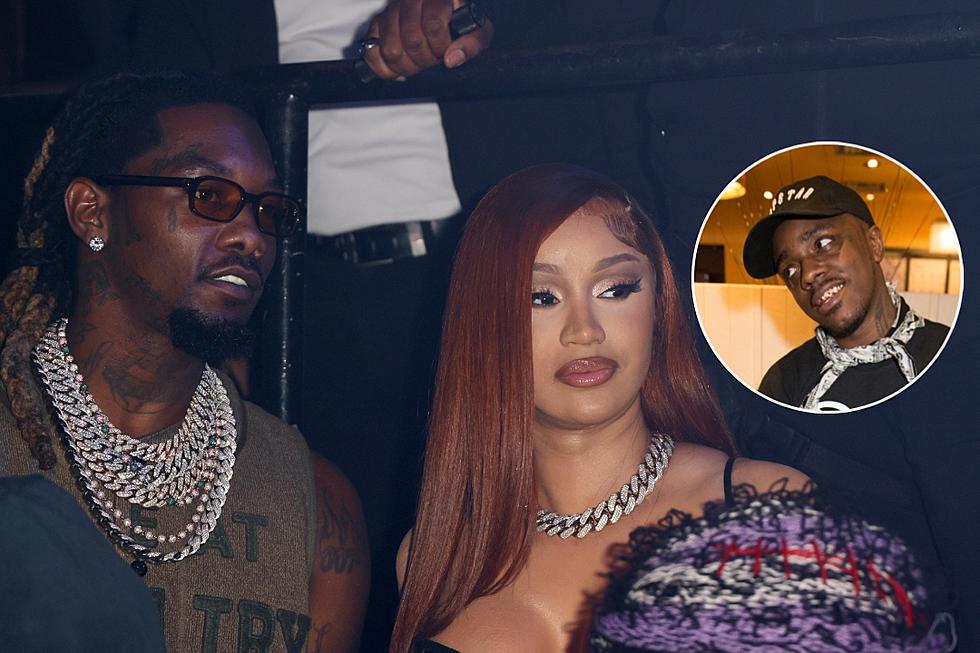 Cardi B and Offset Beef With Nicki Minaj Artist Tate Kobang
Alexander Tamargo/Brian Stukes/Getty Images (2)
Cardi B and Offset are beefing with Nicki Minaj's artist Tate Kobang.
Beef Erupts With CardiSet and Tate Kobang
On July 28, Offset released his new single with Cardi B, "Jealousy," which was preceded by a promotional video where Offset addressed his issues with Cardi in a hilarious parody of a viral James Brown interview from 1988. On Sunday (July 30), Tate Kobang, who is signed to Nicki Minaj's new label Heavy on It, appeared to send a shot at Bardi and possibly Offset with the post, "All those PR stunts but b***h."
Cardi B caught wind of the post and responded in a since-deleted tweet.
"How you a grown ass man subbing me," Cardi commented under Tate Kobang's posted. "Idgaf who gassing you grown ass man watch your mouth when you addressing me."
In the comment section of a Instagram blog post about the issue, Cardi B noted, "This was the third tweet about me by the way."
After a Cardi fan page noted that Tate Kobang has liked a post of a video showing Nicki Minaj fans rapping her song "Red Ruby Da Sleeze" while Cardi B was on the red carpet at the 2023 Met Gala, Cardi reacted, "Ommmmmgggg even more weird …and there more."
Take Kobang Responds
In response, Tate Kobang joked Cardi B having a drink thrown at her during a show over the weekend. He shared a GIF of someone getting a drink thrown in their face along with the caption, "b***h said."
Offset Gets Involved
Offset then entered the chat, sharing a Twitter post implying he wanted to link up with Tate Kobang.
"[Where you at?], Offset tweeted along with an eyes emoji.
"I'm up at Lennox [Mall]," Tate Kobang responded. "Ain't even nothin else to talk about."
It is unclear why Tate Kobang has issues with Cardi, other than his allegiance to Nicki Minaj.
See the Drama Play Out Between Cardi B and Tate Kobang Below
See Wild Rap Beefs That'll Probably Never Be Resolved
Pusha-T and Drake, YG and 6ix9ine, and more.