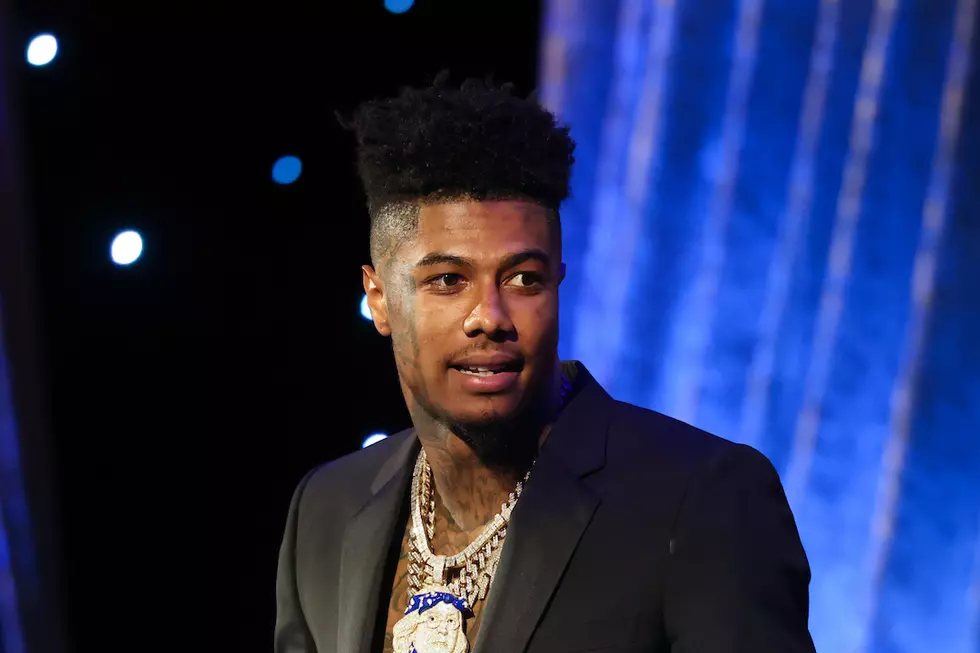 Blueface Claims Police Stopped Him From Performing at 2023 Rolling Loud California
Randy Shropshire/Getty Images
There were plenty of concert sets getting cut short at the Rolling Loud California festival, but in Blueface's case, his scheduled performance was canceled before he even hit the stage.
On Saturday (March 4), Blueface jumped on his Twitter account to inform his fans that police stopped him from hitting the stage at the 2023 Rolling Loud California music festival in Inglewood, Calif. "Sorry rolling loud they hit my bus police ain't let us in [toy gun and police officer emojis]," he tweeted.
Blueface didn't provide any explanation as to why police prohibited him from performing.
XXL has reached out to the Inglewood California Police Department and Blueface's rep for comment.
Blueface's canceled performance comes after a couple of artists had their shows come to a halt at the festival.
On Friday (March 3), Playboi Carti's performance was cut short after a rowdy crowd hopped over barricades and smashed into fans in the front row. The Atlanta rapper was three songs in before he had to stop his set because someone was injured in the audience.
The delay reportedly lasted for 30 minutes and cut into Carti's set time. Nevertheless, the Atlanta rapper was able to resume his performance for an additional 30 minutes.
Then on Saturday night, headliner Travis Scott's set was cut short due to curfew. The rapper-producer performed for 30 minutes before his music was cut off due to a strict 11 p.m. end time. In a fan-capture video, La Flame was performing "Sicko Mode" when the music abruptly was cut off, followed by the lights.
Travis apologized to the crowd and informed them that he had to leave the stage. "Thank you very much, I love y'all. I wish I could do more but they're making me go," he said, while people in the crowd booed.
The Rolling Loud California festival wraps up tonight (March 5) with headlining sets from Future, Lil Uzi Vert, Moneybagg Yo and more.
Read Fans' Reaction to Blueface's Claims That Police Stopped Him From Performing at 2023 Rolling Loud California Below
See 22 Hip-Hop-Related Police Raids
These rappers had some serious run-ins with the police.