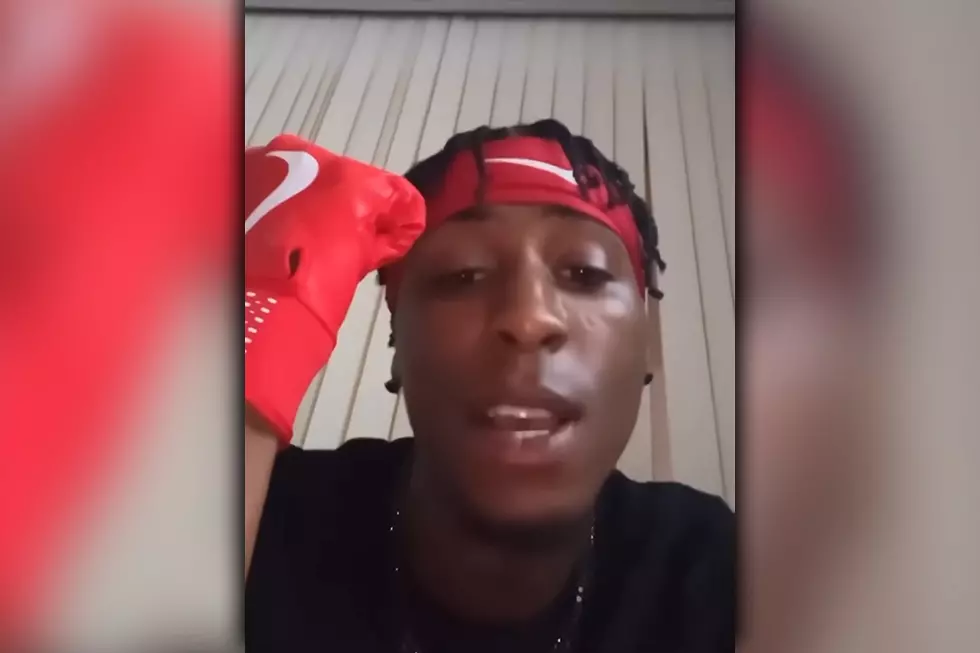 YoungBoy Never Broke Again Fires Back at MMA Fighter John Gotti III's Sister Who Called Rapper an Animal, YoungBoy Then Goes at His Baby's Mother Yaya Mayweather – Watch
nba_youngboy/Instagram
YoungBoy Never Broke Again allegedly fired back at MMA fighter John Gotti III's sister this week for referring to him as an animal.
NBA YoungBoy Addresses Comments Made by MMA Fighter John Gotti III's Sister
On Tuesday (June 20), NBA YoungBoy hopped on Instagram Live and responded to Nicolette Gotti, MMA fighter John Gotti III's sister, following some harsh words she said about his son, Kentrell Gaulden Jr., on her Instagram story.
In the video, which you can see below, Top reportedly admits to despising Yaya Mayweather, the mother of one of his children, and her father, Floyd Mayweather. Additionally, the rapper seemed to cosign the anger felt by John Gotti III after the fighter's recent match with Floyd Mayweather ended prematurely.
"I hope you do that b***h the worse way, two, three years from now. I don't give a f**k. It ain't my business. I hate that h**," NBA YoungBoy stated on his IG Live.
"And when it comes to her daddy, that n***a don't need to be in my mentions. I don't f**k with him," NBA continued. "Your brother lost the fight. Every dog has its day, man. That's how it go."
The "Kacey Talk" rapper followed his tirade by expressing admiration for Gotti's father and saying that the next time the Gotti family is disrespectful, they'll have to bomb him.
"I idolize your daddy," NBA YoungBoy added. "Man, next time you ever disrespect me, y'all 'gone have to bomb me. Have a blessed day, beautiful."
Why Did Nicolette Gotti Talk About NBA YoungBoy to Begin With?
On June 11, John Gotti III and Floyd Mayweather had a boxing match that resulted in a massive brawl during the sixth round after the referee called off the fight due to "trash talking and abusive language." Nicolette Gotti logged on Instagram shortly after that and aimed some racially charged and hurtful comments toward Floyd's daughter Yaya, and the father of her child, NBA YoungBoy.
"@floydmayweather your daughter was ran through by a animal with 12 different baby mamas," Nicolette wrote on her IG story. "Your little circus animal — [you're] all a pack of zoo animals… I swear on my kids. I'm coming for your daughter. It may be two years, three years from now, but I'm coming c***."
Due to the brawl at the Floyd Mayweather and John Gotti III match, both fighters were disqualified, meaning there was no winner in the end.
Watch YoungBoy Never Broke Again Fire Back at John Gotti III's Sister's Comments Below
See Wild Rap Beefs That'll Probably Never Be Resolved
Pusha-T and Drake, YG and 6ix9ine, and more.