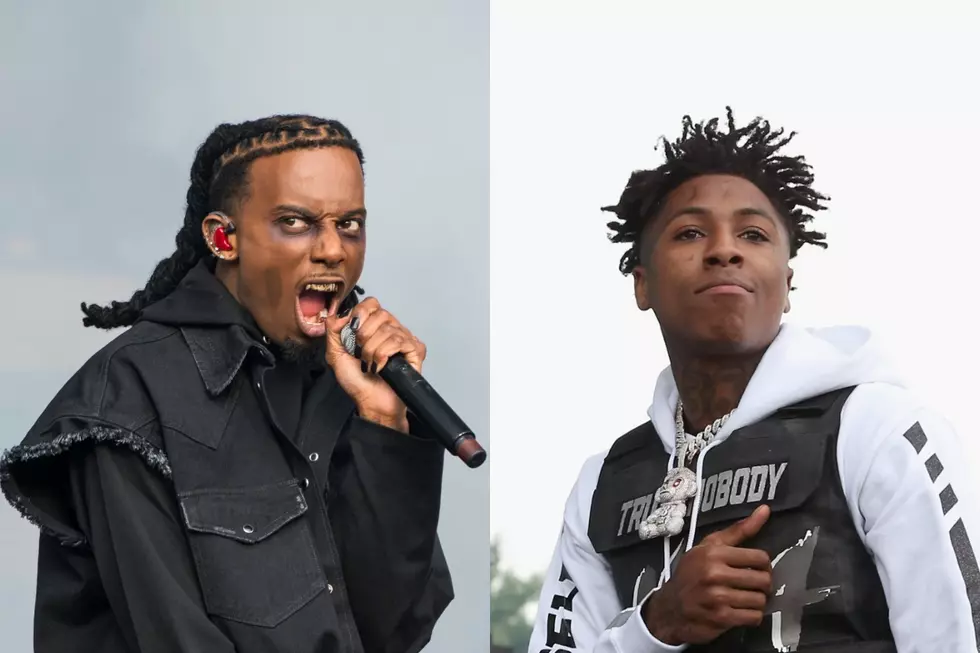 Playboi Carti Gifts YoungBoy Never Broke Again a Chain, Hints at Joint Album Release
Joseph Okpako/Gary Miller/Getty Images (2)
It looks like Playboi Carti and YoungBoy Never Broke Again have a joint album on deck and have cemented their bond via the gift of jewelry.
Playboi Carti Gifts NBA YoungBoy a New Chain
On Monday (June 12), Jewelry Unlimited shared video on Instagram of a chunky piece and chain the company was commissioned to make by Playboi Carti. The chain is made up of dozens of baguette stones, which hold a big upside-down cross made up of 11 solitaire stones. According to the company, the bling is a gift from Carti to NBA YoungBoy to celebrate their upcoming joint album.
"004KT @playboicarti GIFTS YOUNGBOY A CHAIN AHEAD OF THEIR NEW COLLAB ALBUM," the post is captioned.
The second slide in the photo carousel shows a photo of Top wearing the chain.
Playboi Carti Hints at NBA YoungBoy Collab
Playboi Carti also shared the same photo of YoungBoy Never Broke Again on his Instagram Story, appearing to provide more confirmation that something is afoot.
NBA YoungBoy Confirms the New Album With Playboi Carti?
Around the same time, NBA YoungBoy reportedly called popular Twitch steamer Kai Cenat about doing a stream for the new album.
Fans React to Playboi Carti and NBA YoungBoy Dropping Joint Album
Fans have been sounding off on Twitter about the news.
"If you told me 2 years ago that Playboi Carti and NBA Youngboy would drop a collab album I would have probably blocked you. But now it's happening," one person posted.
"I just refuse to fully believe that Playboi Carti & NBA YoungBoy are making a collab album. I wouldn't be mad at it at all but wtf lol," someone else commented.
"Playboi Carti X NBA Youngboy Collab Album. All i need right now," another post on the topic reads.
While NBA YoungBoy has been one of the most prolific artists of the last few years, fans have been waiting on new Playboi Carti music since he released Whole Lotta Red in December of 2020.
See More Reactions to Playboi Carti and YoungBoy Never Broke Again Dropping a Joint Album Below
See 10 Rappers' Purchases That Broke the Bank